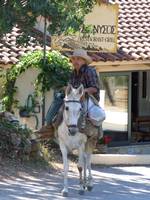 Lourdas Reviews
---
Places to Visit
---
Kefalonia Guide
---
Local Directory
---
Resort Guides
---
Street View
Villa Mare Apartments

(Accommodation in Lourdas)
10/10
John B
We stayed at the Villa Mare again in June 2010.
The position is superb overlooking the beach but set back enough to be peaceful.
Lovely pool just behind the Apartments which is great for reading and long cooling swims.
Gerry the owner is an excellent host and very welcoming and helpful.
Rooms are a good size and have everything that you could want for an occasional meal.
Shower room fine and clean and the beds were comfortable.
Everything along Lourdas beach front is within an easy walk.
Look forward to our next holiday and my Birthday there in June 2011.
Cannot think of any other place I would rather be for it



John B

Another brilliant stay with Gerry and Co. Highly reccomend these apartments for comfort and service!
8/10
Sarah W
My boyfriend and I stay at Villa Mare end of June 2008 for a week. We were in a nice room on the bottom floor. The room was a good size for a basic apartment in Greece, with a good kitchen that had a cooker, fridge and lots of cups and mugs. I was impressed to find a kettle. The bathroom was ok too. The apartment and room was cleaned once in the week that we stayed there, including having the bed changed! We were glad that we could hire a fan for the week.

Villa Mare had a pool that was just up the hill a little from the apartments. This was lovely, it was cleaned regularly, and there was many sunbeads, all had umbrellas except one for real sun worshippers! The pool was shared with other apartments but it was rare on our holiday that there were no sun beds free.Under the pool there was a room where you could bags on your departure day and there was 2 showers rooms with toliets in.

The beach was just a very short walk from our apartment, we enjoyed walking along the beach at the waters edge. I would recommend shoes that velcro on or something as i took slip on jelly shoes and flip flops which would have fallen of my feet had a gone much deeper. The beach is quite pebbly so i would recommend you wear shoes of somekind.
10/10
Mel W

Just returned from Villa Mare after a 1 week stay. Lovely clean apartments in a beautiful location, overlooking the sea. Kitchen small but adequate (even had a kettle and mugs!!) Apartment cleaned and bins emptied 2 or 3 times during the week. Behind the apartments is a gorgeous pool and sunbathing area which didn't get busy, some days myself and my husband had the pool to ourselves!!! On the day of departure there's even a room to keep your cases in which has two bathrooms for your use, both with toilets and showers. There's a mini-market about 5 mins away up the hill (owned by Dennis who's really friendly), go to this one as the one on the beach is slightly dearer!! Make sure you visit Dimitris bar on the beach either for something to eat at lunchtime or a drink in the evening. The staff are first rate and if you want to know anything about the island they are the people to speak to!! All in all an excellent holiday and would definately return to Villa Mare without any hesitation at all!!!
Diane M

Just come back from a 2 week stay here and it was brilliant. Wonderful location, gorgeous pool and it was basic but all you really need if you plan on eating out. We especially loved our local bar Dimitris, great for snacks in the day and drinks at night. We cannot praise enough the wonderful service and friendly welcome we got in there, missing the place already.
Sarah C

Basic but clean apartements with the most beautiful pool, must be the best in Lourdas!
John B
This is the most peaceful and relaxing place in Lourdas. Accommodation good albeit hot and stuffy, but that's Greece. Hire a fan Be back next year.
Alan S
As has been said before the room did get quite stuffy even with the balcony doors open,which people may not be keen on doing overnight,but really nice pool,friendly owner,(Gerry) and in a good spot.
Martin W
This is the 4th year to kefo and the second time at these apartments, they could do with ceiling fans as it can get a bit warm and stuffy at night or you could pop down to Dimitries Taverna (which is the friendliest in kefo) for a drink or two this might help you sleep. It is not as quiet now as the have put a dirt road between the beach and dimitries tavern because of this they have also lost half the beach due to this road. but it is still worth a visit
Sarah

We stayed at Villa Mare for a fortnight from 24/07/05 to 07/08/05. We had a ground floor studio, which we thought was perfect for what we needed. It was clean and tidy on arrival, we were able to sleep at night - we didn't think fans were particularly necessary, and we thought the cleaners were a little on the obssessive side, they tried to get in on several occasions whilst we were still in bed, and we couldn't predict what days or times they would turn up. I suppose it depends on your expectations of an apartment, but this isn't a five star hotel and doesn't claim to be. I think people complaining about the levels of cleanliness are being a little unfair. As far as I am aware, the Greeks pretty much live outside their houses, and we spent most of our holiday outside too. All you need from your accomodation is somewhere comfortable to sleep and shower..... or am I trying too hard to fit into local ways here????
Julia T

Just come back from a week of scorching hot weather. We had a ground floor studio apartment which was ok ish, a bit dark and very very hot, especially at night with no fan and no air circulation at all.

As others have said it was basic but adequate, and could have done with cleaning a bit more than just the once in the week.

Mosquitos were a problem. If you have sweet blood the Greek repellants will not be sufficient, take something from the UK! Another minor glitch was a slight amount of late night/early hours revellry from the locals who tended to use the road outside as a bit of a moped race track.

The pool is fantastic and the eating out was excellent. Only one cat seen all week!
John W
Stayed at Villa Mare twice,location is excellent,apartments are very basic but clean,top floors are better,could do with more maid service, towels and bedding only changed once late in the week.It is worth going ther just to be close to Dimitrius beach bar(friendlies guy on the island)definately need a fan in the room after June,although we did have a lizard running around for 3 nights which provided some air conditioning,the apartments behind look a much higher standard but I dont think Kosmar do them.Lourdas beach isnt the prettiest but it has a sort of charm and if us Brits had tougher feet it would be ok.
Jean S

Just got back from 2 weeks at villa mare.Lovely relaxing holiday. The apartments are typical greek but I'm not complaining, nice views and sounds of the sea and birds. The only thing to complain about was that our apartment was only cleaned 3 times in 2 weeks. I don't expect the beds to be changed more often but surely the bins should be emptied more often ( especially the one in the bathroom)!
Alison

I forgot to mention, the Villa Mare has one of the best pools in this area of Lourdas. It is clean and well maintained and gets the sun at all times of day.
Alison

I have just returned from Kefalonia, where I stayed at the Villa Mare for 2 weeks. Lourdas is very nice and quiet but I wouldn't recommend it unless you are prepared to hire a car or bike or walk up steep hills. The Villa Mare is in a good location a few minutes stroll from a well stocked shop, the beach and a few tavernas. It was clean and the facilities in the rooms were quite good but take a travel kettle! For anyone who is concerned about earlier comments about cats, I hardly saw any cats at all and none came into my room even though we kept the balcony doors open most of the day. You can also lock the shutters but leave the glass doors open to let air in overnight, so no cats could come in at night.
Val C
We had two apartments on the ground floor - they were very dark and not that clean. The only fresh air was from the patio doors, but these could not be left open because the place was over run with cats. They would come into the room on the beds and on the table and worktop. Certainly not our cup of tea in fact we only spent one night and then we asked to be moved. The pool was very nice with sun loungers and umbrellas. Certainly would not choose these apartments again.
Martin W
We was there from 29/08/04 to12/09/04 and found our room was fantastic and we
have booked to go again nexy year,
Donna L
I read some of the comments on this site before I went to these
apartments and because they were all good I thought I was
pretty safe. These apartments are basic but good by Greece
standards, the room we had was on the ground floor and
smelled musty probably because you couldn't open the patio
doors because of the cats which lived outside the apartments.
This was a problem as one morning the cats brought a
headless rat and placed it outside our door one morning which
was a bit of a shock. The rep told me that there are a lot of rats in
the resort and we saw several while we were there. I feel the
apartments could have been cleaned and bed linen changed
more often as they were only cleaned three times in our two
weeks. The best thing about these apartments was the pool, it
was lovely. Direct holidays have great apartments near to these
and if I was going back to Lourdas I would stay here as they
looked a better standard and I always saw them getting cleaned.
Georgina H
Villa Mare has excellent location. Our balcony overlooked the beach/sea, which was geat to listen to when trying to get to sleep. The rooms do not have AC but you can hire fans cheaply or sometimes for free. The pool is great, one of the best and well looked after. Rooms are very basic with no kettle, just two rings, fridge and some utensils. However you cannot beat the view and the late night beach bar run by Makis who is a god!! He works the bar all day and all night. He and his family are very friendly and we had a great time getting to know them. I would definately go back to Villa Mare.
Andy
Great place,very peaceful and scenic.A few metres back from the beach with its own exclusive pool with free beds and brollys.
Room has good facilities,patios/balconys and now safety deposit boxes.There is also a great beach shack/bar next to.
Air con would make the place perfect.Best in resort.
Andy
Excellent place.Great new pool and sunbeds and brollys!
Yes it is nice and quiet with good views- as right on the beach (well, but for a few feet).
Good self catering facilities as well as a kettle ,i think,plates,glasses etc.Fridge,hot plates and a nice beach bar close by for late night/sunset drinks.
Now has safety deposit boxes in the rooms too!
Just needs Aircon for perfection....

Can U Help?
Vicky W
Please can anyone tell me, does the Villa Mare Studios have a kettle & also is there much noise from the apartments after 11pm like loud music, shouting or traffic etc. Thankyou.
Andy
Villa Mare is a must!Great seaviews,lovely new pool and sunbeds.Peaceful and in a great location overlooking the beach.Would be perfect if it had air con.
Glad we stayed there and didnt see anywhere we'd prefer.
Andy B
Looks great on internet.
Who is offering this for 2004??
Ive tried emailing from their website but no reply!
Any info greatly appreciated as we wish to go July 04.

contact via andybri@lycos.co.uk
Gill S
This has to be the most perfect location in Lourdes. My friend
and I were lucky enough to have a first floor apartment
overlooking the sea and found it very clean and comfortable. If
anyone does get relocated from Lourdes beach apartments I
wouldn't worry as these studios are closer to the pool which is
very pretty and cools down later on in the day. Being right on the
beach you are extremely handy for all the tavernas. Don't bother
walking up the hill as the best restaurants are definetly on the
beach. The sunbed man on the right side of the beach is very
friendly and will loan you his kyack if you ask.
| | |
| --- | --- |
| Search for Villa Mare Apartments in all of JustKefalonia & the Messageboard | |
More Hotels and Apartments in Lourdas...

Alfrato Village Apartments | Angelas Studios | Antanitsa Apartments | Antonia Apartments | Aristomenis Studios | Buena Vista Studios | Casa De Blu Studios | Cristoforos Apartments | Delfinia Apartments | Dionyssia Studios | Eleni Studios | Fiona Aparthotel | Folies Apartments | Fotini Studios | Ionian Sands and Beach Villas | Ionian sun Apartments | Irirni Studios | Katerina Studios | Lara Hotel | Lourdas Beach Apartments | Lovidis Studios | Lucky House | Maria | Maria Anna Hotel | Marianthi Apartments | Marina House | Marina Studios | Naftilos Studios | Ocean Front Studios | Odysseas Studios | Saoulas Studios | Spiradoula Studios | Stefanos Studios | Sunset Studios | Villa Mare Apartments | Vrisida Apartments |