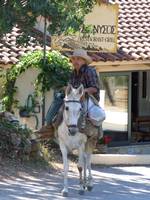 Lourdas Reviews
---
Places to Visit
---
Kefalonia Guide
---
Local Directory
---
Resort Guides
---
Street View
Lourdas Beach Apartments

(Accommodation in Lourdas)
2/10
Grazyna C

I just came back from a week in Lourdas, my favourite holiday destination for some years. This year however I have chosen through Sanvil, the Beach Apartments. Be careful, where your room is situated. Mine faced the restaurant next door called The Blue Sea, and the fan extractor from the kitchen made a rattle most od the time untill the restaurant closed at night. In addition I was overlooked by the people eating in the restaurant, so on the whole it was not a relaxing and comfortable place to stay. Eventually I moved out paying my own way to a different owner, to enjoy the only week of my holiday this year. Sanvil would not take any responsibility, so make sure you book the appartment on the side of the buiding that is not facing the restaurant, or choose somwhere else. There is lots of better places in Lourdas! It is not as peaceful as years ago, so do not be fooled by the previous comments.

The appartments are close to the beach, but there is a road outside used by the motorbikes almost all day till the early hours of the morning. On the whole I would not recommend this accommodation to anyone who needs to relax, use their balcony in the evening or read a book. The appartments have no night lamps over the beds!

Ms. G.Czubinska, London
10/10
Richard M

just returned from 2 weeks at lourdas beach appartment, our first time there and wont be the last, great location, basic but very modern appartments and even had a electric kettle and microwave. great value, wonderful resort
10/10
Margaret C
when we stay at lourdas beach apratments this july this will be our third time to stay at gerry's place! gerry is the owner of these perfect, get away from it all, apartments and we have found him very friendly and approachable. he remembered us last year and he is very helpful. we enjoy watching the world go by from our balcony and we enjoy listening to the waves lapping up the shore morning, noon and night! our favourite greek terverna, patricia's, is only two minutes away and the two cocktail bars (one to the right and one to the left) are brilliantly greek! lourdas beach apartments are just what we need after 12 months of hard graft - laid back and the people could not be more friendly (that includes the lady who tends the allotments in between the apartments and the sea!). just brilliant!!!! roll on july!!! margaret and mark clayton, workington, west c*mbria, england
Philly S

I thought it was incredible i went with my family and enjoyed ever second of it!! WOOP!! And it was 30 metres from the beach.. but there is no nightlife!! go to lassi for that!!
Gina R
- Haven't been yet but we have booked into Lourdas Studios and the travel agent said that the studios are about a mile away from the beach, when I search on the Lourdas web site the only accommodation that is released is the Lourdas Beach Apartments which are practically on the beach so cannot be these !- does anyone know of any Lourdas Studios that are about a mile away from the beach ?
Tamsin H

We enjoyed our stay at Lourdas beach apartments very much. Approx 40 yards from the sea meant we could hear the waves lapping at the shore when we sat on our balcony in the evenings. A decent beach with loungers and umbrellas and mostly sand. Lourdas has a handful of restaurants and tavernas, we recommend Magic Hill as the food and staff were lovely, as were the cheap cocktails! As for the apartments – they were incredibly basic but had everything we needed. There wasn't a fan but we kept windows open and shutters closed and found that the apartment stayed relatively cool. We thought the bins could have done with being emptied a couple more times during the week as they only got changed twice the whole time so we did them ourselves. The only thing which annoyed us was that our fridge got turned off while we were out on the last day so we came home and found some of our food was spoiled so be warned ! Apart from that it was great and would recommend highly- was lovely, relaxing quiet week at Lourdas Beach apartments.
Can U Help?
Stella P
Can anyone tell me how close Lourdas Beach Apts are from the Pool they share with the Villa Mare?
Can U Help?
Stella P
Can anyone tell me how far the Lourdas Beach Apts are from the pool they share with Villa Mare?
Christine B
just read your comment about booking for lourdas apartmends.We booked with bargain holidays.com and we went setember 20002 you can allso book these apartments with first choice holidays.Very nice clean apartments with either qa sea view or a garden view and you have a very private balcony. Basic apartments but really good. kefalonia is beautifull.It is a good idea to hire a car because the island is so beautifull you want to see all of it. Hope this helps.
Can U Help?
Michael O
trying to locate the tour operator or telephone
number for lourdas apartments. Went 2years ago,
fantastic location,very nice apartments and excellent location to discover the island.
want to go back to the same place,please help.
Ian J
Very very nice appartment building 12 rooms, on the beach, has a nice lawn area to play on and rest away from the main beach. appt block within 50 yds of the tavernas but still quiet. well recommended.
| | |
| --- | --- |
| | - UK |
Ian J
we have just returned and if its the lourdas beach appts, they are with JMC at the mo but the man is taking direct bookings, i will try and find his number.
Can U Help?
Christine B
has anyone stayed at the lourdas studios we have booked a holiday there in setember .Any information about the area would be very helpfull we have never been to kefalonia before .thank you very much.
Can U Help?
Sarah G
PICTURES OF THE LORDAS APARTMETNS
Can U Help?
Claudia G
I just booked a room in Lourdas Apartments through Sue Dimitiou of 'Freedom Direct' Ph: 0208 972 9322
Can U Help?
Jonathan M
How can I make a booking at Lourdas Apartments
Joanne L
These apartments are only 20 yards from the beach and every apartment has a small balcony with a sea view. The rooms are very basically furnished but are clean, and the resort is perfect for anybody looking for peace and quiet.
| | |
| --- | --- |
| | - |
| | |
| --- | --- |
| Search for Lourdas Beach Apartments in all of JustKefalonia & the Messageboard | |
More Hotels and Apartments in Lourdas...

Alfrato Village Apartments | Angelas Studios | Antanitsa Apartments | Antonia Apartments | Aristomenis Studios | Buena Vista Studios | Casa De Blu Studios | Cristoforos Apartments | Delfinia Apartments | Dionyssia Studios | Eleni Studios | Fiona Aparthotel | Folies Apartments | Fotini Studios | Ionian Sands and Beach Villas | Ionian sun Apartments | Irirni Studios | Katerina Studios | Lara Hotel | Lourdas Beach Apartments | Lovidis Studios | Lucky House | Maria | Maria Anna Hotel | Marianthi Apartments | Marina House | Marina Studios | Naftilos Studios | Ocean Front Studios | Odysseas Studios | Saoulas Studios | Spiradoula Studios | Stefanos Studios | Sunset Studios | Villa Mare Apartments | Vrisida Apartments |