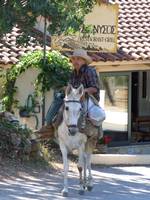 Lourdas Reviews
---
Places to Visit
---
Kefalonia Guide
---
Local Directory
---
Resort Guides
---
Street View
Buena Vista Studios

(Accommodation in Lourdas)
Robert S

Hi Can anyone please tell me if I can contact Elias at the Buena Vista Studios in lourdas by E mail, as I would like to cut out the tour operator, I AM hoping that Elias Daughter see's my message to advise,

Kind Regards

Rob
10/10
Sharon W

Beuna Vista... truly the most relaxing and peaceful place to stay..with views across to Zante and the mountain behind you are spoilt.. The owner Elias is terrific with many a tale to tell.. He keeps the place spotless inside and out.. The location is just perfect, with all the tavernas a stones throw away and the supermarket and car hire right on the doorstep.. We loved the place and will be going back again.. Thank you for a wonderful time Beuna Vista...
9/10
John B
Visited the Buena Vista studios in June/ July 2010.
Great views from the balcony and in a quiet location but near The main street with a good choice of Shops and Tavernas. Elias who owns the apartments is a really nice and helpful guy.
The apartment was big enough and had comfortable beds, air conditioning and a simple kitchen area with a fridge. Two shady sitting areas and a parking area under some trees.
If you want a good location and a peaceful stay then I think these apartments are a good choice.

9/10
Gary J
We visited Buena Vista again this year. Stayed from 10th June till the 24th.

Again it was lovely and quiet and the owner always friendly and helpful.

We took a travel kettle this year... but there was no need for it as they now have kettles and a toaster in them - and brand new "quieter" fridges.



Jim M

Changes to the Buena Vista for the 2008 season include a doubling in size of the solar water heating system to resolve the problem of the occasional shortage of hot water when all 12 rooms return from the beach at the same time! All rooms have now been fitted with extra sockets and a kettle is now provided in each room..
Jim M
Photo of Elias, owner of Buena Vista pictured in room 6 a couple of years ago.
Frank L
There is a TAXI service. The guy is quite reasonable, just ask your tour rep.

There are plenty of excursions if you don't want to hire a vehicle.

Don't just take the reps excursions, there are many other's to choose from.

Rooms have Fridge, two hot plate small cooker. No air conditioning...get a fan..you can hire from Maria's .

Frank Lawton.
Can U Help?
Ellie B
My daughter will be staying at the Buena Vista studios at the end of August,but is concerned now as she doesn't drive and is worried that she won't be able to get around the island easily.Are there reasonable cab services??
Frank L
ALL Apartments have a fantastic view of the bay with "misty" Zante on the horizon.
Small but adequate with a comfortable balcony.
Don't bother cooking in the room unless your heating something up, it's not necessary anyway.
The toilet shower space is not the best ! but you get used to it....just don't have two in there at one time !!
Main advice is HIRE A CAR ! You will get fed up with what Lourdes has to offer, it only has three restaraunts worth going to. SPIROS ...The best by far for food and price.
LA Mer good food but over priced. Aphrodites very friendly welcome good food and price and good place to end your evening....always something going on..other places in Lourdes take note !
A beautiful island but I must stress if you don't intend on hiring a car your not making the most of it.
The walk to and back from the local beach is out of the question unless your in training for the Olympics.
Anyway, there's loads of beaches all ove the Island so geta car the island was made to explore from Poros to Mirtos beach from Scala to Lassi from Agostoli to Fiskardo....Go for it you'll have a fantastic time.
Frank & Jan.
Steve M

Its too late for the previous poster but "no" the apartments don't have air con. Don't let this put you off however. All the rooms are facing the sea (despite my booking confirmation stating "inland view"). All, except the ground floor have stunning sea views as they are on the top of the hill with an uniterrupted view of Lourdas bay and Zakynthos. The apartments are small but clean and in a good location in the village of Lourdata. When i was there it was 40c and I hired a fan from Marias supermarket for 19 euros for 2 weeks. It is a long way to the beach but there is a bus service. I hired a motorbike for the fortnight from Sunbird which was worth it just for going to and from the beach never mind travelling the rest of the island. Ilias is a great host and speaks good english.
Vivien O

Had two weeks in September at these apartments and found them excellent. Just off the main road near a good supermarket, Maria's who was very helpful and pleasant. The gardens are lovely and the cats are very friendly.

I was dissapointed at first that their was no pool, but then the short walk to Fionas apartment where the pool was in good condition was fine. We only went to the pool twice as we enjoyed the LONG walk to the beach. A great holiday and lovely people with great restaurants
Amy W
Basic apartments but with a great view and good location. Elias also keeps an immaculate garden which adds to the ambiance of the place. The kitchen was a typical studio set up - hence very limited. Still there were plenty of places to eat out just around the corner! Some great beaches down the hill too. We recommend a car for exploring the island.
Simon H
Have to agree with other comments on this page. Ilias was extremely friendly and very sociable, his wine is excellent.
The apartments were great, facilities for cooking are limited but then who goes on holiday to cook?
Would recommend them to anyone wanting a quiet time. Don't worry if you don't get a balcony apartment as if you are on the ground floor you get to drink more of Ilias's wine.
Leslie T
We liked it very much, and have had at least three holidays there. Ellios the owner is very helpful and friendly. The kitchen is very basic, no kettle or really sharpe knives. The views from the apartments are very good, lots of Taverna's within a stones throw.It is about 2 kilometres down a steep road to the nearest beach, and very hard walking back. Car hire recommended.
Can U Help?
Pam H
we are going to the buena vista studios this summer. could anyone tell me about the kitchen facilities ie. kettle? sharp knife? is there an oven or just two rings? also any nice pools in the area. thankyou
Can U Help?
Liz J
Anybody Know anything about Silo Studios, Lassi. Can't find any info.
Can U Help?
Trudi D
Any last minute availability from 15th August for two weeks for a family of four?
Thanks

Trudi
Gill D
We stayed in No. 10 next door to Ilias!! Lovely man, popped in a gave us some of his home grown olives and Ouzo. Said he was looking forward to his best friend Jim Marshall from Leeds coming to visit him!! Told us all about his daughter (Hi!!). A lovely quiet clean apartment, if you get a balcony with a sea view it must be gorgeous. 1 minute walk to La Mer restaurant which serves excellent food. Brilliant location, long haul to the beach though! Crashed the moped, get a car!!! Go and see Martin next door to Ler Mer for a car!
Paul S
I obviously used the wrong key to enter my comments. I don't need help, well unless anyone has a spare holiday they don't want!!
Can U Help?
Paul S
We have had 2 visits to the Buena Vista Studios in the last 3 years and we have booked to go back again this year. This is a great place for anyone wanting to get away from the crowds. The food at the nearby taveras is great. The Studios themselves are very well maintained and have loverly views of the Bay looking across to Zante. Elias is a great host and is always willing to spend time talking at the end of a long hot day. The beach is a fairly long walk down the hill but it is well worth the trip. It's just the walk back up that is a little difficult!!!!!!!
Irene A
I agree with Elias daughter he & his wife are great his own wine is lethal! I also buy all my slippers from his shop in Argostoli! Looking forward to seeing him next week Irene & Brian
Oceanis T
Hello! I'm Elias' daughter. Just to say many thanks for all the kind comments. My dad loves to socialise & assist all the holiday makers in Buena Vista. Before moving to London, I used to study there due to the quitness, the views of the sea & mountain (depending on my mood) & the fresh air. Every summer I make sure I spend a few days there. It keeps me going for the rest of the year! :)
Jim M
wonderful views across the sea to Zante. The owner, Elias, is usually on hand to give advice on the island, and swap tales of travel all over the world. Some of the best kept apartments in Greece.
Ron W
Up at the top end of the village, so quite a walk to the beach, (and back again up the hill!). Convenient for the mini markets & tavernas. Great views.
| | |
| --- | --- |
| Search for Buena Vista Studios in all of JustKefalonia & the Messageboard | |
More Hotels and Apartments in Lourdas...

Alfrato Village Apartments | Angelas Studios | Antanitsa Apartments | Antonia Apartments | Aristomenis Studios | Buena Vista Studios | Casa De Blu Studios | Cristoforos Apartments | Delfinia Apartments | Dionyssia Studios | Eleni Studios | Fiona Aparthotel | Folies Apartments | Fotini Studios | Ionian Sands and Beach Villas | Ionian sun Apartments | Irirni Studios | Katerina Studios | Lara Hotel | Lourdas Beach Apartments | Lovidis Studios | Lucky House | Maria | Maria Anna Hotel | Marianthi Apartments | Marina House | Marina Studios | Naftilos Studios | Ocean Front Studios | Odysseas Studios | Saoulas Studios | Spiradoula Studios | Stefanos Studios | Sunset Studios | Villa Mare Apartments | Vrisida Apartments |