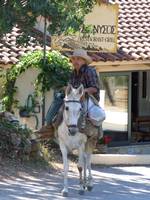 Lourdas Reviews
---
Places to Visit
---
Kefalonia Guide
---
Local Directory
---
Resort Guides
---
Street View
+ Enlarge Map
Lara Hotel

(Accommodation in Lourdas)
10/10
Simon W
we stayed in september 2006 we fond george and the rest of the staff very helpfull and friendly,the room was small but very clean. the only draw back was the hill of death, but once you get used to it you come back a fitter person. we are looking forward going back this september. simon and heather
Charlie N

Can you help?

We're staying at the Lara for a week in July; we're going back to Lourdas because we love the beach down the 'donkey track' so much. Last time we stayed near the Fiona Apartments, can anyone tell me whereabouts Lara is in relation to Fiona appartments?

Is it on the steep road leading down to Lourdas beach itself? (Hoping not...!) or at the top of the village on the street with all the car hire places? Or on the road leading to the donkey track (Katelios???)?

Any info and pictures VERY gratefully received!

Cheers
9/10
Margaret C
our first visit to lourdas was in 2002 for our honeymoon and we stayed at the lara hotel. george, his brother and their families were friendly and helpful and although we stay on the beach front now, we always go to see george (every year since 2002) and he remembers us and has a chat with us. we found the lara was just what we wanted for our first stay and it encouraged us to visit every year since. the only down side for us that the lara has a swimming pool (we prefer the beach) and it encouraged people not staying in the lara to visit, sometimes resulting in more noise than we would like. definitely good if you have children on holiday with you! margaret and mark clayton, workington, west c*mbria, england.
Mark E

Just had a great week here. Hotel was clean and room fine. Breakfast was ok too. Would not have wanted to spend time around the pool as it was rather compact but with a great beach 5 mins away (10 mins back up!) why would you? Agree with comments that staff were not over friendly but they were always pleasant when you wanted anything so fine in my book. Great mini market couple of minutes away and great places to eat up the hill. Not for those who cannot cope with walking as the hill is steep but for those with average fitness its fine. Air con reasonable at 5 euros per night and worth it for a good nights sleep.
Susan A

Just returned from a week stay in one of the Lara Appartments.We found our accommodation clean and tidy and the staff friendly and polite.Our view from the balcony was fantastic looking across the sea to nearby Zante.At night we could sit out looking across at the twinkling lights surrounding the Island it really was beautifull.The hotel was about 10mins walk from the beautifull Lourdas beach the return walk being about 15 mins uphill but quite manageable.We hired a Suzuki Jimny for part of the week which meant we could visit some of the amazing places Kefalonia has to offer.On the Saturday we tasted the barbeque which cost 12 euros per person but you could eat as much as you like it really was well worth the money.Oh and I forgot to mention the barman Mondi who made super cocktails and whom my daughters thought was wonderfull.
Linda D
. The owners and staff of the Lara were helpful and friendly. Top marks to the ladies who cleaned the hotel rooms. The only downside was I would have liked to have had fruit and yoghurst at breakfast or the option to purchase this in the hotel.Muses bar at the top of the hill did great food this worth a visit also Arida's Palace which is on the beach did lovely greek food. In all a graet holiday
Mary J

Stayed in one of the studios. First impression was disappointing, the room was small, tiny wardrobe and lived out of the suitcase for a week. However it turned out to be quite comfortable and the cleaning staff were great. Always a smile from the owners and the bar staff were friendly. A holiday is what you make it and we had a great time.
Susan C

We have stayed as a couple at the Lara for the last two years , both b&b and self catering. It is an absolutely lovely place and we found the staff very friendly. We were recognised immediately on our second stay and welcomed like old friends. The family who own the hotel were always pleasant even though we have no greek language and a smile was always reciprocated. I am looking forward to staying again this year and greeting all those who have given us two such wonderful holidays already.
Ann D
We visit Kefalonia a few times a year.

The place we usually stay had closed so we stayed at the Lara.

The staff did not speak and when they did they were very miserable. The owner did not speak either until we said goodbye on the last day.

The room was tiny but the cleaners came in every day to make the bed and change the towels - they smiled every time we met them.

We met some great people and if it wasn't for them I think we would have been totally depressed by the atmosphere at the hotel.

A `hello', `how are you' would have been nice, but nothing at all from the staff.

We were out of the hotel all day and didn't arrive back til evening but it was very quiet even with all the staff around.

All I can say to the staff is `be happy because life is too short' and you are living on a beautiful Island.
Elaine L
We stayed at the Lara in may yes it was a bit basic but we found it clean.We tend not to spend too much time in our room whilst we are on holiday.We found the owner and the barman Mondi?friendly and the other guests were very sociable,especially john and june with whom we would have an evening tipple before making our way up cardiac hill to have our evening meal.The lara is not too far from the beach just a short walk down hill,we have stayed in Lourdas a few times before but at the top of the hill,the walk down to the beach is ok but coming up wow its steep when its hot.A holiday is what u make it.
Norm A
we agree that the owners are not friendly with the guests,the cleaners do not wash glasses and do not seem to clean the floor in your room and do not empty ashtrays.they do manage to keep your bathroom clean but the towels are not changed daily,yes it is budget but not budget price.the hill is a killer but we had a nice holiday and there were some nice people in the hotel.
John F
Hi we have just come back from the Lara Hotel in Lourdas, we found the staff helpfull, room typical greek basic but clean, room cleaned and linen changed every day, pool clean with plenty of sunbeds the downfall is the hill to the beach and up to the village square it is a challenge for all but the fit so be warned! having said that most of Lourdas is on a hill so if walking is a problem avoid it. we found plenty of travernas in easy reach but there is no night life that we found, if staying for more than a week a car is esential these are avalible locally. we went with Kosmar and our rep John was there when you needed him and not in your face like some resorts i have been to. All in all we enjoyed our time at Lara Hotel but that is us perhaps we dont expect to much.
David B
We stayed at the Lara Hotel the first two weeks of July 2003.The Hotel was clean,comfortable and the staff and owners were very friendly. The bedroom was clean and linen changed every other day,and had a fridge,air conditioning (Extra charge) and a Balcony.It's a nice stroll down to the beach but a bit of a hike back.In our opinion a car is ESSENTIAL.(Anywhere in this Resort). All in all we had a very good holiday and would go back.
Bill R
I would agree with other contributors comments - the staff were very rude which was disappointing. The hotel is basic & clean. Swimming pool was quite dirty - I certainly would not recommend it!
William T
I would recommend that people avoid this hotel, the owners are rude, the staff are anti-social, I have never stayed in a more unwelcoming environment in all my years of visiting Lourdas, which will be 10years this year. If first time travellers get the impression that this is how true Cephalonians are then I feel sorry for them, the mob at the hotel are certainly not reflective of the population as a whole.
James H
Errikos the owner ruined our holiday. On arrival he said he was overbooked depite checking the day before departure. He subsequently moved us to another location and on entering offered us the choice of locations after two days. After two days he informed we must move back or said he would debit my card. We refused to be treated in such a manner. He simply lied and lied to us. I would not recommend the rude man who seems to know little of service. Please choose not to stay at the Lara Hotel.
Jason S
we found the staff including enrico very friendly and helpful lourdas was a very pretty village with nice views only walked to the top of the village once we did find the hill very steep even though we come from wales we had a great holiday.
Can U Help?
Megan P
i'm going to Kephalonia in 2 weeks and plan to get a taxi from the airport to Lourdhata and stay in a hotel there for a few days and then hope to get a bus to Sami to stay there for a few days-is it possible to get a bus directly from Lourdhata or will i need to go to the capital to get a bus? and can anyone recommend any other good hotels? thanks
Alison W
We stayed at the Lara hotel May 2003 on a self catering basis. The room's were very basic, with a fridege,two ringed cooker all in the one room, which was a bit small if you did want to do any cooking. It was clean, but don't expect alot of hot water as it very scarce. We were ready for the not so friendly owner after reading other peoples coments about him, but all I can say was he was very friendly and helpful. Nice pool with plenty of sunbeds, very steep hill down to the beach which they were doing the road whcih did make it a little noisy in the day. Overall it was great.
Lesley B
i would just like to add to Alan Jones comment about the owners lack of interest in his customers he was ignorant to the point we avoided being in the hotel as much as possible saying that we thoroughly enjoyed Lourdas and the true local people and ahave booked again for this year but staying in an appartment Lesley Bullas
Alan J
we knew it would be quiet in lourdas but we expected there to be some form of entertainment at the hotel.Must disagree with gavin evans we found most of the staff including the owner to be rather ignorant and not very friendly.The exception were the cleaning ladies they were brilliant
Gavin E
Good Hotel. Hill is steep, but that's Lourdas for you. The Hotel is positioned well for walk down to beach or up to tavernas. We found the Hotel above our expectation (we went with First Choice). The manager Ericoss is very helpful and speaks good English.
Lynda J
The hill was far steeper than we expected, both down to the beach and up to the village, this was not mentioned in the First Choice brouchure.
Can U Help?
Hellin M
what are the Lara studios/hotel like? we are going there in september.
Can U Help?
Barbara A
Staying there in May - would love to know if anyone has been there and can tell us. Is it very quiet? I do hope not!!
| | |
| --- | --- |
| Search for Lara Hotel in all of JustKefalonia & the Messageboard | |
More Hotels and Apartments in Lourdas...

Alfrato Village Apartments | Angelas Studios | Antanitsa Apartments | Antonia Apartments | Aristomenis Studios | Buena Vista Studios | Casa De Blu Studios | Cristoforos Apartments | Delfinia Apartments | Dionyssia Studios | Eleni Studios | Fiona Aparthotel | Folies Apartments | Fotini Studios | Ionian Sands and Beach Villas | Ionian sun Apartments | Irirni Studios | Katerina Studios | Lara Hotel | Lourdas Beach Apartments | Lovidis Studios | Lucky House | Maria | Maria Anna Hotel | Marianthi Apartments | Marina House | Marina Studios | Naftilos Studios | Ocean Front Studios | Odysseas Studios | Saoulas Studios | Spiradoula Studios | Stefanos Studios | Sunset Studios | Villa Mare Apartments | Vrisida Apartments |