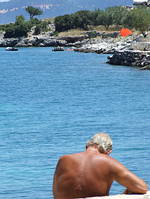 Kefalonia Reviews
---
Places to Visit
---
Kefalonia Guide
---
Local Directory
---
Resort Guides
---
Street View
Agia Efimia Resort

(Resorts in Agia Efimia)
8/10
David M
Just returned from wonderful week in Agia Efimia. Best place to eat is The Local (where the local Greek people eat) on the corner of Miaouli Road and the beach front - great food at good prices, the octopus was the best ever. Don't go to the tavernas opposite the berthed boats, rip-off food and watery wine. Best place for chilling with a cool drink is Fior D'amore opposite the taxi/bus stand.
Pat J
Spent another two delightful weeks here,lovely to be back again as usual and thoroughly enjoyed ourselves again.We were here again for the village festival which is a very enjoyable experience.The village is named after Saint Efimia and her icon is taken from the church on the evening of July 11th and carried from the church to the harbour to be blessed,accompanied by several priests and marching bands,followed by the local villagers,then back to its' place in the church.The village is very busy on this night as there's singing and dancing on the harbour,followed by a firework display and quite a large flea market set up at the back of the village,but by the next day,all returns to its usual leisurely pace of life.

There are several good tavernas and bars around the harbour where you'll receive a warm welcome and great to "people watch".There's plenty to do in and around the village in the daytime,you can be as lazy as you like(us!)or there are pleasant walks to be had in the area

Very much looking forward to returning same time next year
10/10
Pat W
just returned from aghia efimia again !!! must mention a lovely bar / restaurant we spent a lot of time in , is it called The Local just past the post office . The family who run it are the nicest people and so welcoming food and drinks are reasonably priced well worth a visit . the other taverna with lovely food and fab views is the Paradise Beach at the end of the bay . This lovely little resort is absolutely so laid back and friendly .. if you like peace and quiet and wonderful harbour and sea views this is the place for you .
10/10
Pat J
Got home 10 days ago from another wonderful two weeks spent in Agia Efimia and had as good a time as ever,delicious food as always in Pergola,To Perasma and Spiros and a warm welcome at Fior D'amour from Athina as usual.We had a lovely holiday again,thanks to Oneira Holidays,who specialise in this area of Kefalonia and also Ithaca,they really are an excellent company to travel with and we can't recommend them highly enough for expertise and reliability.

We miss the place so much already and can't wait to return next July
8/10
Dave P
Very picturesque - try the coast road facing Ithaca for truly amazing views. Lovely place - but there again - where isn't lovely in this island?
10/10
Pat J
How lovely it was to be back in Agia Efimia again,it's just the most wonderful place for a relaxing holiday although there is plenty to do if you wish.The village itself is lovely to wander through and there are plenty of little coves if you fancy a dip in the sea,although pebbly,access is quite easy.There are some lovely tavernas in the village,our personal favourites being The Pergola,To Perasma & Spiros and for lunch the setting of the Paradise Taverna overlooking Paradise beach is a must.Another nice thing to do is take a trip on the local bus which makes several journeys daily into the neighbouring villages,it's very pleasant to do the round trip,you get to see village life and see the locals hopping on and off as you go round.Missing the place already and can't wait to be back next year
10/10
Norry H
Returned from our visit to Ag Efimia on 21 May -2nd time in 3 years. Brilliant time - true , no sandy beaches but DO hire a boat from Boulevard Boats - Jonny very helpful and friendly. We went with Oneira and stayed at Amalia - top apartment, small but brilliant views and loads of sun. Boat trip to Lefkas also a must. Lots of wonderful places to eat but in particular the place wih blue chairs along quay - begins with "P" something like Perasmus. Angelo is the main man and we had the most wonderful spag bol ever. Paradise is also a place you have to go to - lunch is better than the eveninjg as the staff have more time to entertain. "House red" or "barrel" is splendid as well as being cheap but in that order. Great place to relax Although we only passed through - advice from Brits living there was to avoid Lassi - much more expensive, commercialised and not personal
10/10
Louise T
Back on the 18th May really missed it last year and Im into double figures this time. Cant wait to unwind in my favorite greek village. So looking forward to Illias's cooking and Stellas lovely smile at the Pergolas.
10/10
Geoffrey C

Boulavard Boats are one if not the best boat rentals on the island. My wife and I had the 30hp boat for the day we motored up to fiskardo and around the island with the small chuch on it. It was a fantastic day out where we had the chance to snorkel in most coves and bays on the northern side of the island we are going to hire the boat again before the end of the season see you soon Johnnie
10/10
Jeanette C

This is the second time we've stayed here and we love it. If you like walking walk to Makriotika - it's signposted. There is a bar up there that does great Frappes and freshly squeezed orange juice. There is also a restaurant that serves really good food - the best we found this time.
10/10
Kerry F
great time of year to visit, all the tavernas n bars are open but not too many people!! weather was very warm, loved it so much its the first greek resort i will go back to, my only complaint is DONT USE BOULAVARD BOATS!!!! hired a boat for the day for 70 euros had o lovelly day ,was told fuel would be an extra 5 to 15 euros, when we got back the man was berthing the boat n he lost the anchor, his boss went mad at him so our fuel ende up at 20 euros!!! wouldnt mind but youre only allowed to go 50mins up the coast

Emma M
The other times we have been to Agia Efimia, it was the height of the summer season,a nd the place was packed.
We have just got back from a week in Kefalonia, and had a much nicer visit to Agia Efimia as it was very quiet.
It is a beautiful little harbour, with lovely scenery. Dont forget to stop at the little coves and bays on the raod to Sami!!

Lisa P

Hiya, your best bet for a fantastic day trip to Ithaca to to take the Sami Star boat trip from Sami - it leaves several times a week at about 9.30 ( you would need to go to Sami to check the times ) and they take you to Vathy and Kioni and then stop off at some lovely coves for swimming.

You would need a taxi from Ag Eff to Sami for the early start !

I stayed at Sami a few years ago and walked to Ag Eff several times - it's a long walk but realatively flat so you're OK !

From Ag Eff you can also walk to the Mellisani lake and the caves.

There's one local bus that does a round trip of the island twice a day, which is useful if the times are convenient - it stops in Ag Eff so check that out..

Dunno about organised trips but there are plenty of them - your rep will help.
Carol C
Hi,

We have just booked a holiday for July after a 4 year break - we loved it last time and hope it hasn't been spoilt with the building work mentioned in other emails! Last time we wanted to visit Ithaca but couldn't find out how to do it - we don't hire cars when we go on holiday so perhaps it would mean a trip into Sami? As we are there for 2 weeks any tips on places to visit (without car so via buses or organised tours) would be gratefully recieved.

Thanks

Carol
Helena H
Agia Efimia is perfectly located for exploring the rest of the island as everywhere is within 35km drive. There are plenty of bars and restaurants and all are good. I would especially recommend Spiro's for food. For drinks and snacks you must go to Fior d'Amour where you can sit and watch the world go by over a Mythos (or 3!).
Myrto apartments are excellent (although beware if you are going in the next couple of months as there is some building work going on next door!). The beach is pebbly and fairly small but it is good for snorkelling (if you want a sandy beach holiday Kefalonia is probably not for you).
Hire a car and explore. We paid £155 for 7 days in September from Gerolimatos in Sami (they delivered to the door) but Oneira in Agia Efimia itself may be cheaper (they had sold out while we were there).

Can U Help?
Trevor M
In reply to B M Bevan, there is a cash machine in the village, it's situated opposite the Oneria office's which I think is on the first road on the right just up from the harbour front, the village is not big so I think you will find it providing you have not had too many Mythos... All the best, Trev
Trevor M

In reply to Gill's request for info, we were shown round the Poseidon appartments last September by a chap called Themis, the top floor appartments/studios seemed the best with good views over the village/harbour etc, contact number is 0030 26740 61222.

Other places to try are as follows:

Myrto Apartments & rooms, names on the card are Makis & Kiki Alisandratos.

Tel:0030 26740 61053, Mob:0030 6944 252010

Email:alisandratos@yahoo.com

These are located off the road going up too Paradise Beach, did not go in but front rooms had good views towards Sami etc.

Studios from Vrettos Gavrilis, (thats whats on the card anyway!!!) these are located off the road going from Agia toward Sami, beyond Makis's Bar/appartments and the Churchyard. Very friendly chap showed us round last year, the rooms seemed to be finished to a very high standard

Tel/Fax:0030 26740 22006 or Mob:0030 69778 63888

I hope this helps and you find somewhere to stay, we will be back in 3 weeks time so can't wait.

All the best,

Trev.
Can U Help?
B M
we are going to Agia Efima on sunday 20th August. Can anyone let me know if there is an ATM machine if not where is the nearest
Gill P

We were in Agia Efimia 2 years ago and stayed at the Posiedon Apartments the people there were extremely freindly and we would like to go back but can't find this accomodation advertised anywhere, can anyone help or have these appartments disappeared as part of the building work.
......... .
Just returned to Agia Effimia after 5 years,people have become very greedy with new appartments popping up everywhere.new Tavernas opening and building work going on 18 hours a day. The flotillas of sailing boats and the money they bring has now pushed the ordiary holiday maker into the background, gone are the harbour side tables and chairs and the relaxing beautiful views they brought, we have all been shunted into the bars and cafes whilst the boating fraternity have the complete run of the harbour walk Unfortunately according to the locals the number of english people visiting in May is not enough to keep everybody happy.Enjoy it whilst you can for the peace and traquility of the resort is rapidly declining.
Gareth J

We spent a fortnight in Agia Efimia in early July 05, and loved every minute of it. We stayed in the Kirki Apartments via Oneira. It's not a big town but there was enough going on to keep us occupied the whole time. We hired a car for a week (via Oneira) and visited Fiskardo, Assos, Myrtos etc, not forgetting a few hours near Mt Nero on roads of dubious pedigree trying to find our way home! We also hired a boat for a day (from Yellow Boats - very helpful) and took over a small cove to the town's north-east. We would definitely return; in our opinion, Agia Efimia itself was the pick of the local resorts. This was probably the most relaxing holiday we've ever had.
Sally P

We stayed in Agia Efimia for two weeks in May 2005. We found the resort perfect for our type of holiday, quiet, good food and very friendly locals, so relaxing. Would definatley suggest that you hire a car as you have some of the best scenery and beaches in Kefalonia at your doorstep. We hired a car from the airport for the whole two weeks and saw most of the Island . We stayed at Makis Apartments and found the room clean, if not a little tired, but for a base it was great. Best Restaurant was 'To Steki' very, very tradional, lovely staff and great for people watching.... all in all a fantastic holiday and location.
Kevin M

Nice peaceful resort ,if your looking for quite, this is the place.

If your looking for lively nightlife this is not the place for you. We spent two weeks here from mid june 2005, temps were very warm 25-35 degrees.
Lisa P
Follow the harbour right the way round the marina, out of town, up the hill and you come to the Paradise Beach Restaurant - check out the chocolate souffle for 2 - divine !!!!
Helen D
We returned from Kefalonia on Tuesday. I cannot tell you how depressing it is to be back. We left at 18c and arrived at Birmingham at 10c. We had a fantastic holiday, staying in Agia Efimia. Out apartment (Mytos) was lovely - small but a great balcony overlooking Paradise Beach (a slight exageration!). The apartment was very clean and ideally situated for the centre of town. The weather was superb - it rained the first day of arrival and last day as we left. Warm with a slight breeze most days.

The resturants were a bit hit and miss. The first week we had 5 consecutively dreadful meals, but strangely the rest of the meals were great! The town itself was still fairly lively for our first week, but tailed off in our last few days there.

Lots of great places to see. We would highly recommend the cruises to Ithaca and Skorpios etc. Assoss is beautiful as is Fiskardo. Myrtos Beach is like something from the movies.

Fantastic holiday in almost every way!
| | |
| --- | --- |
| Search for Agia Efimia Resort in all of JustKefalonia & the Messageboard | |
More Resorts on Kefalonia...

Agia Efimia Resort | Avithos | Fanari | Fiskardo | Karavados | Katelios Resort | Lassi Resort | Lixouri | Lourdas Resort | Poros Resort | Sami | Skala Resort | Svoronata | Trapezaki |