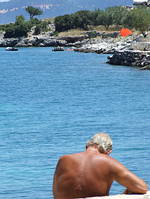 Kefalonia Reviews
---
Places to Visit
---
Kefalonia Guide
---
Local Directory
---
Resort Guides
---
Street View
Waterside Apartments

(Accommodation in Agia Efimia)
Brian K

More Pics ! Next Door Platform into " SEA " Great .

No Room anywhere ! Agi Efm Brill
9/10
Sheila P
We absolutely love Waterside apartments. Our only problem is being able to get a room because they are always busy. People from all over the world stay there. We have to remember we are in Greece and this area is typically greek and not yet spoilt. The rooms are thoroughly cleaned every day and the family are so warm and welcoming. We hope that the family can continue the service they have provided which in our eyes has been excellent.

2/10
Brian K

Aghia Efimia

 

Please upload my photo's thank you .

 

 

 

Waterside Studio`s ARE in Aghia Efimia Please leave COMMENTS ON

 

I have wrote to Thomas Cook about Waterside (Manny Fontenla-Novoa, Group Chief Executive Officer ) .... Sadly Waterside could be Great ! We were the first Guests in room 7 , & it was Dirty , Small , Fridge Very Noisey , No way to Lock the DOOR at Night !! .... Electric Socket over BED , 1940 Toilet/washbasin ... Sidelamps Walking !!! " See " Photos . No Where to prepare Food ....No Room to DO-Anything .... ok its Greece but come on Clean the SINK ....Clean under Sink in Room .... Buy a New Fridge ,it was Very Noisey ALLDAY & Night . The DOOR Banging at night in the Wind . Look & Photos about SEA access !!!! You need to be a Mountain Goat to GET to Water ! ( next Door Property has Great Wooden Platform with Steps ... but be Very Very Careful climping over ROCKS !!! YOU HAVE BEEN WARNED ! ) Now its more like 10/15 mins to Harbour & no Shops / Supermarkets were CLOSED between 3pm & 5 :30pm EVERY day ! come ON open up Agia Efimia we need Water, Milk ,Shopping when we Arrive !!!! Good Car Hire from Nikos Car Hire back street near Harbour ! Some very very nice GREEK Tavernas ..... Did 422 kilometers round Kefalonia , Skala ,Best for Drinking & night life .... ! Some Great Beaches . Stavros Sorry i have had TO write this Revue as i SEE it & Your family ARE very nice But its time YOU took over & gave them a Rest and Updated what could be a Lovely Place . Sea Views & Garden are GREAT ! PS ... Makis over road was CLOSED & HE WOULD NOT LET anybody use HIS POOL !
8/10
Brian P
Addyour comment here Last year my son and daughter stayed at the waterside apartments and we visited them at that address although we were staying at a hotel nearby. We were so impressed by the 'millionaire views' and the courtesy shown to our relatives that we have booked to stay there this year.
9/10
Christine C
Got back a couple of days ago from Waterside Apartments. We had done our homework and asked our tour operator Manos if we could have a sea-view studio, which thankfully they gave us. Beautiful gardens, fantastic views from our balcony. Very convenient to walk into Ag. Efimia. Basic studio, asked for and were given extra pillows, kitchen had all we needed, equiped for three with two ring hob and a very noisy fridge! Lovely proprietors, helpful and pleasant who take a great pride in their studios and gardens. English paperbacks and magazines to read. Air conditioning /blankets provided. Maid service every day ensured everything very clean and tidy. Downside would be staying in studio on the road side of the building where work was being done on a property over the road and although not very busy, there was a lot of heavy vehicles passing, so check when booking that you have a sea view if possible. Lovely place.
9/10
Pat W

Just returned from the Waterside apartments , had a wonderful holiday again ( our second visit )

We will visit again but will try for a seaview as the road is quite noisy .

The owners are lovely people and the rooms again are spotlessly clean .

We spent a lot of time in the beautiful garden overlooking the sea ( stunning ) .

The village of Aghia Efimia is delightful and the local people very friendly .
10/10
Pat W

just returned from waterside apartments and they were lovely . I have to say they were basic but everything you needed was there , and they are kept absolutely spotless . I think the crowning glory of these apartments is the beautiful gardens and views over to the island of ithaca and watching all the yachts coming and going . If you are not lucky enough to get a seaview the next best thing is sitting in said gardens . The owners are very friendly people and there if you need anything , we have already booked for next year and can't wait .
Mark R

Hi i stayed in Agia Efimia on the 10th june last year and had a taxi transfer from the airport it was a bit expensive but it was in a v12 mercades and the service was great door to door (i will use then again), you can book from the uk by phone the company is - CAESAR taxi co phone numbers are 6947 846736 or 6944 339535 thease may be mobiles im not sure or 26710 28505

Ps i have not stayed at waterside and would like to know what you think of the apartments?
10/10
Jean C

My husband and I spent last July at Waterside apartments and had an unforgettable holiday thanks to our hosts at Waterside apartments. Waterside apartments are the best place in Agia Efimia, located next to the sea and the owner Vangelis attended to all our needs. We still miss our relaxing evenings in the garden tasting Vangelis wine.

would recommend to anyone.

Jean and Phil

Newcastle
10/10
Lisa B
The most beautiful apartments in Agia Efimia. If you visit Agia Efimia just walk down their garden and you will not believe that a place like this exists.

The views are stunning, the flowers are everywhere and the in the night you can hear the waves at the bottom of the garden. Everyone in the village has been asking us where we booked our holidays so they can book next year. We booked through this wesite

http://www.waterside-apartments.co.uk/

The best holidays ever

Lisa and Nick

London
10/10
Nick R
Visited the hotel beginining of May 2007 and I would recomend it to anyone. Great location and the most beautiful garden to relax and read your book. The rooms are very clean and only a few minutes walking from the center of Agia Efimia. You have great views of Agia Efimia and Ithaka.

We booked to go back in September.
John C
What amazing holidays. I definetely will go back again. My wife and I found it very hard to leave this relaxing and beautiful apartments. Their garden is just a few steps by the sea and my wife and I spent most of our days relaxing in this amazing garden.

would recomend them to anyone.

John and Julia

Devon

(visited waterside August 2006)
10/10
Helen S

My holidays last July in Agia Efimia were fantastic. Waterside is the best place in Agia Efimia I could have chosen. It is next to the sea (the only hotel next to the sea in Agia Efimia) and they have the most beautiful and relaxing garden. The rooms are very clean with all the modern coms and I cannot wait to go back again. the owner is very friendly and I asked for his advise for everything.

Helen Stevens

Cornwall
10/10
Sarah G

Last summer I visited Waterside Apartments and I had the most fantastic holidays. The apartments are a few metres by the water and they have the most beautiful garden in Kefalonia. Very rarely I have seen such beauty and felt like I was a film star, living in an exclusive villa by the water. The apartments were very clean and despite they were basic nothing was missing and everything was in good order. I already booked my next holidays with Vangelis the owner.

Sarah Gill Southampton
Tanya P
We have recently returned from our Honeymoon there, the apartments are very basic, the cooking facilities arent very good. We had the roadside room which was very very noisey, our window in the bathroom was very dangerous as it was split in two and ready to fall out, as was a window in the bedroom area. These apartments are very clean and staff are very friendly but have limited english ( if you have a problem you should se the son he has good english).

We loved the area and could not fault it in any way, it ws just what we were looking for and the choice of places to eat are amazing, Makis across the road is superb and you can also use their swimming pool which also has fantastic views. we will go back again but sadly not to these apartments.
Julie M
We came back on the 8th July, what a fantastic place you can't help but relax, the appartment was spotless and the owners friendly. The gardens are something else, pictures don't do them justic. Just handy is the resturant across the road, Makis, it serves excellent food and the waiters are good teachers of Greek if you are willing to learn. Nigthlife is bases around the harbour with the locals.
Yvette B
Spent two weeks in these apartments a couple of years ago ( overlooking the water) was the best holiday ever , basic but clean, well kept owners friendly and helpful would love to go back , great bar just across the road too!
| | |
| --- | --- |
| Search for Waterside Apartments in all of JustKefalonia & the Messageboard | |
More Hotels and Apartments in Agia Efimia...

Amalia Apartments | Annas Apartments | Aphrodite Studios | Gonatas Hotel | Kefalonia Bay Palace | Konstantinos Apartments | Logaras Studios | Makis Apartments | Maria Studios | Myrto Apartments | Natassa Apartments | Nikoleta Studios | Panorama Apartments | Poseidon Apartments | Vassilis Apartments | Villa Efi | Violatos Studios | Waterside Apartments |