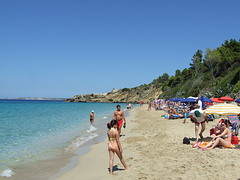 Reasons to Visit:
•
Biggest resort on Kefalonia
•
Excellent beaches - Safe for kids and with good facilities
•
Good selection of bars & restaurants
•
20 min transfer from airport
•
Walking distance from Argostoli for a change of scene
Reasons to Stay Away:
•
Biggest resort on Kefalonia
•
Beaches get busy in peak season
•
Purpose built resort - not much character
Due to its lovely sandy beaches and proximity to both airport and town, Lassi is understandably popular. It lies just three kilometres to the south of Argostoli, the island capital, but has plenty of restaurants, cafes and shops of its own. Although a developing resort area, Lassi remains mainly low-key and particularly popular with families. Lassi has two superb beaches which get busy in season, but this does ensure that they have good facilities, including watersports, sun beds and a beach bar or two. In the evenings many head into Argostoli, either on foot or by taxi. The Lassi area is the best place from which to undertake a thorough exploration of the island. All excursions pick up from here and, with a string of undeveloped sandy beaches along Kefalonia's peaceful south coast only 20 minute drive away.