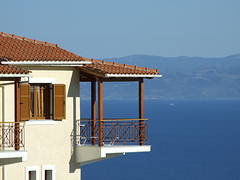 Reasons to Visit:
•
Great Beach - Safe for kids
•
Good selection of bars & restaurants
•
Most accomodation in quiet areas
•
Good for couples and families
Reasons to Stay Away:
•
Steep hill from beach to accommodation
•
Nightlife quieter than Skala or Lassi
The south coast of Kefalonia boasts a string of sandy bays and beaches but only limited development to date (Skala is the only place approaching a 'resort' here). The beach stretches for about a kilometre and sunbeds are available for rent. Slightly inland, the original village is an attractive little place and boasts a very traditional square shaded by a pine trees, three good tavernas and a mini-market. Lourdas essentially offers a quiet relaxed holiday with an excellent beach, fine views, scenic surrounds and limited (mainly taverna-based) nightlife. For further exploration of the island, or of the many other beaches along the coast here, car hire is advised as the bus service is limited.