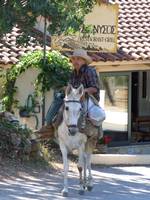 Lourdas Reviews
---
Places to Visit
---
Kefalonia Guide
---
Local Directory
---
Resort Guides
---
Street View
+ Enlarge Map
Eleni Studios

(Accommodation in Lourdas)
10/10
Amanda B

Have just returned from my first stay at the Eleni and could not fault any aspect. The staff were absolutely wonderful - couldn't have been more helpful and friendly. Apartment was just what I wanted - roomy, clean and far and away the best I've stayed in in Lourdas. Only problem I encountered was having to leave to go back to work!
10/10
Denise & rob B

We visited the Eleni in July this is the 7th or 8th time we have stayed at the Eleni and as usual the standards of the rooms and cleanliness were extremely high. The towels and sheets were changed regularly and the lady who cleans the rooms and the pool area is very friendly. The views from all of the rooms are just breath taking and watching the sun go down from our balcony with a glass of wine s simply wonderful.

It was disappointing that the pool bar was not open however after last years losses and the way the holiday market is this year its understandable that its just not viable to open it. However it did'nt spoil our stay as we just kept cold drinks and ice creams in the fridge. The plus side was that most days we had the pool to ourselves. Kostas and his family care very much for people who visit the island and the appartment s and work very hard to give the best hospitality they can. We have brought several of our children and also our grandchild and each visit has been wonderful this one was as always FAB.

Kefalonia and Lourdas in particular is a wonderful retreat from the rat race anyone who wants a more robust nightlife should go to Benidorm !!!

Anyone who finds fault is simply hard to please.

If its your first time in Kefalonia you must visit the Andromeda Centre the food is second to none and the welcome from Kostas and Theresa is fantastic . Again you have the spectacular views while eating the fantastic food . Watch out for Kostas's wicked sense of humour though.

We will certainly be returning to stay at the Eleni !!!!
10/10
Ann D
I have stayed many times at the Eleni over many years.

I visited the Eleni last month and although the pool bar is currently closed this did not make my holiday any less enjoyable. The same goes for a tv room, why do I want a tv room whilst I am on holiday on one of the most beautiful islands in the world.

The rooms are clean and the cleaner came to clean my room several times during my stay.

A holiday is what you make it.

I will definitely be visiting Kostas and his family again. They cannot do enough for you, you only have to ask.

Thanks Kostas.
1/10
Susan S

Just returned from spending a fortnight at Eleni Studios. I cannot understand how so many people have given them a good review. I only booked this as all reviews seemed excellent but I was disgusted at the lack of cleanliness, rudeness of the 1 and only member of staff I seen and the lack of on site facilities. A pool bar and TV room were all advertised but on arriving, they had nothing and clearly didn't care about guests. Would not recommend these apartments to anyone.
Jackie K
Hello everyone - new to this but could not resist adding my comments to those on Eleni Studios. We have visited 3 times now and absolutely love it, the first time we went with Kosmar but we have booked direct on subsequent journeys. Last year we flew with Easyjet into Athens, hired a car and drove about 2.5/3 hours to a port where we took a ferry over to Kefalonia (the road is pretty hellish and very twisty so make sure you allow plenty of time between flight landing and ferry departing!). All in all I got a weeks holiday for the 4 of us in August for just under £1000 - I have to say I was very smug about it! The flight and ferry times are difficult on the way back and we needed to stay in Athens for a night before, which I wouldn't recommend unless you can navigate your way around a one way system when all the signs are obviously in Greek! Next time we thought we might stay overnight in Corinth so we can take the kids to see the canal. We have children aged 6 and 10 and last year they found it such an adventure going on a Greek ferry - and it really is a beautiful way to arrive. If you're internet savvy all of it can be booked independantly and it becomes such a great adventure!
We love Eleni Studios and cannot wait to visit again - sadly we can't go this year but I'm already checking out Easyjet for when they load their flights for next Summer!


Barbara L

Can anyone tell me which tour operator Eleni Studios are with for 2009 season please?
10/10
Helen W
Hi, Jen and I came back for our fourth visit to Lourdas in August. We absolutely love soming back and seeing Kostas and the family again. It really is like a home from home and it's great to see all those familiar faces again. Things have changed, with Kostas spending his evenings at his fantastic restaurant, 'Andromeda', and Elias and Theresa no longer behind the pool bar. However, it is still a excellent place to stay and your are always made so welcome. Jem and I did miss Elias and Theresa, but loved seeing Patrick and Alex. We can't wait to come back and visit next summer, for our girly holiday! This time, we hope to make it 2 weeks!!!! Yes definately, book direct if you can't get a room with Komsar. Even though the flights seem expensive, it all adds up to about the same anyway.

See you next year!!!!

Helen & Jen

Bristol
10/10
David B
Couldn't stay at the Eleni this year as it is only available through Kosmar and all rooms were taken on the dates we wanted. However I visited Kostas at his new restaurant Andromeda which is excellent. The food is in a different class to the usual fare. Cannot fault the place and very reasonable too.

We spoke to Kostas about availability at the Eleni. He told me that his Kosmar allocation was sold out very quickly. Unfortuantely his other rooms are often empty as no other tour operator will take an option on them. He suggested flight only and book rooms direct with him via his webiste.

Try and make an effort to visit the restaurant at least once during your visit. The guy is making a real effort and deserves support.
10/10
June /
: We have stayed at the Eleni twice but this year unfortuantely we were unable to get in the weeks we wanted., However things have changed a little there. Theresa has left and Kostas has opened his new restaurant. I am not sure if the pool bar is up and running properly as Kostas is having to find someone to manage it for him. He is still around though with his funny jokes and comments during the day. We visited him every night at his new restaurant which is only about 10 minutes from the Eleni. The restaurant is called 'Andromeda' Centre and is located on the small road leading off the main road at the corner of Spiros Taverna. Go there - it is absolutely beautiful, the food to die for and the view magnificant!!

He is still his wonderful self with lots to say and joke about!! Alex is busy looking after Patrick who is gorgeous and the spit of kostas! Greeting to all the friends we have made there - of course Kostas still insists on calling us Mr. & Mrs. Robinson!!! We wish him all the luck in the world with his restaurant - the other tavenas will have to 'up' their standards!!!We are from the UK not germany!
10/10
Fred R

Hi Ann - I hope you and Ray are keeping well - it's a pity we will probably miss each other although we may bump into you at the airport - we are scheduled to leave about 1pm on the Sunday afternoon.

Both Susan and I are keeping well and are looking forward to the hols on 1 July - yes Simon is coming with us - he was 16 on Easter Monday and you would not recognise him now - he like last year will be sharing a room with his friend - last year we had room 11 and they had room 12 - Simon ended up serving behind the bar one evening whilst Ilias watched dvd's (Kostas knows about it).

The new restaurant will be open by the time we get there - it looks great with a beautiful 'view' over Lourdas beach - at least in the early evening. Have you seen Patrick ? if not e mail me if you have changed your e mail address - I'll send the photos anyway.

Take care

Best wishes

Fred
Toya R

I will be going to the Eleni Studios for 2 weeks in July with my husband and teenage son. It sounds like a lovely place, we are all realy looking forward to it.
Lisa G

hey fred, thanks alot for your advice it has helped alot i am now looking forward to this holiday

many thanks Lisa
10/10
Fred R

Lisa

You may find Lourdata - the beach is called Lourdas - a little on the quiet side,however the people are very friendly and the views are really superb. Where are you staying - the Eleni is one of the really good places to stay as it has its own pool and food is available,also supermarkets are only a 10 minute walk away although you either have to climb the hill going (on the main road) or coming back (eg Maria's). The only downside to the Eleni is the trek to the beach - or rather the climb back up the hill from it - if you are a beach lover. Car hire is recommended - not just for the beach but to get around the island and see other really good places - monastery at St Gerassimos,Assos,Xi beach,Petani beach,Sami and Aghia Efimia, Skala,Mellisani Lake,Myrtos beach etc.In Lourdata - the main restaurants are up the hill towards Vlachata -m there are a few places to eat and Muses bar which serves food as well as drinks and has Sky TV if you need to watch sports,or just chill out in the evenings with the smell of Jasmine all around.

You will love it and you will return.
Kevin D
have read exelent reports for eleni studios we love greece and always search for family run studios we cant wait to visit eleni we are going in sept 2007

Fred R

Unfortunately can't say anymore than what a fabulous place to stay,clean apartments,clean pool,lovely food,lovely people,spectacular views,good air conditioning and roll on 1 July 2007 for 2 glorious weeks here again.
Colin P

We happened on Eleni simply from a brochure and were delighted with what we found. Apart from modern clean apartment with excellent pool, the level of hospitality was second to none. Kostas and his team could not be more helpful and Kostas is a superb chef. Our thanks to all at Eleni who made our holiday so good.
Darenne P

We did not stay here, but used there lovely clean pool and attended the BBQ Nite. The food was excellent and what a choice Plenty to suit all tastes and only 12 Euros. Left feeling stuffed and happy.

10/10. Kostas you are the BEST!! (Brambles Mom)
Annie D

Unfortunately we did not stay here this time around but went to see Kostas every day as the atmosphere is excellent, the people are always kind and you will never find a better place to stay in Kefalonia.

Miss you lots Kostas, Alex and Ilias.

See you soon.
Graham H

hello kostas and eliyas thankyou for a wonderful holiday missing kefalonia callum missing your burgers

hope to see you in the future .

superb hospitality
Andrew M

After last years disappointment of Argassi on Zante (and we normally love Greece), we wanted a more traditional laid back resort, so took our chances with Lourdas on Kefalonia (never been before). We struck gold as we were looking for somewhere to recharge our batteries and could not have been more lucky with our choice of the Eleni Studios.

Really nice clean accommodation and the food prepared by Costas was very good. The hosts were attentative when needed, but in no way overbearing if you just wanted peace and quiet.

The once weekly barbeque and quiz night are recommended and was a really nice way of meeting

other likeminded people.

If you want a quiet relaxed Greek holiday, you'll be hard pressed to beat both the resort and Eleni Studios itself.
Kelly H

spent our honeymoon at the eleni last august. it was our 2nd visit. we recommend it to everyone and think its really nice. kostas, alex and their staff do everything they can to make you feel welcome and make sure you have a great time. apartments are so clean, each one with the most beautiful view over the ocean to zante. pool and bar are 1st class and kostas must be the best chef on the island, his food is fantastic and reasonably priced with a different menu every night of you holiday. we really can't wait to go back............
Sandra E

Fantastico! How Kostas, Alex and Theresa managed to put up with me for two weeks I will never know, that speaks volumes as to the type of lovely people they are, although, Kostas can be a very cheeky man!

Keith and I had an excellent holiday, today was our first day back at work, and boy how we wish we could turn the clock back two weeks.

Can't add any more favourable messages as it has all been said before, just go there and you will NOT be disappointed!

Sorry, Barbara I did not take in all of your email, however, it does leave us with a few things to try upon our return.
Malcolm P

We have just returned today 13th September 05 we stayed at Eleni 2 this is just a few mins from Eleni 1 Costa Alex and Terersa are fantasitic the food is simple great you are made to feel not just welcome but they take you into the heart of the family you become one of Costas and Alex family after just a few mins they all know you by name if you dont go to see them they get worried i just can't thank them enough in fact we love you all and Costa we will be taking up your offer for our Wedding Love to you all Malc & Sue the comments on the site can not do them the justice they decerve.
Barbara L

Eating at the Eleni itself is very good but we also visited several other places during our stay. We particularly liked the Inopolis (I think that is what it is called). Don't be put off if it looks empty - they have a small balcony which can't be seen from the road, and people tend to choose to eat outside. The welcome is friendly and the choice and quality of the meals is very good. We found it to be the most reasonable too. We probably ate there 3 times and on each visit we all tried different starters and main courses and we were not disappointed. Also ate at Dionysos which was okay although not much atmostphere - to be fair it was very quiet when we visited so maybe a visit when they have the traditional music nights might be a better option. If you head into Sami, try the Mermaid on the waterfront. Just outside of Sami (you will need transport, be it a bike or car, to explore this beautiful island) in a village called Zervata, you will find the Moonlight Taverna. Not much to look at, but we liked it. It's situated right on the village road. I'm sure you will enjoy your holiday. There isn't anything not to like about Kefalonia. KALO TAXITHI - Have a good journey. STO KALO - Take care.
Julia W
We have all just returned from an excellent week at Eleni Studios and endorse all that has been said before..very clean,quiet and friendly .Thank you to you all for a great time.If anyone is thinking of booking please note that there is a good local airconditioned bus down and up from the beach at Lourdas and Trapezaki(twice there in the morning and back in the afternoon)leaving a short walk back up the hill(5 mins only) from stop near Spiros taverna.The views from Eleni over the bay towards Zakynthos are absolutely fantastic and dont miss the BBQ and Quiz night.Great for people who want a relaxing time with all facilities on site without late night noise and kiddies clubs! All the best.the Wilson family.( Julia,Tim,Alan(16),Tony(14) and Marcus(11)
| | |
| --- | --- |
| Search for Eleni Studios in all of JustKefalonia & the Messageboard | |
More Hotels and Apartments in Lourdas...

Alfrato Village Apartments | Angelas Studios | Antanitsa Apartments | Antonia Apartments | Aristomenis Studios | Buena Vista Studios | Casa De Blu Studios | Cristoforos Apartments | Delfinia Apartments | Dionyssia Studios | Eleni Studios | Fiona Aparthotel | Folies Apartments | Fotini Studios | Ionian Sands and Beach Villas | Ionian sun Apartments | Irirni Studios | Katerina Studios | Lara Hotel | Lourdas Beach Apartments | Lovidis Studios | Lucky House | Maria | Maria Anna Hotel | Marianthi Apartments | Marina House | Marina Studios | Naftilos Studios | Ocean Front Studios | Odysseas Studios | Saoulas Studios | Spiradoula Studios | Stefanos Studios | Sunset Studios | Villa Mare Apartments | Vrisida Apartments |