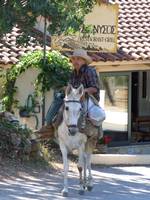 Lourdas Reviews
---
Places to Visit
---
Kefalonia Guide
---
Local Directory
---
Resort Guides
---
Street View
Delfinia Apartments

(Accommodation in Lourdas)
Lorraine J

Booked last minute online with First Choice, it was quite a bargain, so we had low expectations. In fact the reality proved very different - it was our ideal place - set in a quiet area with the most fantastic 180 degree sea view overlooking Zante - breathtaking. The studio was basic, but as to be expected in Greece - and we even had a shower curtain! (which is not the norm in Greece). The large electric fan provided relief from the heat during the night (apparently some other apartments don't provide fans or air con and had to be hired!) The kitchinette was basic, but was sufficient for preparing breakfast and packed lunches. Even though it is a quiet area, it is only a 5 minute walk to the nearest tavernas and shops. The Delfinia is surrounded by mostly olive trees, and only a couple of nearby apartments, with only occasional noise from people using the nearby pool. The layout was 3 units on each floor and because of the design the balconies were not overlooked by eachother, and felt very private too, and provided a small table chairs to enjoy the view and clothes airer.

Delfinia has quite a steep path directly down to the beach, or you can go the longer less steep path following the main road. However, I had a knee injury prior to our holiday, and we had hired a car for the whole week (picking it up from the airport) so this wasn't a problem, and we were able to zip up and down the beach in air conditioned luxury. I can imagine it would be a very hard hot walk otherwise, as there is not much shade. Even including the hire car, this was the best value enjoyable Greek holiday I think we have ever had.

We were also surprised to have house-martins nesting outside our front door!
Elaine M

Went to Delfinia Apartments in July/August 2004. Very impressed with apartments, lovely and quiet with wonderful views. Needed a car to get about, but well worth the cost as we saw everything we wanted to. Have been trying ever since to find out how to go back there, but so far, no luck. If anyone out there has this information please pass it on.
Can U Help?
George U
Hi,
we have stayed at the Delfinia before and found it to our liking,I am trying to discover which tour operator to book with, as none of the ones I have tried include the Delfinia, please reply as soon as possible.
Yours thankfully,Mr. G. Underwood.
Julie C
We have just returned from our wonderful week in the Delfinia apartments.The view that met us when we opened the shutters to our balcony for the first time was breathtaking, all rooms overlook this magnificent view of the bluest ocean.
The accommodation is simple and typically greek,it is very clean and adequate.
It suited us to just sit on the balcony in the peaceful, tranquil surroundings and enjoy a glass of wine or two whilst taking in the views and sunsets.
We never experienced the cleaner knocking on the door every morning, the beds were changed just once during the week which we found adequate.
The walk to the beach and back was a challenge but then people pay lots for gym equipment or health clubs to get exercise like this,but having said that one day after 10 mins of Adrian walking up the hill from the beach he came out with a classic "I know how Paula Radcliffe felt now!" So it was off to the car hire office where we did hire a car for 4 days to visit all the lovely places that Kefalonia has to offer.
We had some really good nights and excellent food at the Eleni Studios where Costas and Alex proved to be the best of hosts.
I would love that holiday over again and would definately return.
Stephen B
We have just returned from two weeks at Delfinia and the views were very good but you are at the bottom of a hill so some means of transport is practical. Go up to Sunnybird and see Tassos, he will give you a good deal on hiring a bike or car. In fact all the car/bike hire staff in Lourdas are very friendly. Delfinia is basic but clean and tidy. Take comfortable shoes if you are walking to the beach as it is a bit of a trek.
Becky
Appartments were great.Quite basic.........but very clean and well maintained.My only advise is that if you are there in the summer,borrow a fan as there is no air conditioning.
Helen C
Great Apartment, tho no shower cubicle or air con/room fan. More than make up for it by the fantastic view from the balcony. Must have bike or car, lots of hills and steep roads. Long trek to beach, off the beat place. would go back. How the coaches get there I dont know, streets are so narrow.
Can U Help?
Chloe O
My boyfriend and I are going to be staying in the Delfinia Studios in Lourdas this summer.If anyone has any further comments about the accommodation,location and how far the beach is(!) I'd be very grateful.

Many thanks.

Chloe
Tanya L
We have just come back from lourdas and thought that this accomodation was really good. We had a great balcony with fantastic views of the sea and the mountains. The room was really clean and we could not really fault it. We were near bars tavernas and mini markets but down the bottom of a steep hill so kind of out of the way of everything which made it nice and quiet!
Steve T
Nice and clean but basic. The shower units had no fixtures so you had to hold the shower head and try to shower at the same time (this was in all studios as standard). No shower screens so all the water splashed over the bathroom. Away from all the other studios but thats the way we like it. Supermarket 75 metres away and nearest restaraunt is about 10 minutes walk.(Uphill). Beach is FAR away, don't believe the brochures, it takes 25 minutes (Only If you're Sebastion Coe). Go to the beach the long way because after a day swimming and bathing, It's a marathon session up the cliff using the nearest dirt track.
| | |
| --- | --- |
| Search for Delfinia Apartments in all of JustKefalonia & the Messageboard | |
More Hotels and Apartments in Lourdas...

Alfrato Village Apartments | Angelas Studios | Antanitsa Apartments | Antonia Apartments | Aristomenis Studios | Buena Vista Studios | Casa De Blu Studios | Cristoforos Apartments | Delfinia Apartments | Dionyssia Studios | Eleni Studios | Fiona Aparthotel | Folies Apartments | Fotini Studios | Ionian Sands and Beach Villas | Ionian sun Apartments | Irirni Studios | Katerina Studios | Lara Hotel | Lourdas Beach Apartments | Lovidis Studios | Lucky House | Maria | Maria Anna Hotel | Marianthi Apartments | Marina House | Marina Studios | Naftilos Studios | Ocean Front Studios | Odysseas Studios | Saoulas Studios | Spiradoula Studios | Stefanos Studios | Sunset Studios | Villa Mare Apartments | Vrisida Apartments |