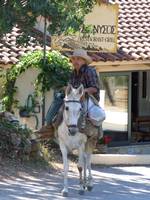 Lourdas Reviews
---
Places to Visit
---
Kefalonia Guide
---
Local Directory
---
Resort Guides
---
Street View
Spiradoula Studios

(Accommodation in Lourdas)
10/10
Fiona P
April 2013 - We had x 2 apartments, a 2 bed apartment and a 4 bed apartment, the apartments were lovely, nice and clean. The staff were wonderful, very friendly and helpful, anything you needed was supplied within minutes! What great service, and the view was breath-taking! It is a long walk to the beach involving a steep hill, but the views are wonderful, the people are so friendly, you really don't notice the hill too much at all! (Especially if you hire a car, ha ha) MARIA'S SUPERMARKET is right next door, to Spyridoula apartments and is open 7 days a week from early am to very late pm! Maria and her daughter are wonderful, they speak excellent English, are very friendly and were extremely helpful with lots of local knowledge! Maria's Supermarket also supply a free local map and best of all, a free translation list of English into Greek! Also great for souvenirs!...I bought all our souvenirs here!..Loved it....will certainly go back!
Fi S
Hi, we are going to Spyridoula apartments in Easter 2013. Can anyone tell me if there is a bus we can catch from the airport at around Lunchtime 1pm to spyridoula apartments? I know we can get Taxi's, but not sure if anyone can help with Bus Information? Thanks!
9/10
Brian D
We are nearly at the end of a two week stay at Spyridoula Apts and can't fault them. The apartments are basic with no air conditioning but they are spacious well maintained with outstanding views over the bay. We had a small dining table which we have only had once before in Greece, a fan , and an electric kettle. The apartments are situated just below La Mer Restaurant. The owners Andreas and Natasha, who also run La Mer restaurant, made us welcome on arrival and gave us the access key for the free wi-fi which was good for keeping in touch with home. It is a long way down to the beach but we had a car for the fortnight so that wasn't a problem for us. Value for money - I would say 10 out of 10. The photo is a view of Zante from the balcony.
9/10
A. M

IF YOU ARE LOOKING FOR SPYRIDOULA APARTMENTS GO TO WWW.BOOKING.COM.

THANKYOU MARKANTONATOU FAMILY, WE LOOK FORWARD TO SEEING YOU IN 2011!
Julie W
Hi, can anyone help me? I'm booked to stay at the Spiradoula Studios in sept 2010, does anyone that has stayed here know of a pool nearby that guests at the Spradoula can use.? I do not fancy the trek to the beack and back everyday!!
10/10
Sarah S

We went to the Spiradoula in August and had a fantastic time. The apartment we had was upstairs with a lovely view of the sea. The rooms themselves were basic but clean with fresh sheets and towels every two days. The walk to the beach can be a killer if youre not too fit, remember to take enough water with you to get you back up the hill, after a days sunbathing it can be quite exhausting!! We tried most of the eating places all of which we enjoyed and Maria,s supermarket has everything you need. Not a holiday if youre looking for lively nightclubs that stay open til the early hours but excellent if you want quiet beaches comfortable accomodation and good greek food . Cant wait to return!!.
9/10
Pat M
Have just come back from a week at the Spiradoula. We had a massive apartment on the ground floor. It was very clean. Right in the centre. We had easy access to plenty of restaurants. Our favorites were the Olive Lounge and Andromeda. We also enjoyed a nightly tipple before our evening meals at the Astra. Everyone we met was very friendly and helpful
9/10
Jason F

Excellent accommodation, clean & basic and close to 'La Mer' restaurant, mini markets and car hire. Would recommend a hire car or catching the bus (which goes to and from the beach every 30 minutes) as the walk back and forth the beach is a killer
Andy L
Just got home - first day back at work and very miserable for not being back in Greece. Spiradoula Studios are excellent. Very clean, good basic accommodation with lovely veranda views Would recommend a bike or car for getting around but save that I loved it here.
Can U Help?
Ian B
do they have email address
Brian T
We loved it here,we only stayed for a week and wished it was longer.
The studio had everything we needed,the views are superb.
Claire H
I had great time here,service was brilliant.
Jackie S
THE LOCATION WAS EXCELLEND,MODERN APARTMENDS EACH COMES WITH
THEIR OWN BALKONY AREA.
Shara P
great views, i came to lourdas at the end of the season. I really liked this place.
Kate S
Very clean, basic, great location very close to the best restaraunt "Le Mer" Close to super market and car hire and some amazing views.
Sarah B
nice large bathroom - nice view from verranda - plenty of space - lovely and clean - ceiling fans in every room - supermarkets 1 min away - a couple of very nice tavernas 1 min away - car hire places galore!
| | |
| --- | --- |
| Search for Spiradoula Studios in all of JustKefalonia & the Messageboard | |
More Hotels and Apartments in Lourdas...

Alfrato Village Apartments | Angelas Studios | Antanitsa Apartments | Antonia Apartments | Aristomenis Studios | Buena Vista Studios | Casa De Blu Studios | Cristoforos Apartments | Delfinia Apartments | Dionyssia Studios | Eleni Studios | Fiona Aparthotel | Folies Apartments | Fotini Studios | Ionian Sands and Beach Villas | Ionian sun Apartments | Irirni Studios | Katerina Studios | Lara Hotel | Lourdas Beach Apartments | Lovidis Studios | Lucky House | Maria | Maria Anna Hotel | Marianthi Apartments | Marina House | Marina Studios | Naftilos Studios | Ocean Front Studios | Odysseas Studios | Saoulas Studios | Spiradoula Studios | Stefanos Studios | Sunset Studios | Villa Mare Apartments | Vrisida Apartments |