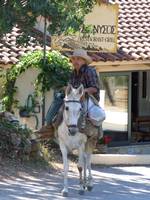 Lourdas Reviews
---
Places to Visit
---
Kefalonia Guide
---
Local Directory
---
Resort Guides
---
Street View
Ionian Sands and Beach Villas

(Accommodation in Lourdas)
Pam S

We visited Kefalonia last year for the first time. We stayed at the Ionian Beach Villa, it has a view to die for - this was indeed paradise. We loved Kefalonia and had no complaints about the villa. The only minor problem was that the lights on the stairs didn't work - we contacted the rep. at the Ionian Sun Apartments and an electrician came round and changed to light bulbs!! I think the person who wrote and complained about there not being any coals for the barbecue should get out more and shop for what they need, I have stayed in a few villas in different countries in Europe and would never expect barbecue coals to be provided.

We would have loved to have come back to the same villa this year but sadly it was fully booked for this year as soon as we returned!! That I think speaks for itself.

For the person who wanted to know which tour operator runs the Ionian Beach and Ionian Sands Villas it is Manos.
Karon E
my family visited the ionian sands villa in june 2004, we also had power cuts during our stay,and found ourselves clening the pool,but to my horror the sliding gate across the entrance to the villa came off and fell on my son.the gate was approx 15ft wide and 4ft in height made of metal and sliding motion,the gate located on only two rollers,luckily my husband is fit as he had to run down the 180 steps to get help,thank god berni the wonderfull manos rep was on hand to come to our aid.the villas should have a directcontact phone to the reception and as for the owner he never came to se my son ,but sentvia the rep some goodies,luckily my son was not badly injured,but he doesent want to return again.
Dawn S
We have just returned from our first holiday in Kefalonia, we stayed at the Ionian Sands Villa which is part of the Ionian Sun complex in Lourdas. Kefalonia is beautiful, the Villa was very nice but a word of warning! If anything goes wrong at the villa I wouldn't expect much help from the owner, well thats when his around? or not on his mobile phone! They didn't make us feel welcome on arrival, we were met by a guy who carried one suitcase to the door had a ten minute conversation on his mobile phone and then left! he didn't explain how to use anything! Villa was complete with built in barbecue but no coals? We asked at reception if we could order some and was told he would mention it to his dad but it could take a few days, after 4 days and no sign we decided to go out and find somewhere that sold coals ourselves ( it wasn't easy) but did manage to find a shop. We thought maybe we would check the weather forecast out on the internet, they offered use of internet in reception for 6 euros, except when it went to dial up connnection it asked for a password and guess what none of the staff knew it, they phoned the owner on his mobile who wouldn't tell them the password over the phone and said he would return in 15 minutes, well 25 minutes later we got fed up of waiting! We had a power cut at our villa on our third evening, half way through cooking our dinner, we had to make 4 visits down to reception (many steps) before the owners son finally arrived to inform us it was a problem at the villa next to ours that had caused the problem and also informed us he had no idea when power would be restored and they were not responsible for any frozen food loss, we did get power on nearly 2 hours later, dinner was ruined and no apology from the owner!! Infact we didn't see anything of him, only his son.The waterfall feature on the pool stopped working, when I mentioned this I was fobbed off with some excuse and told it wasn't a feature anyway! It said it was in the manos brochure! After days of swimming through dead flys (no net provided) I mentioned this to our Rep who informed me that a guy should of been coming round regularly cleaning the pool? The rep was great, the next day the waterfall feature was working and the guy who should of been cleaning the pool turned up for the first time! thank god for reps, our holiday would of been completely ruined without her, Im afraid the owner could do with a lesson in how to give good customer service, after all we paid enough money!! Kefalonia - fantastic, we will return but not at this villa unless it's under new owners who actually show some care and consideration for their customers .
Can U Help?
Tracy C
Can anybody tell me which tour operator deals with the Ionian sands and beach villas please?
Can U Help?
Duncan E
What availability do you have for next years 16th July - 2 September, two weeks, family of four 2 adults, 2 children. Please advise availability for 2003 and 2004 if none available for 2003
| | |
| --- | --- |
| Search for Ionian Sands and Beach Villas in all of JustKefalonia & the Messageboard | |
More Hotels and Apartments in Lourdas...

Alfrato Village Apartments | Angelas Studios | Antanitsa Apartments | Antonia Apartments | Aristomenis Studios | Buena Vista Studios | Casa De Blu Studios | Cristoforos Apartments | Delfinia Apartments | Dionyssia Studios | Eleni Studios | Fiona Aparthotel | Folies Apartments | Fotini Studios | Ionian Sands and Beach Villas | Ionian sun Apartments | Irirni Studios | Katerina Studios | Lara Hotel | Lourdas Beach Apartments | Lovidis Studios | Lucky House | Maria | Maria Anna Hotel | Marianthi Apartments | Marina House | Marina Studios | Naftilos Studios | Ocean Front Studios | Odysseas Studios | Saoulas Studios | Spiradoula Studios | Stefanos Studios | Sunset Studios | Villa Mare Apartments | Vrisida Apartments |