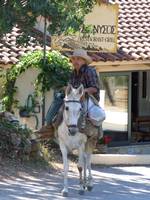 Lourdas Reviews
---
Places to Visit
---
Kefalonia Guide
---
Local Directory
---
Resort Guides
---
Street View
Odysseas Studios

(Accommodation in Lourdas)
Kay W
just got back from last minute package to lourdas.after reading comments by others I was a bit worried but no need.Appartments v clean and quite spacious for a studio in greece,views from balcony lovely and v clean.it is a long walk down to the beach but well worth the effort and hardly anyone in sight v quiet.plenty of places to eatwithout walking all the way back down to the village unlike 10 years ago. probably would be v busy in high season but at this time of the year quiet.the dog mentioned only barked once for a few minutes but what do people expect ? far worse noise at home.
Kate W
Very basic, tip...... take some toilet duck!!!!!
Tamsin O
VERY BASIC STUDIOS. YES THE SHOWER WAS TRICKY! AT ONE STAGE THERE WERE 3 DOGS BARKING. THE DAY THE MAID WAS DUE TO COME I DECIDED NOT TO WASH THE FLOOR BUT EITHER DID SHE! WE WERE GIVEN 1 TOILET ROLL FOR THE WHOLE WEEK. THERE WAS A LOVELY VIEW. LOCATED IN THE MIDDLE OF THE FLAT AREA. A SHOP OPPISITE AND MARIAS SUPERMARKET DOWN THE ROAD. MARIA WAS VERY FRIENDLY AND GAVE US LOLLYPOPS FOR THE BABY EVERY DAY AS DID THE SHOP ACCROSS THE ROAD AND THEY GAVE US A FREE BOTTLE OF LOCAL RED WINE.
Jennifer T
If you don't mind the 20 minute walk down to the beach then the location is very good. There is a small supermarket next door and there are a good choice of restaurants all nearby. Unfortunately the owner's dog is tied up outside at night and the persistent barking normally starts at about 3am. Not good if you're on holiday to catch up on sleep! The shower is hand held which can be a bit tricky and the toilet paper bin is only cleaned out twice a week. Need I say more!
Russell P
After reading the other coments about these apartments prior to our vist we were plesently suprised to find it loverly and clean surrounded by shops and tavernas the owners were very helpful and not a sound of the dog.overall we were very happy with the apartments. all apartments and accomadation in lordes are a hike from the beach.
John P
Location next to the Greek Islands restaurant which did a good Kleftico. Room clean and well furnished. Location not really good. The walk to the beach would not be something you could enjoy - we got a car immediately from Sunbird. Biggest prblem was the dog that lived at the building. The owners tied it up outside and it would bark for hours. Sometimes as early as 4:00am. Cleaning was reasonable - but the toilet bins should be emptied more than once a week - surely. Typical hand held shower and no curtain. Plenty of hot water. Supermarket opposite. Good view from balcony. No pools nearby.
| | |
| --- | --- |
| Search for Odysseas Studios in all of JustKefalonia & the Messageboard | |
More Hotels and Apartments in Lourdas...

Alfrato Village Apartments | Angelas Studios | Antanitsa Apartments | Antonia Apartments | Aristomenis Studios | Buena Vista Studios | Casa De Blu Studios | Cristoforos Apartments | Delfinia Apartments | Dionyssia Studios | Eleni Studios | Fiona Aparthotel | Folies Apartments | Fotini Studios | Ionian Sands and Beach Villas | Ionian sun Apartments | Irirni Studios | Katerina Studios | Lara Hotel | Lourdas Beach Apartments | Lovidis Studios | Lucky House | Maria | Maria Anna Hotel | Marianthi Apartments | Marina House | Marina Studios | Naftilos Studios | Ocean Front Studios | Odysseas Studios | Saoulas Studios | Spiradoula Studios | Stefanos Studios | Sunset Studios | Villa Mare Apartments | Vrisida Apartments |