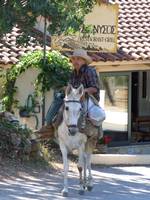 Lourdas Reviews
---
Places to Visit
---
Kefalonia Guide
---
Local Directory
---
Resort Guides
---
Street View
Angelas Studios

(Accommodation in Lourdas)
10/10
Sharone R

brilliant place to stay, right on the beach and value for money, is not in the brochure for 2010!!! does anyone know how i can book this for 2010? please email me if you have any ideas sharone1219@hotmail.co.uk
10/10
Celia H
Wonderful place and so clean and friendly. How can we book to come in August 2010. Please email me to let me know. celiaharrisson@yahoo.co.uk
Colin C
Great location, lovely clean studios,marvellous peace and quiet,charming people.

It was our perfect holiday. Book with Manos Holidays to make sure you get these studios.
Darenne P

PLEASE! PLEASE! PLEASE! BE AWARE!!

THERE ARE TWO STUDIOS IN LOURDAS CALLED ANGELA.

I booked thinking I was staying at the lovely studios on the beach only to find that I had booked Angelas Studios that used to be Dionnosia (or something similar) that is about 2km from the beach down a steep hilll with hair pin bends. They were dire. Not clean, I had to empty my own bins, as when the cleaner came she totally omitted the bathroom, leaving the bin and the kitchen bin unemptied and all the dirty towels on the rails in the bathroom. The only good thing about the place was the view and they are building in front of the balconies now, so soon that will be gone to.

Olympic who now are the agents for these studios frankly didn't want to know and I sahll not be using Olympic again.
Samantha W

Once again, fabulous. The location of Angelas can not be beaten imo.

We requested and got, room 1 which was perfect for us with it's beautiful view and ground floor location. A tad small for 3 of us but that was never an issue.

We'll definitely be back.
Amanda S

Just arrived back from a 3 week stay at Angelas, The rooms are excellent for self catering, the location is superb 25m away from the beach, I was fortunate enough to have room 7 - what a view out to sea and the sun from dusk 'til dawn.

Damitries was excellent for snacks - I recommend the combination Salad!!!, and for drinks and shelter from the heat of the day, staff are very friendly and welcoming.

In all a fantastic holiday - I would recommend it to any one couples, families alike.

The day the storm came - wow!!!! what an experience
Jon B
I have just returned from two weeks staying at Angela's. I travelled with my wife, mother, and four year old, and we had a wonderful holiday!! The beach was perfect for swimming and relaxing, and lots of lovely Tavernas along the promenade. The rooms are very comfortable, and cool enough with the ceiling fans. I hired a car and we travelled 1200 kms in the two weeks, but could not find anywhere as nice as Lourda's, and with a beachfront location, it can't be beaten!! Dimitri's taverna re-opened whilst we were there, and this makes for a lovely evening drink! I give Angela's a 10 out of 10!!!!!!
Samantha W

Angelas are booked through Manos.
Mick T

Angelas was excellent. Well appointed (for Greece), Very clean and close to the beach, mini market and taverna 's. If I have one moan it was the bikes up and down the road, but thats not the fault of the apartmentss and to be honest it wasn't every night. The cat by the way was still there with at least three kittens and visited us regularly for breakfast.
Sue C
We have just returned from Kephalonia, staying at Angelas Apartments. We asked for room 7 - glad we did - two french doors on two sides of the apartment both with panoramic sea views from the 2 balconys. 30 paces away from the beach. We watched a new beach taverna being built in front of apartment- it only took 10 days so we managed to try it out on our last night there. Great place to have a night cap - and not at all noisy if u want to turn in before it shuts.

We did use Lourdas beach a few times, as it was so easy to just wander down there without having to pack a bag or anything, and we could amble back up to the apartment for lunch on the balcony or a snooze...

but we hired a car and travelled around to lots of other beaches and I have to say the Lourdas is not the prettiest compared to others we saw. We like Trapezaki as a local beach - no pebbles or shingle to negotiate before getting in the water. Though it was shallow for a while before u could get a good swim. The only thing that ruined it was the very loud monotonous music pounding out from the beach taverna.

Anyway - back to Angelas - clean comfortable, cool at night and definately the best views!
Sue C
Well We are off to Lourdas to stay in Angelas studios next week - cant wait....will add my comments on the place in July when we get back!
Samantha W

Lovely to read all the comments about Angelas.

We stayed there in June last year and would go back in a heartbeat. Unable to go this year though as, 2 weeks after we got back from Lourdas, I found out I was pregnant and now have a gorgeous son.

We'll be back next year though.

The black and white cat has been about the last 2 holidays we've had (stayed in Villa Mare in 2003). Careful if you sleep with the patio doors open as we woke up one morning with her asleep on the bed

Love to all in Lourdas, especially the lads in The Blue Sea taverna and Tasos the car hire guy.
Kristy S

Just come back from a wonderful two weeks in Lourdas, staying at Angelas Studios. The studious are very clean (the cleaner comes every other days or every three days at least), the partments are right next to the beach and near the restaurants and bars. We will definetly be going again!

The hill is a killer though and was allot steeper than we had anticipated but we hired a car for the second week and explored, so it wasn't a problem. (hence the good for location, as it was perfect apart from if you wanted to try and walk to the main village - but there is a bus that goes up and down the start of the hill a few times a day!)

If anyone stays at the apartments in the near future please keep an eye on & if possible feed the very friendly little white and black female cat that hangs around, as she's just had kittens - not that we could find them!
Stuart C

Sue, all the rooms have big ceiling fans which we found to be good enough even with the temperatures in the 40s. Wouldn't worry about it unless you really hate the heat
Can U Help?
Sue C
Can anyone tell me if you can hire fans for our stay in Angelas? No air con=HOT!!!!

thanks.

Ps many comments recommend greekstones car hire or CBR but Sunbird have come out with the best price - are they ok? Is it cheaper to book once we get there rather than online?
Sue C
Well I was just trying to decide whether to book to stay at angelas studios when I stumbled across this site and was completely convinced - I HAD to book up and go there! My husband and I are going there in late June so will let you know if we agree with all your very positive comments! Have requested the top studio flat number 7 - might be lucky, you never know!Got a brilliant cheap deal too - cant wait! Watch this space..
Sonja C
I have just been reading the comments on the Angelas apartments and Kefalonia and it's got me all excited! I stayed in these apartments with my boyfriend in 2002 and we have only 7 weeks until we fly back again for a truly relaxing summer holiday.
The apartments are small, but perfectly formed, the location is peaceful, the restaurants are yummy and there is a small taverna a stones throw away from the apartment, owned by Demitrious and his family, which is perfect for late late late night drinking (don't worry though, it won't be busy – chances are you'll be the only ones in there and he'll just keep serving you until you are ready to leave)!
Aside from this, get yourself a car or bike and get out and about around this beautiful island. The roads wind and wind through the mountains with stunning views, there are numerous towns and villages to visit all with their own special 'something'. The locals are very pleasant and if you want to really slow down for 2 weeks, they'll show you how it's really done.
Wherever you choose to visit, you will have an unspoilt relaxing time and in fact I would put money on that you'll go back……………at least once.

Lynne W
We stayed at the angelas in June 2003. Excellent location, we hired a car for the second week of our holiday and so the hill was not a problem although we did have to park it at the top of the road (no room by the studios). I think we had the best studio, No 7 which is on the top floor looking directly over the beach. We slept with the balcony doors open and fell asleep to the sound of the waves - lovely!

If you are a nature lover and are lucky enough to get studio No 7 bats roost in the roof space and fly off from just above the balcony facing the sea between 9.30 - 10 pm every evening (I counted about a 100 bats flying off for their evening meal!) They were no trouble just fascinating to watch.

I would certainly recommend these lovely studios, owners very friendly, very quiet and in a lovely location. Will certainly be back some day but this year we are trying out Stoupa in the Peloponnese, hope this is just as good as Kephalonia.


Margaret L
We went september 2003 the apartment was excellent, clean and everyone was very friendly nothing was to much trouble wherever we went. We cant wait to go back in 2004 it was the most relaxing holiday we have ever had we hired a motor bike( well thats what they called it after a 1000 cc sports bike at home it was a bit tame) and toured the island and seen lots of lovely locations. One little gripe was the screen to keep the bugs out did not work that well I did report it to the manos rep but nothing was done to repair it.
Lisa M
We went to Kefalonia in July on our honeymoon and loved it! Angelas definitely has the best location in Lourdas, just a stone's throw from the beach. The apartment was spotless but a little on the small side, also the cooking facities and utilities were a little bit sparce so don't expect to be able to cook a meal for the family! Don't be put off though, we wouldn't have wanted to stay anywhere else because you really can't beat the location.
Michelle
Wonderful place to stay, it was very clean and tidy. There is a taverner not far away with friendly people serving us. The whole family we very nice. The taverner stayed open until about 3.00 in the mornig sometimes and it was nice to know you could get drunk and the apartments were not too far away!
Jodie F

It took me ages to decide which appartment to book but I'm glad we booked this one. We had a great view of the sea, which was so close that you could here the waves lapping at night. It was so clean as well!!!
bit of a trek up to the town but everything you needed was all on the same level, the beach, the mini-mart, the tavernas and the charming little hut/ bar right by our appatments (owned by a lovely family who made us feel so welcome).
Because there are only eight rooms we made friends with all the other holiday-makers which was lovely. However you could still maintain your own privacy.
I just loved the little chair on the ground floor where everyone left there books and magazines to exchange. If anyone goes there I reccommend reading the James Patterson book!I also left a pile of magazines after I finished them.
It was very quiet, stunning! A place I'll definately remember.

Can U Help?
Diana R
how much would it cost for 2 adults from 25th of October till 1st of November 2003 thanks

Martin W
We are going back on 19th August and cannot wait, have been to some nice place's but this something special. The hill is tough but you get used to it, and there is some nice taverna's on the way. The appartments are so clean and airy with great views, and the owners run a restaurant on the front called the blue Blue ocean ( ??? ) also not sure if the taverna by the appartments is still there but check it out very nice people run it, and it was not noisy
Margaret L
Hi we are going to Angelas appartments in sept, any feed back from you peeps would be real good, cheers
| | |
| --- | --- |
| Search for Angelas Studios in all of JustKefalonia & the Messageboard | |
More Hotels and Apartments in Lourdas...

Alfrato Village Apartments | Angelas Studios | Antanitsa Apartments | Antonia Apartments | Aristomenis Studios | Buena Vista Studios | Casa De Blu Studios | Cristoforos Apartments | Delfinia Apartments | Dionyssia Studios | Eleni Studios | Fiona Aparthotel | Folies Apartments | Fotini Studios | Ionian Sands and Beach Villas | Ionian sun Apartments | Irirni Studios | Katerina Studios | Lara Hotel | Lourdas Beach Apartments | Lovidis Studios | Lucky House | Maria | Maria Anna Hotel | Marianthi Apartments | Marina House | Marina Studios | Naftilos Studios | Ocean Front Studios | Odysseas Studios | Saoulas Studios | Spiradoula Studios | Stefanos Studios | Sunset Studios | Villa Mare Apartments | Vrisida Apartments |