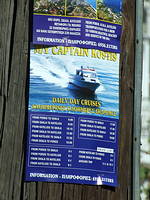 Kefalonia Reviews
---
Places to Visit
---
Kefalonia Guide
---
Local Directory
---
Resort Guides
---
Street View
Mare Monte Apartments

(Accommodation in Katelios)
Helen 1
We had an excellent stay in these apartments. They are very basic but had everything we needed. The owners were very friendly without being imposing.

In general we will most definately return to Katelios and we will stay here again.
Jessica F
We also went to the Mare Monte appts earlier this year.They are very basic but do provide the essentials.The location is excellent (VERY quiet) and is in reach of other pools and a few restaurants. I will tell you now that of a night time,the appartments are`nt very comfortable if the mosquitoes love you. Because it is set by the Mountains,there are a lot of mozzies about at night.It gets very hot in the appartments (June-August),open the windows else you`ll wakeup sweating.No air conditioning.Though these appts are owned by the friendliest you`ve ever met.
Rosalyn T
We stayed in the Mare Monte Katelios May2000. It's basic accomodation but clean/tidy with everything that you need.
Can U Help?
Stefano Z
Please send me rate for two weeks of holidays from 3 of august up to 17 we need one appartament with two bedroom. We are 2 adults and 3 kids 9, 8 and 4 old. Please no too much expensive. Tank you
Can U Help?
Billie F
Hi, My family and myself are cosidering a trip to Katelios this Summer.I would be grateful if anyone has any information on the `Mare Monte Appartments`. Cheers
| | |
| --- | --- |
| Search for Mare Monte Apartments in all of JustKefalonia & the Messageboard | |
More Hotels and Apartments in Katelios...

Albouro Apartments | Anastasia Studios | Anemona Apartments | Blue Sea Studios | Efrosini Studios | Eryphilli Studios | Filoxenia Apartments | Galini Apartments | George 1 Studios | George 11 Studios | Hara Studios | Hercules Studios | Irini Apartments | Katelios Studios | Katelios Villas | Lighthouse Studios | Mare Monte Apartments | Marketos Studios | Medusa Studios | Mythos Apartments | Notos Apartments | Pacifae Golden Village |