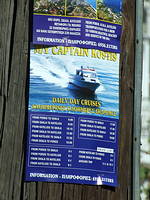 Katelios Reviews
---
Places to Visit
---
Kefalonia Guide
---
Local Directory
---
Resort Guides
---
WalkAbout
Street View Style Tours
+ Enlarge Map
Pacifae Golden Village

(Accommodation in Katelios)
8/10
Janice W
Was a bit concerned from previous comments but had a lovely week at end of September at Doumas apartments. A real 'get away from it all' relaxing holiday. Spacious apartment with beautiful view towards the sea. Cooking facilities very basic but I don't believe in cooking on holiday anyway! A few barking dogs but not a real problem. What a delight to wake up to a cockerel crowing - a real feeling of the countryside. Smashing restaurants on seafront in village

but give Jerry's Restaurant a miss.

Despite [allegedly] being recommended by various newspaper and magazines, we weren't impressed, especially as we were served veg that was obviously from the freezer, not fresh.

6/10
Libby S
Just returned from a week at Doumas studios.Must admit I was a little concerned about this accommodation before we went in view of all the negative postings. We had a wonderful time. I don't know what people had to complain about. Yes Mr. Doumas isn't the most forthcoming person I have met in Greece, but he was very pleasant and spoke to us when he saw us. The sons were more than helpful in the bar/restaurant, and the accommodation was fine. Bigger than I have stayed in on a number of a occasions. No sockets hanging out of the wall, fridge worked. Payed extra for air conditioning but I expected that. Didn,t see any snakes, I am told they are mainly in the mountains by someone who has lived

there for some time. Recommend the excursions organised by Panem travel in the village. 3 islands cruise 20 euros cheaper each than First Choice! Lovely guides (from Milford Haven, Pembs). Exactly the same trip as First Choice. Restaurants along beach all wonderful. Definately going back again.

Libby Scarfe

Reading
3/10
Susann

Katelios is lovely, nice restaurants and lovely people, but the Doumas Studios is something else. The owner is very miserable and unfriendly, downright rude sometimes. At the arrival we were greeted by a large pool of water on the studio floor, which was a problem with the fridge we were later told. The problem with the fridge and water on the floor continued over three days, until we discovered that the electrical socket for the fridge, which was in the cupboard under the sink (!) had some water in it and was causing short circuit. On the third evening when fridge was off again and we requested the owner to fix the problem again we got a reply - ' I'm not an engineer, tomorrow.' You don't really want to deal with this when on holiday. Also there was no battery in the smoke alarm, some electrical sockets were hanging loose from the wall and a safe, which would have cost 12 Euros for a week wasn't attached to anything and you could lift it with one hand. On the last day the owner just jumped in at 10:05am and said 'I need the room, eh!' All in all Doumas is a joke!
8/10
Connie H
4 of us stayed at the Doumas Apartments from 27th May - 3 June 2008. We had adjoining apartments and, whilst fairly basic, we quite roomy and had everything we needed, plus lovely views over the beautiful gardens to the sea. This is a small complex with a lovely pool and sunbathing area, beautiful gardens and a good bar/restaurant, all of which is kept very clean and tidy. The service and food in the restaurant was very good, with plenty of variety, and much better than ElinJerry's, where we complained and received a free coffee as an apology! We also found the Doumas family to be very friendly and helpful. We did hear the dogs but they didn't keep us awake and wedidn't see one snake, altho' we travelled all over the island and went across to Athiki. The mozzies found us, however, so remeber to take some protection! From our experience, we would certainly recommend this accommodation.
8/10
Connie H
4 of us stayed at the Doumas Apartments from 27 May - 3 June 2008. We had adjoining apartments, which altho' fairly basic were quite roomy and had everything we needed, plus a view from the balcony over the beautiful gardens to the sea. The whole complex, pool, sunbathing area, gardens, bar/restaurant, was kept very clean and we found the Doumas family very friendly and helpful. The food in the restaurant was very good, with plenty of variety, much better than ElinJerry's, where we complained and received a free coffee as compensation! We would certainly recommend this accommation. We did hear the dogs, but even with the doors open didn't find they kept us awake, we didn't see one snake altho' we travelled all over the island, but the mozzies found us, so take some cream and spray!
3/10
Ieuan L

We've just returned from the Doumas studios and apartments and found it ok-ish, to a point. When we 1st arrived we were greeted by the owner who said that he was full at the time, but after our 1st week he would move us from a ground floor studio to a an upper floor larger apartment... We're still waiting!

The cooking facilities were basic with a small 2 ring table cooker and a fridge, but there were plenty of cups, cutlery etc, but only one large pot? We did have a kettle, but to get it to stay on you had to either hold down the on switch or use a plaster over the button!

The room was fitted with a smoke alarm, but with no battery!?! Some other rooms also had a missing battery, so what was the point of the alarms? No one seemed to notice that the detector cover was hanging loose, for over a week, with no battery!

Nightlife at Doumas was POOR! There was one (non advertised) Greek night in the 1st week, but nothing in the 2nd week? Most nights the bar area was closed around 11pm due to no one around. Doumas advertises that there's a BBQ "every night"... where?

I was chased by one of the family a full 4 days before departure for my bar/resturant bill, of £30. The bar and resturant area is more pricey than others around, just down the road are some bars and resturants that are far cheaper and serving a better selection than at Doumas... Try ElinJerry's resturant!!!

The room was cleaned 5 times a week and rather well too, although the cleaner did like to seperate our single beds, but this either hampered opening the fridge or the front door! We always pushed them back together.

The pool area was quite good, but you can't eat or drink your own food (including bottled water) at the pool side, which then racks up your bar bill. Do watch out for several of the plastic pool side beds having cracks in them, right in the middle (bum region), which hurt!

Most nights the area is alive with the sound of local barking dogs, but close your window and you can't hear them... But you will bake in the room! All rooms have A/C but these are an extra payable on use.

On the whole Doumas is not bad, but not great. Entertainment could be a LOT better, the elder son could try and smile a bit more and play less loud music at all hours (in the bar) and the owner could try and fulfil his promises!

Also, as no one tells you, not even the rep', May/June temperatures makes the island snake heaven, we saw so many adders on the roads and paths, that you really do have to watch out if walking and always take a torch with you at night!!!
Mark W

The apartments bar and pool complex are very good. The rooms were certainly well kept. There are two problems with this place; the owner and the neighbourhood dogs. The owner, Mikhalis, is not a man of integrity and not to be trusted. We had our holiday ruined by him double booking and asking us to move out half way through our holiday; the holiday rep that sorted this out for us said that this was not the first time it had happened. The worst thing of all is the neighbourhood dogs next to the property which are kept chained outside at night. They bark incessantly throughout the night. We hardly slept at all because of this. This is not a place I would ever recommend although Katelios the town is lovely.
Angie M

We spent the ist week of Sept at the doumas. Room very basic (definately overpriced by Kosmar even

on a last minute deal) Pool and gardens lovely but family sooooooooo miserable and unfriendly). You

have to be out of room by 10.00 am and we had moved all belongings out and just having a last

coffee when the owner walked by and pointed to his watch and said time to leave, it was 10.05!!!

A tip if you have a late flight and dont wont to hang around the appartments our hire car company allowed

us to leave the car at the airport where they collected it. Would not return to the doumas but definately

would go back to this pretty and stunning Island.Staying at Ketelios you need a car. Also a must is Jerrys

for food .

Angie Minns
Martin S

The apartments are fine, pool good, Katelios marvelous. Only let down to the holiday was the ignorant owner and his family. Good friends if you're spending in their bar, non existent if you're not. (Bit like First Choice Rep). Some excuse the owners behaviour on his lack of English, although all the other Greeks you'll meet in Katelios will prove that wrong.
Dave A
We had a wonderful Holiday in June 2006 We will go back again again and again .It is a wonderful and welcoming place and they cannot do enough for you The food is great, the service is wonderful . We cannot recommend these apartments and staff more Highly.Thankyou Doumas Apartments see you all again Paula and Dave.Ablett .
Sunny H
Me and boyfriend wanted a quiet, relaxing holiday in the sun away from all the sterotypical 18-30 'birds and booze' Brits abroad , and this is exactly what we got here. This was the most relaxing and restful holiday in the sun I have ever been on. Doumas has a brilliant pool with lots of sun loungers, the apartments are v.basic but sufficient, plus from our balcony we had an absolutely amazing view of the surrounding mountains and the sea. Some people on this site have complained about Doumas' location. It is the last on the road, but frankly we loved the 10 minute walk back from the (gorgeous) Katelios village, as it gives you a chance to walk of the meze and robola ! Katelios is gorgeous, lovely people, great restaurants. I would recomment Jerry's, who is the really really friendly greek owner, the Albouro for lunch, the katelios taverna and Ostrias for dinner. For a pre dinner drink, The music bar is a beach front shack kinda place which plays mainly new-agey kinda music, its great.
The downside of Doumas is that the male owner is really really unfriendly, walks about with a face like thunder and ordered us out the pool at 7.30pm on the dot when he wanted to close the pool. You don't gop on holiday to be ordered about !!! We therefore did not give his bar any custom, which frankly had a rubbish menu and had extremly over priced drinks compared to all other places in Katelios.
Oh yes, we went on an excursion organised by the rep but if you can , rent a car, unfortunately we couldn't as we were too young (21) the minimum age is 23, as then you'll be able explore this fabulous island.

In a nutshell, Katelios is absolute paradise, Doumas has the best pool, although for people who don't like walking, try somewhere more in the village!

I'd go back in a second !!!


Lynne D

just come back from a fortnight at Doumas and what can you say it was fantastic. the family are a lovable, friendly and kind. Koreena's cooking is to die for (especially the oven potatoes!) and micks BBQ's are second to none. also the boys Sakis & Spiros made great cocktails/drinks.

fantastic time had, didn't want to leave, and no problems at all with cats.

can't wait for next September!

Rating = 11/10

Lynne, Barry & Sarah

Newcastle Upon Tyne
Peter H

we returned from the doumas studios on 7/6/2005,

we are in love with the place, the doumas family are brilliant, mikalis, koreena, peny, sikas were all very welcoming and friendly, korrenas food was the best we tasted in the whole of kefalonia and that is seriously no lie. everything is fresh. the gardens are beautiful and the whole family work very hard all day. the cleaner there is also very good and you have to appreciate what a good job she does and how hard she works, the rooms are cleaned everyday and bed sheets changed every other day. it is about a 10 minute walk down to katelios but i feel doumas is in the prime spot. out of all the other appartments we saw in kefalonia doumas was definelty the best looking. all the guests we met were friendly. i really cant praise doumas enough. 5 stars *****
Diane H
Stayed at Doumas for 1 week on 5th Oct 2004. The place was very clean and the pool & pool bar very attractive.
Studios with a balcony had lovely views over the sea at Katelios. Very quiet apart from the night when dogs at a neighbouring home continually barked keeping a lot of holidaymakers awake.

Studios cleaned and linen changed regularly but the beds were very hard!!

A lovely place to stay if the owners were a bit more sociable and made their paying guests feel a little more welcome.
Diane H
I stayed at Doumas for a week on Oct 5th. Nice studios, linen changed regularly but the beds were hard.
A lot of people staying there had problems sleeping due to dogs kept at the neighbouring property barking continually.
The pool & pool bar was excellent.

The owners do need to start socialising more with their holidaymakers though as they did come over as not being too friendly.

Lovely views down to the sea at Katelios.
Jo A
Just back from two weeks hols at Doumas Apts in Katelios. If you want a quiet, chilled holiday this is the place for you. Get a car so you can visit all the sights on this beautiful island (Jeep if you can - some white roads are a bit scary!). Apts very nice, electrics not great but what the heck! A bit of a walk home at night, you'll need a torch and a strong pair of legs after a few pints! Good tavernas on the beachfront, careful of Medusa can be a bit pricey! Pool lovely and food in bar far exceeds the photos on the food board!! Enjoy. J n D
Rach and su
doumas is s**t !!!!!!!!!!!!!
stay away !!!!!!!!!!!
Lyn M
My husband and I returned 21st September 2004 after spending 1 week in Doumas Apartments. We found it very clean and the beds comfortable. However, where it is positioned you need a strong pair of legs to walk back up to the apartment. Going down is O.K. It is situated on a bend which is blind and you have to take your life in your hands to get out of Doumas and cross over to face the on coming traffic. Very much does it need a pavement. Very quiet with good views of the sea. At night dogs in a near-by dwelling bark, so we recommend ear plugs.

We were not advised of the time to vacate the room and as pick-up was not until 1.40 we did think there was any great hurry. Unfortunately, a greek guy did and was very rude and said we had 5 minutes to get out. This was at 12.30. We think the rep. should of advised us that the apartment needs vacating by 10.0.. 3 hours and 40 minutes to while away.
David J
the web for the doumas is www.doumashotel.com here you will find the email address
David J
the web address for the doumas is

www.doumashotel.com you will be able to find the e-mail address on it

hope that helps
Rachel
Good location, with great views. A car is advisable. Clean apartments with air conditioning available for 5 euros a day.
Staff polite and friendly.
Good pool and well kept gardens.
Would stay here again.
Can U Help?
Gill B
Can anyone give me the e-mail address for the DOUMAS or a telephone number. We loved the place and would like to go back but would like to get in touch with Nikos.
Many thanks if you can help
Rebecca S
We have just returned from a two week stay at the Doumas Studios and we could not fault it. We recommend it to anyone.

Rebecca And Wayne Silcock
Wild F
hi nikos again if u want to find me i work in persa if u want to send me a message my email its nikos_kiprianos@yahoo.ca love nikos
Alex D
HEY NIKOS! GOOD NEWS AM COMING BACK TO DOUMAS VERY SOON SO YOULL HAVE TO PUT UP WITH ME 4 ANOUTHA WEEK HAHAHHA MISSIN U LOADS CYA
| | |
| --- | --- |
| Search for Pacifae Golden Village in all of JustKefalonia & the Messageboard | |
More Hotels and Apartments in Katelios...

Albouro Apartments | Aligis Studios | Alkioni Hotel | Anastasia Studios | Anemona Studios | Blue Sea Studios | Captains Villas | Efrosini Village | Eryphilli Studios | Filoxenia Studios | Galini Apartments | Hara Studios | Hercules Studios | Irini (Irene) Studios | Katelios Studios | Lighthouse Studios | Magnolia Hotel | Marketos Studios | Medusa Studios | Mythos Apartments | Notos Studios | Pacifae Golden Village | Utopia Spa Hotel | Villa Okeanis |