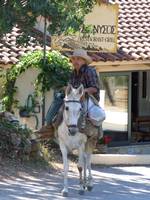 Lourdas Reviews
---
Places to Visit
---
Kefalonia Guide
---
Local Directory
---
Resort Guides
---
Street View
+ Enlarge Map
Casa de Blue Restaurant

(Restaurants in Lourdas)
10/10
Steve S

Recently my wife and I visited casa de blue restaraunt in Lourdas. We found the food most enjoyable. There was a good choice available from the menu and the food was very reasonably priced for the portions received. We also found the staff marinos and jerry very friendly and helpful.

The atmosphere was very inviting and relaxing.Also casa de blue restaurant has fantastic sea view!!!We would recommend this restaurant to anybody, well worth a visit!!!



10/10
Beryl S

RETURNED FROM LOURDAS 19/09/10.OUR FAVOURITE RESTAURANT WAS CASA DE BLUE.THE MUSSELS MY FAVOURITE STARTER,WERE DELICIOUS.THE CASA SALAD.LAMB KLEFTICO,(MAIN DISH)BACALAVA(SWEET)WERE ONLY SOME OF THE MEALS WE ENJOYED.WE WENT 3 TIMES AS THERE WAS ALWAYS A WARM WELCOME AND MARINOS(RESTAURANTEUR)WAS VERY ATTENTIVE TO ALL CUSTOMERS NEEDS.THE MEALS IN ALL THE RESTAURANTS IN LOURDAS ARE BASICALLY THE SAME PRICE,BUT THE QUALITY OF FOOD AT CASA WAS WELL WORTH THE 20MINUTE WALK.
10/10
Victoria S

I can't believe the comments about the staff on this website! We have just got back from Lourdas and they were so friendly to us - the owner, the waiter, the girls. Every time we walked past after eating there, they waved at us and said hello. The owner was really good with our baby, helping us with the buggy and even pushing her around the restaurant while we ate our food to try to get her to sleep for us. He gave us free drinks, free potato salad, free melon and ice cream and free use of his sunbeds on the beach as we were on our honeymoon. As for the food, it was the same standard as all of the restaurants in Lourdas - nice food but not michelin star obviously.We ate there twice and had no complaints. We had giant beans in tomato sauce, meatballs, lamb kleftiko, meat pie and baklava and we ate exactly the same the second time around because it was so nice. 40 euros for three courses for two with wine and beer? I think that's reasonable. Everybody we spoke to in our hotel agreed with us and went back again. I read in a guide book that the people of Kefalonia are very friendly and don't expect anything back for the friendliness - I think we are too quick to assume that the owner is a "letch" when actually, he is just being friendly.
9/10
Eleni R
Well where it start...this restaurant has amazing service...they treat you very well they make sure you leave happy. It has a very nice view. Its a very nice place for couples to eat. Its very beautiful. The people are extremely nice. I always go there. There hasn't been once where im not satisfied. There are many types of food to eat including pizza rooster in wine and mousaka. Everything is fresh. You will be pleased and its a great place to go. I recommend all of my friends to go there and they loved it
7/10
Jasmine E
Was just at Casa over a week ago and yet again found the place to be just a pleasant (visit the resort every year and have done for past five years). The food at the Casa is homecooked and tasty. The owner Marinos and his wife also have a restaurant over the road about 250 metres away called Zorba's. This is also excellent food but does get busy in an evening. As a point of interest, the Casa does have a pool which can be used by anyone for free. Drinks, snacks etc are available all day at the Casa. Please do not be put off by previous comments and take a look for yourself.
Kate W

I had read the comments about this place but did not visit as it was always empty when we passed, which is not always a good sign. Spoke to 3 people, 2 of which had meatballs which were still frozen!!!! and another who was sick after eating there. Never saw anyone who tried to pull us in...always empty whatever time you passed.Told that husband now owns taverna across the road? not sure of name but is next to CBR care hire
Becca M

Just came back from a fantatic holiday in Lourdas. DON'T eat here its horrible!!!! I had swordfish which was extremely dry and overcooked. My partner had pizza which he described as tasting like it'd been bought from Lidl. Although trying to escape the restaurant owner and staff, who were determined not to let us leave, was fairly amusing and provided some much needed entertainment which the restaurant didn't provide despite it being Greek night which consisted of 3 very bored looking teenagers skipping round in circle!!!

Too bad to rate
8/10
Rianne F
I am suprised at the comments about this restaurant as we found it very pleasant. It wasn't our favourite out of all the places we went but certainly had very enjoyable meals and the cost was pretty goods. I had giant beans in a tomatoe sauce which I didnt like the sound of but wanted to try. It was the nicest starter I had in the whole two weeks (apart from the roasted feta cheese)! My husband had the garlic mushrooms which were equally as nice. We ordered the lobster spaghetti which wouldnt be recomended as the lobster was extremely dry due to it probably being microwaved. Drinks were chilled and staff very friendly. I would definatley recomend it.
1/10
H A

August 2007

There is something VERY ODD about the Casa de Blue Restuarant in Kefalonia.

We were wandering along the main street looking for somewhere to eat and suddenly found ourselves whisked up some stairs and sat at a table before we had had a chance to study the menu outside of the place. The owner

We were seated and given menus by the owner (who spent a good deal of time looking down my top!) and then ignored as a group of late teen/early 20's girls arrived. Eventually our order was taken by a young boy who looked about 13 and spoke very little English, he seemed very uncomfortable in the role and really didn't want to be there.

The food, when it eventually arrived as extremely mediocre and not warm. The Martini cocktail that I ordered was undrinkable and served in a warm glass, my partner had to ask 2 or 3 times to get any attention from the owner - he was busy with the group of girls - to rectify this. We waited a ridiculous amount of time between courses (I know this is Greece but....) to get any attention and when we asked to pay the bill were given free deserts? It was all very strange.

The atmosphere in the restuarant was non-existent, with the owner completely focused on charming these grils and completing ignoring other diners there.

We spoke to a local chap the following day who indicated that he had heard many similar comments beforehand and was not at all surprised.

I would not recommend this restuarant to anyone.
Sam M

We had been rugby tackled into this restaurant 4 years ago on our last visit by the owner and unfortunately he was still there this time but we persevered! Compared to some of the other restaurants on the main road the service here was disappointing, Danny Devito has indeed relocated to Lourdas, but his charm and sense of humour definitely was missing. However, we had cheese pies, a pizza and sea bream, the cheese pies were ok (puff pastry), pizza was ok too but the base was similar to the texture of cardboard, the bream was very tasty. To be fair we were given a complimentary starter (mini moussaka) and dessert (selection of melon with ice cream). Prices were reasonable at approx €30 for 2 courses and wine. Not the best but give it a go!
Joseph K

We used this website before we visited Lourdas and found it useful, so I will be honest and fair. The decor of this taverna is horrendous, but as it is "on the strip", you have to try it and not allow first impressions to dictate eating your trends. The service was ok, however the food was poor. Malnutrition was chiefly to blame for the rabbit ending up in the Stifado. It is easier to find a unicorn than a morsel of meat in this dish. It was served with what tasted like Uncle Ben's rice. Not good! My partner had the fish and that was ok apparently. The main problem with the place is the slimy manager/owner/cheesy caricature, and the Danny Devito waiter. These comments can possibly effect livelihoods so I will exercise restraint. If the food was fantastic then you could put up with Swiss Tony and the Grump, but it isn't, I would not recommend this restaurant.
Bill S

We ate here once. The fish I had was excellent but was only a small portion, however the pizza my wife and son shared looked and tasted like a supermarket frozen one. The service was good and we found the owner friendly.
Jodie P

I cant believe the poor reviews of this place, the food was really good, and we are both real "foodies", not the burger and chips type. The fish barbeque was exellent, so was the mousaka and the veal stifado, all served piping hot, and good sized portions. Yes they try and get you in off the street but were not obtrusive at all. Staff were wonderfully friendly and we had the most fun we had in a restaurant there, chatting and laughing - this place has a really fun atmosphere thanks to the owner Marinos, who is really friendly. Yes he is a bit letchy, but with his wife sitting there you get the impression it is not for real, just part of the fun, dont take it too seriously. Lots of delicious free appetizers and fruits or dessert, this place represents really good value. Very popular and always busy. I dont know what people expect, as English is not the fiirst language of these people, but I found they made a real effort to be friendly. Definitely give this place a go and see for yourself, try not to be put off by the reviews. I think from what I read, things have really improved with the food, as we found it excellent. Good enough to go back a few times, and the good news is no chips with anything unlike a lot of places!
Donna E
The guy that literally dragged us into this place was really miserable. He did not look at us once while we were ordering our meal, rather he preferred to look at the young women on the other table. I am surprised our order was correct. The food was really boring and nothing special at all. He was having a raucous with a young lad, who was with his new wife, when we walked past on our way back to the hotel one night, and he actually hit him. I would steer clear if you are female, under 65 and are breathing.
Tracey T
first impressions it looks really nice from the outside, lots to choose from on the menu. we waited a while for our meal but we wasnt in a rush, the view was lovely from the balcony. the meal itself we both had steaks they were over cooked a bit and lacked presentation. the owner was a bit over friendly but harmless.
Christopher C
We visited here with our 18 year old daughter and despite showing our distaste to his lechery, the owner was undetered! He even extends this service on the beach, where he has most of the sunbeds for hire. Offering to apply suncream to our daughter, was not a service we required! We have visited many restaurants and have always had a good welcome, but this guy takes it a bit too far! His reputation with the locals is very bad and they all find his personality distasteful. It's a shame really, as the menu is quite extensive and the food quite good. I wonder what sort of greeting two guys would get?? On the other hand, The Lithero Restaurant by the harbour, was excellent in every detail and what a view, right on the sea, beautiful. Great service and excellent food! Highly recommended!!
Pete D
We tried Casa de Blue on our third night (after trying La Mer, Tricolore and Spiros) and quite frankly were not very impressed. The place itself is pretty, with an attractive raised terrace which would have a pleasant aspect towards the sea if it were not dark! The apartments' pool is to the rear of the terrace, with relaxing reflections playing onto the front of the building. Our drinks order was taken by a young man (9 or 10) who spoke very good English. We played it safe by ordering two Mythos beers which arrived in frosted glasses. The meal order was taken by the manager who looked like his mother had just died. We ordered Prawn Cocktail and Shrimps in Cheese for starters; and Grilled Swordfish and Chicken a la Creme for main. The manager went to great pains to recommend Sea Bass over the Swordfish, but I was not tempted. The starters arrived in about 10 minutes brought by an equally miserable waiter; we were surprised that no bread was provided with them. The Shrimps in Cheese were delicious, but the Prawn Cocktail was spoiled by a rather dodgy-looking grey-coloured prawn, which prompted my partner to leave the remainder. The garlic-butter type sauce which the Shrimps in Cheese came in begged to be soaked up with a piece of bread, but alas had to be left. It took about 30 minutes for the main course to arrive, accompanied by a complimentary Greek Salad. The Swordfish was fine, accompanied by some chips, rice and salad, but again, my partner was disappointed that the Chicken a la Creme only contained about 8 small cubes of meat rather than the piece of breast she expected, the remainder consisting of too many sliced mushrooms in the cream sauce. The bowl of Greek Salad consisted mainly of grated cheese in mayonnaise with the odd slice of cucumber and tomato. The most striking thing about Casa de Blue was how miserable the staff were, and the miserable music that was being played through the speakers, which appeared to be tuned to the local radio station. We decided to leave then, but were basically refused the bill and were offered complimentary drinks ~ we presumed to keep us there a bit longer to help make the place look busier than it was. But we refused, standing by the entrance insisting on the bill - "To loghariesmo, parakalo!" Eventually the bill arrived, accompanied by two large glasses of Metaxa Brandy (he said), complimentary of course. At €35 it was the most expensive meal of the week ~ and the manager insisted on kissing and manhandling my partner before we left - and it was the only night of the week that I threw up (probably the brandy - I swigged the lot!) Yes it was OK, but No, I would not recommend it.
Karen F
One of the best meals we had during our stay. Try the octopus in vinegar- supurb, it's just a pity it's only a starter, my 13 year old son wanted four portions! The owner couldn't have been more charming, don't know where all the coments about letching could have come from-maybe he just thought I was an old boot!
Rob
The worst meal we had in 2 weeks. The guy runs it with his father in the kitchen and two 11 year old kids. Service awful. Greek salad with no tomatos, Grilled chicken burnt.
Avoid it !
Karl &
This was the only disappointment during our whole trip to Kefalonia. I know that everybody is entitled to their own opinion, but I fail to understand how anybody can give this place anything more than a 1/10 rating. We both enjoy our food and were appalled at the quality, quantity and presentation. To elaborate, I had a swordfish steak that was the size of a pineapple ring and was served burnt, cold chips, (which I am sure came from the new LIDL near Argostoli) and a type of home made coleslaw that smelt like it had been made some days earlier. My girlfriend ordered sole, which came covered in greasy batter the same limp cold frozen chips and a salad where the lettuce had started to decompose. We complained bitterly about the food, but were told that we would still have to pay. Whilst warning other couples at our hotel, we found three couples that had experienced equally bad food. I suppose that if you normally eat economy burgers and frozen pizza, this place may appeal, but for anybody who appreciates food, avoid this place like the plague and try one of the many other tavernas around who offer home cooked food and at lower prices too.
Michelle
We visited here on our third night after getting a card from the girl on the beach who collect money for the use of sunbeds - as we approached with the intention of dining we did not experience the waiter coming to you in the street to tempt you in - but afterall competition is rife and a man has a living to make!

I thoroughly enjoyed my moussaka - which they now make without the pastry (a previous comment had referred to a pastry edge) and my daughter enjoyed her pizza although it was rather heavy on the cheese. Complimentary wine was suprisingly tasty.
Mark P
This restaurant is a lot better than the rating suggests the food was great the balcony veiws superb a great setting for those greek nights. The owner greets everyone wether they are just passing or entering with a friendliness that is uniqe to the greek people reccomended
Mark P
A very friendly restauant with good food and friendly staff, there where 8 people in my party of all ages who had differant meals on each visit no complaints. I would recomend anyone to try this restaurant
Laura H
only went the once but the food and wine was great no complaints
Laura H
Only tried the restaurant once but it was very nice especially the local wine.
| | |
| --- | --- |
| Search for Casa de Blue Restaurant in all of JustKefalonia & the Messageboard | |
More Restaurants in Lourdas...

Afrodite | Andromeda | Aridas Palace | Blue Sea | Casa de Blue Restaurant | Crystal Palace | Dionysis Restaurant | Doodles | Enastron | Greco | Greek Islands | Inopolis Restaurant | Klimatis | La Mer | Libra Grill Bar | Lithero | Lorraines Magic Hill Restaurant | Olive Lounge | Olive Tree | Patritcia | Penolopes | Spiros | Trifelli | Zorbas Restaurant |