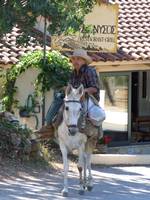 Lourdas Reviews
---
Places to Visit
---
Kefalonia Guide
---
Local Directory
---
Resort Guides
---
Street View
Penolopes

(Restaurants in Lourdas)
Carol P

On our last night in Kefallonia we were rather late going out for a meal and our usual eating place was full. We decided to try Penolopes and what a disappointment. I ordered Lamb Kleftiko and my husband decided on the curried chicken fillet with chips. Only two small pieces of my meat were edible, the other half a dozen bits were thick fat with some strange gristley circles in. What part of the lamb they came from I dare not imagine! My husbands chicken had been sliced into a thin fillet, either that or it came from a very skinny chicken! The curry was mediocre and thank goodness he ordered some chips because the meal was so small it would not have fed a child adequately. Not only was this our worst meal in Kefallonia it was the worst meal I have had in my entire life. Disgraceful! On the plus side the waitress was very friendly. Definitely no rating at all!!

Carol Page
Pam S

Dianas is now Penelopes, and sadly Diana is not there any longer. It has been taken over by a man who used to work for her when she had a place in Argostoli. Apparently that is where she has gone back too.

We visited Penelopes last July when we stayed in Trapezaki and whilst the food was fine it didn't have the same atmosphere.
Pam S

Visited Dianas a couple of times last year and it was excellent. Always a warm welcome and good food in a great location. Will be coming back shortly!!!
Sarah C
Excellent! The best taverna on Kefalonia. Food excellent and waiters excellent. Diana was brilliant, very friendly and very hospitable! Went to this restaurant 5 times on our 3 week stay. Moussaka highly reccommended.
Mark H
Maybe we caught Dianas on an off night. The food was okay but nothing special. The staff were friendly but no over attentive.
Stephen Y
Diana's was the closest taverna to our apartment and we never found any need to go anywhere else. Great views, excellent Greek food (piping hot, apart from one or two of the dishes that are apparently kept warm in a bain marie) and lovely staff. Diana is very friendly and welcoming and all her staff make you feel very much at home. Try the pork stuffed with garlic or the cheese and spinach pie. Also there is a very pleasant house rose wine by the carafe which is not shown on the menu!
Barry S
Nice location, good food, great atmosphere.
The usual menu but always several specials to chose from. Plentiful portions and always hot.
Diana is a great hostess too.
The barbecue night is well worth a visit, eat as much as you want and the entertainers are very amusing. Great memories.
| | |
| --- | --- |
| Search for Penolopes in all of JustKefalonia & the Messageboard | |
More Restaurants in Lourdas...

Afrodite | Andromeda | Aridas Palace | Blue Sea | Casa de Blue Restaurant | Crystal Palace | Dionysis Restaurant | Doodles | Enastron | Greco | Greek Islands | Inopolis Restaurant | Klimatis | La Mer | Libra Grill Bar | Lithero | Lorraines Magic Hill Restaurant | Olive Lounge | Olive Tree | Patritcia | Penolopes | Spiros | Trifelli | Zorbas Restaurant |