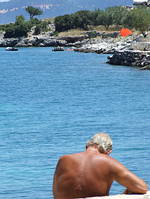 Kefalonia Reviews
---
Places to Visit
---
Kefalonia Guide
---
Local Directory
---
Resort Guides
---
Street View
Pergola

(Restaurants in Agia Efimia)
10/10
G
Very recommended. We ate there on the first night and many others as a result of the reviews here and local recommendation. This is a wonderful true taverna run by a husband, wife a daughter team. They speak very good English - The owner was from New York, but of Greek background. The specials change daily, with only limited dishes cooked, so they run out at the end of the evening - a good point - at least you know it's fresh. A three course meal for 2 (including free sweet) with wine and one (or 2) large beers (draft Mythos 2.5 Euros - fantastic!!) came to just under 30 Euros. This is off the main drag, up the road past the scuba centre on a corner. Also courses etc tend to be about 50 cents less and this place is open all year, not just the tourist season. My favorites were Kefelonian Meat Pie, tatziki, Aubergines baked with tomatoes and mozzerella, baked feta, stifado, kefelonian rice pudding, fried aubergines, oh and did I mention the cold draft Mythos (beer).
10/10
Kathleen T
I have just returned from my first visit to Aghia Efiema what a wonderful place made more wonderful by my visits to Pergolas.

The treatment I received during my visits was beyond belief,the food was out of this world.To mention just a few I had a Lamb dish [YUMMY] Roast beef & veg,Sword fish [wonderful]Not to mention I had breakfast almost every day. I did try other restaurants but it was never the same as at the Pergola. See you next year Illias & Stella not forgetting the wonderful Aris.

I have just booked my holiday for next year this time for a month.But you won't like it
10/10
Louise T
I have visited Agia Efimia many times and my advice to any new to this resort is to ignore the habour and head for Pergolas Stella and Illias are a joy they are so hospitable and the food is to die for you wont find better anywhere on the island. I am returning on the 18th May this year after not being able to go last year due opening a new business. I have so missed my my favorite Greek hideaway .Please dont tell everyone it will spoil it and they wouldnt like it.Its A SPECIAL PLACE and not everyone will apprieciate this beautiful spot. WHAT IS LIFE FULL OF CARE IF YOU HAVE NO TIME TO STOP AND STARE.
8/10
Jeanette C
We ate here 3 times during our fortnights holiday and always had a nice meal. The Lamb Oregano and the Fried Squid were very good.
8/10
Wiel M

A little bit outside the mainstreet, but you must visit this typical greek restaurant with the traditional greek food. We have been many times on a greek island, but for the first time we had greek rabbit. The only negative is that it look sometimes that you have your dinner along Route 66 and the trucks are riding through the kitchen. The staff is very friendly and try to take care for every wish from their client.
Pauline G
We went to all the restaurants in resort - this was by far the best. Every meal we had was tasty, beautifully cooked and presented and good quantity. Steak and fresh peas was wonderful and deluxe burger (home made with fresh herbs) and home made old fashioned type chips (not oven chips)very tasty. The service was excellent, all ingredients fresh. Apparently the owner was once a chef on a cruise liner - fantastic food. Pity location was not on harbour front but well worth eating here (near dive centre). Different specials every night dependent upon fresh food available.Prices very competitive on all meals.
Ken P
Not open at first,ate twice.The first was rabbit which was a bit tasteless but otherwise OK.The second meal was cod which again was average,this came with a cold garlic mash potato which was not very nice.Perhaps if it had been warmer(We ate at 9.0pm-freezing cold)it may have tasted better.
Clarence D
Just re-opened after a fab makeover! The excellent food is traditional & the staff are very welcoming and helpful! I think the prices are the same from last year too! The grill meals are cooked over charcoal rather than gas which is fairly hard to find these days. Recommended!
Gill W
Just back from another visit to Agia Efimia. Visited Pergola again many times. Offers excellent traditional greek food with a warm family welcome. Highly recommended.
Vicky W
A lovely traditional greek taverna sitting underneath the vine leaves but unfortunatly close to a road, but please DONT let this put you off. The waitrose/owner is from the USA and more than happy to help with explanations of the lovely greek food on offer. A limited menu but they do have a daily specials board normally with at least 4 alternative dishes. We found plenty of choices to eat here 3 times during our recent 1 week holiday.
Gill W
Absolutely wonderful. The cheapest in Agia Efimia and the best. Very traditional greek food. Can recommend the rabbit, fried cod with skordalia, and pig on the spit. House rose wine very good as mentioned.
Ray H
This is the most authentic taverna in Ag Ef. We ate here many times if we could get a table. The food was always good and the owners wife plucked a big bunch of grapes off the vine for the kids.
Jill
We found this the most expensive restaurant in Ag Ef but the food was excellent and the (pregnant) owner was very very friendly. Soups are recommended on chilly September evenings.
Ruth S
p.s. Try the shrimps. They are gorgeous and you get loads. The spinach pies and home made soups are also lovely.
Ruth S
I thought this was the best restaurant in Ag Ef. Friendly service and lovely food, (sometimes a bit oily though). It seems to be cheaper, perhaps because it's a bit off the beaten track.
| | |
| --- | --- |
| Search for Pergola in all of JustKefalonia & the Messageboard | |
More Restaurants in Agia Efimia...

Capt Corellis | Finikas Restaurant | Makis | Paradise Beach | Pergola | Poseidon | Romantza | Spiros Restaurant | Steki | To Perasma Restaurant |