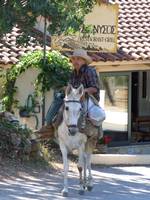 Lourdas Reviews
---
Places to Visit
---
Kefalonia Guide
---
Local Directory
---
Resort Guides
---
Street View
Muses Cafe

(Bars in Lourdas)
9/10
Dee K

Spotless clean both inside and out.

Fast efficient service, Nadia makes you feel very welcome.
10/10
Rianne F
Muses is a lovely bar/cafe. We went here nearly every other night for a pre meal drink. Nadia the owner is lovely. Prices are very reasonable especially compared to the bars/restaurants on the front. try the margaritas here they are the best. we ate a couple of times, cafe type food - very nice - the homemade brownies and ice cream are gorg! internet access here and plenty of books/magazines to read if you are (like i was) stuck with my man watching the euros!! the scenery is beautiful overlooking the mountains - the patio garden is beautifully kept. would defo recomend it here.

7/10
Helen H
NADIA IS SUCH A NICE LADY, VERY WELCOMING AND REALLY GOOD WITH KIDS! FOOD NICE BUT NOT THE BEST. IF YOU FEEL HOMESICK AND LONGING FOR THE UK THIS IS THE PLACE! LOVELY B.FAST AND TEA!!

Simon D

Great place for a drink in lovely setting with friendly staff and occasional fun entertainment. Well worth the walk up if you are staying down towards the beach.
Mick Y

I THINK MUSES IS THE BEST PLACE TO VISIT IN LOURDAS NO DOUBT!
David & sarah G

Once again we made our annual visit to lourdas 2005, this time for three weeks !

The first stop is as always muses bar, this has to be one of the best bars in kefalonia, Certainly lourdas,

My partner and i are considering getting married there in 2007 as it is superb,

Cant wait to drink ouzo & mythos again in 2006, and to see Nadia, Makis & Chris.
Karl

Muses is by far the best watering hole on the island! Nadia and her staff are incredibly friendly, polite and offer the best service in Lourdas. The drinks are average price, cocktails are fantastic (especially the Singapore Slings and Black Russians) and the bar snacks exceptional value for money. The atmosphere is great and even if you don't like football when the matches are on you can sit outside and take in the surroundings. The place is big enough to get away from the Brits getting their fix of sport if thats not your thing. Highly recommend this place to anyone going to Kefalonia. Guaranteed to get great service and value for money. The bar is a credit to Nadia and her team. Don't just take my word for it......go there!!!
Jodie P

Muses was the prettiest of the bars we tried, in a nice setting, but with no view to speak of (Astra and Famous Cocktail bar up the hill had great sea views). Cocktails were good, prices pretty standard everywhere, about 5euro for a cocktail. Famous Cocktail Bar a bit more expensive at 6 euro. This bar relies too much on Sky sports, which ruins it in my book. Always very quiet too, probably as it was september, often we were the only ones there.

Astra in the main ersort was nice enough, nice mellow music and no sports on thankfully. Drinks same sort of price. Fanmous Cocktail bar in between these two, down the hill from the resort, was ok, far too loud though, and the most pricey. Not much atmosphere sadly, but a gorgeous view from the roof terrace. Cheap pint of Mythos though, at 2eiru 50, not bad! I would say all these bars would be nice and buzzing in peak season, without being lairy, and exept for constant sky sports at Muses. Did not try any of the cocktail bars down on the beach, as too far to walk for a night out, so can't comment on those. But plenty of vbars if you want to stay in the resort.
Val C
We visited in September 2004 and found Muses Bar. It was all we wanted good snacks, coffee, milk shakes and finaly beer and wine. And most of all it was so clean typically Scandinavian! Nadia was a wonderful host. The gardens were immaculately kept and it was a pleasure to eat and drink there. If we go back again to Lourdas we will definitely visit Muses.
Alan W
By far the best Bar in Lourdas. This is the third year running that we have been to Lourdas, Nadia and her staff have an incredible memory, recognising us straight away. They always make you feel welcome and try to spare a moment to talk to you, even when it is busy. The cocktails are excellent with plenty of choice and they have a good selection of beers with a small bowl of nuts / crisps accompany every round of drinks. Hating soccer, there was still a corner available to keep out of the way of the ardent fans and even when busy, we never had to wait too long for the drinks to arrive. I thoroughly recommend Muses for a Drink at any time.
Dave G
nadia made us feel welcome,very nice girl,will be going back.lourdas is such a lovely place with lovely people.
Chris & hannah
This was an average place. Music was typical pub type of sound and loud. It was turned off completely so people in the bar could watch the football. Drinks were expensive.
Dave F
Drank at Muses virtually every night of my 2 week visit - the water pool for the kids to use fishing rods to catch toy fish was a great surprise and hit with the kids, although battles have been known to be thought over the fish lol Drinks are excellant especially the cocktails which are very strong and delicious. Service was great, always a friendly chat when taking orders. Surroundings were great, tables placed in little secluded areas next to plants for private chats with music not too intrusive. Would recommend to anyone looking for a nice bar to take your partner and friends for a good night after your meal.
Karen H
we have just returned from 2 weeks in lourdas 9 aug we spent a lot of time in muses beautiful surroundings and a lovely waterfall ,you also get snacks to eat the staff are very pleasant and helpfull
Grant M
Just got back from a fantastic week in Lourdas,that was made all the more special thanks to the Muses !!!!!! It was an oasis for three very thirsty Scottish people who liked the odd aperitif of a night.Thanks Nadia,Dmitri and Liza for making us feel so welcome and for the free shooters for the long walk home.This is by far the best bar not only in Lourdas but surely on the whole island and you can not fully enjoy Lourdas without sampling a cocktail from the Muses.
Look very much forward to going back.Thanks Again.
Hilary V
Great Bar - drinks were a little pricey - but worth it - the decor is excellent and it is a nice club. Nadia was friendly and welcoming and gave our son a book to read about sites for kids to see on the island - it was most useful and a nice gesture -worth a visit.
Alexandra C
Muses is a new addition to the bars in Lourdas, Great position in the heart of the resort. Friendly atmosphere, the owners are really welcoming. The drinks are fantastic - would really recommend Bloody Marys. Watched the Champions League final there which was being played in my home country but never once thought of home!
Samantha
Muses is a great bar, very chilled with very friendly staff and good music. This is the only decent place in Lourdas, I really wish they did a full menu of food to go with the excellent drinks choice. Great place to watch storms from.
Denise E
Great bar, one not to miss. Nadia the owner is an excellant hostess and makes every effort to talk to all her customers...(a lovely lady indeed.) The cocktails are absolutely great, especially the B52's and the pina colada's... If you are visiting the resort, this bar is definitely a must.
Matt W
Nice decor, good cocktail selection and a great place to go fishing!
Liz S
Very quiet place but the service was good and the prices reasonable, the terrace was nice to sit out on. The decor was lovely too.
Barbs C
Pleasant surroundings,good service at a reasonable price.Staff efficient and friendly.Much better than Astra Bar which was a right rip-off as prices were very much more than here.
Steven H
We sat with six other people in the garden, in mid September. Very quiet place, cocktails were fine. No loud music, so a good place to have a chat and watch the plastic floating fish in the bar's spangly lit pond!
Lorren P
This place looked great but it was always completely empty so we never went in. What time did it start getting busy?
Anthony B
A great find. I walked in to find an immaculate all round enviroment. Nadia, the owner, whizzes through the cocktatail without even a thought, or so it seem. The only thing near a complaint that anyone had was, "We want this place to open every minute of the day." Great staff, great place, great prices, fantastic atmosphere.
| | |
| --- | --- |
| Search for Muses Cafe in all of JustKefalonia & the Messageboard | |
More Bars in Lourdas...

Astra | Bostani | Dimitris Beach Bar | Good Mood | Muses Cafe | Seven Cafe Bar |