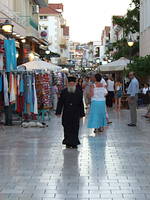 Kefalonia Reviews
---
Places to Visit
---
Kefalonia Guide
---
Local Directory
---
Resort Guides
---
Street View
Patsouras

(Restaurants in Argostoli)
Bill S
We ate here on our "night in town." We were staying in Lourdas. Food was excellent, I had the veal casserole on the waiters recomendation and it was superb, my sons cheese pie starter was a huge slab and not the little frozen, all pastry and no cheese ones served in most places. The waiter was friendly and very helpful. Prices were excellent.
Claire & mark R
The best value traditional greek taverna in argostoli by a mile. Mikali is a great waiter and really helpful. All the greeks use this place for takeaways.Well worth a walk up the harbour.
Jasmine & melanie H

The best!!!!

best service and food on the whole island of Kefalonia!
Sofia C
A tradituional Greek taverna where it is not neccessary to have a menu as you can view the food in the kitchen or the friendly waiter (Michalis) knows everything there is to know and then some!

Good quality home made food for thoses who want to escape the tourists and eat Greek style.


| | |
| --- | --- |
| Search for Patsouras in all of JustKefalonia & the Messageboard | |
More Restaurants in Argostoli...

Arhodiko | Bell Tower Cafe | Big Boys | Captains Table | Casa Greco | Cava Doro | Da Piero | Demosthenes | Dianas | Drosopege | El Greco | Ellinko | Ionio | Kalafatis | Kaliva | Kiani Akti | Kohenoor | Le Gondola | Maistrato | Mam-Mam | Mr Grillos | Mythos | Palazzino | Palia Plaka | Paraktion | Patsouras | Pizza Mella | Portside | Premier | Red Dragon | Sta Perix | Stateri | Sto Pisto | The Elios |