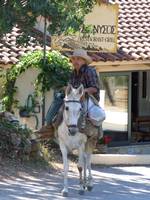 Lourdas Reviews
---
Places to Visit
---
Kefalonia Guide
---
Local Directory
---
Resort Guides
---
Street View
Marina Studios

(Accommodation in Lourdas)
Sally J
Marina Studios in Lourdas were fine, clean basic but perfectly adequate. Handy being in the "village square" so that when going on coach journeys you simply stepped across the road to the coach! We had ground floor on the left facing the studios and it was fine, quiet, place to hang clothes. Sit out side and read a book. No safe for vaulables but found it not necessary as there is no crime in Lourdas. Just kept some stuff locked in suitecase. Fridge was large and efficient, you can buy 5 pack water on site whihc is good so you don't have a heavy lug up or down the hill. Marina and her family very helpful and also run the taverna across the road Dyonissos whihc we found best value! 2 weeks in July 2003 and wish we had longer!
Louise S
The maria apartments are very nice great view of either the biggest mountain of the ionian islands home to eagles and wild white horses or the coast and neighbouring island. The rooms are cosy with main colours creme and brown (traditional greek colours) small kitchen area and we had two bathrooms (one for each bedroom) The only trouble is the bathroom there is a small grate in the floor and after showering/ going to the toilet/ using the sink it seemed to flood you may not have this problem but it is known to be quite common. But lovely appartments and i'd give them 7/10.
Can U Help?
Jenny A
I will be visiting from the 14th and Iím worried because I can't seem to find any pictures or info on these studios on any brochure or website, are there any WebPages that you can recommend?
Can U Help?
Liz
Just how far is the walk? I thought it was about 10/15 mins? I understood the apartments to be about halfway up the hill, near the village square. Is there a shop/bar/tavernas nearby?
Russ R
In a quiet coutyard behind the Maria apartments. Very clean and quiet. The only draw-back being the long walk to the beach. I would recommend car hire.
Can U Help?
Liz S
Vicky, we are going to the Marina Apts/Studios on 16 July (myself, husband and 9 year old son). If you're going before this please post your comments on here! Otherwise I'll do it on my return.
Can U Help?
Vicky N
What are the studios like and are they in a good location?
| | |
| --- | --- |
| Search for Marina Studios in all of JustKefalonia & the Messageboard | |
More Hotels and Apartments in Lourdas...

Alfrato Village Apartments | Angelas Studios | Antanitsa Apartments | Antonia Apartments | Aristomenis Studios | Buena Vista Studios | Casa De Blu Studios | Cristoforos Apartments | Delfinia Apartments | Dionyssia Studios | Eleni Studios | Fiona Aparthotel | Folies Apartments | Fotini Studios | Ionian Sands and Beach Villas | Ionian sun Apartments | Irirni Studios | Katerina Studios | Lara Hotel | Lourdas Beach Apartments | Lovidis Studios | Lucky House | Maria | Maria Anna Hotel | Marianthi Apartments | Marina House | Marina Studios | Naftilos Studios | Ocean Front Studios | Odysseas Studios | Saoulas Studios | Spiradoula Studios | Stefanos Studios | Sunset Studios | Villa Mare Apartments | Vrisida Apartments |