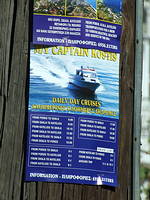 Kefalonia Reviews
---
Places to Visit
---
Kefalonia Guide
---
Local Directory
---
Resort Guides
---
Street View
+ Enlarge Map
Messogio Restaurant

(Restaurants in Katelios)
10/10
Rachael F
This is an amazing Greek Taverna situated on the seafront of Katelios. There is a wide selection of local Greek Cuisine. The fish is caught fresh each day. The swordfish fillet, seabass, seabreame and yellow tuna fillet were excellent !!. The Greek chicken was brilliant too. All meals were served with either greek potatoes (cooked in olive oil with local herbs which are delicious), roast potatoes, rice and fresh vegetables. The greek salad or stuffed aubergines make a great starter. The karaf of local wine complemented each meal. The staff are friendly and make you feel very welcome. A great relaxed atmosphere. I would highly recommend a visit to this restaurant !!!.
10/10
Julie W

My friend and I have just got back from a week in Kephalonia, and found this restuarant on our first evening. The food was so good we ended up eating there most of the week. Pavlos, Alex and Chris we extremly welcoming and charming. We feel we have made friends for life. Tried different options each night and they were freshly cooked and very tasty. Pauls orange cake is devine and he made it for our last meal. All the food was freshly cooked to perfection. Can't rate this restuarant highly enough.

For my first experience of a greek holiday and it will not be my last.
10/10
Philippa B

Got the winter blues so I thought I'd cheer myself up by reliving memories of our holiday last year in Katelios, Kefalonia. Couldn't believe my eyes when I read the rubbish first comment written about the Mesogios restaurant. They couldn't have been talking about the same Mesogios restaurant we ate at every night for a fortnight! Why didn't they mention the idllyic 'Shirley Valentine' setting by the sea? How could they not have been impressed by the delicious food which is a cut above that offered by most tavernas in Greece? I can't even begin to imagine what fish they ordered, but we certainly never paid anything like the price they mentioned and as for the service, we couldn't fault it. Of course, if you're looking for plastic food in a plastic setting, then you'll be disappointed. But if you love good food, and you want to feel like you really are in Greece, then this is the place for you.
10/10
Samantha N

The Mesogios is a lovely traditional taverna in an idyllic setting right on the beach of Katelios and having discovered it at the start of our holiday, we ate there nearly every night and most lunch times too. The menu offers a much wider range of meat, fish and vegetarian dishes than you usually find in Greece and everything was freshly cooked and totally delicious. In fact, we tried something different every night and never had bad meal. The prices were extremely competetive and I'd definitely recommend it.
10/10
Illyana B

I went for my summer holidays to Kefalonia. I ate in a restaurant near the sea. The restaurant was called "Mesogios" the food was really nice. The menu was fish, meat, potatoes and salad. The price was very good. The salad was very nice and the fish didn't have a lot of bones. The meat was tender and not over cooked. The potatoes were very tasty and my score will be 10/10.

Illyana, age 9
10/10
Joy G

Have eaten at Restaurant Mesogios every night of our holiday this year and last. I do not recognise this taverna from the comments written below. We have had superb food every night. This restaurant is excellent for both fish and vegetarian food and the most we have paid for fish is 13.5 euros which included a Greek salad starter and a half litre of wine besides the sea bass, which was excellent. There is a wide range of Greek vegetarian dishes, enough to have a different Greek dish every night and avoid the ubiquitous Italian pizzas and spaghetti napolitana on offer to vegetarians across most of the Meditteranean (although you can choose these at this taverna if you want). There is also a wide range of traditional meat dishes. We found the staff excellent and more than willing to suggest choices and even cook selections off the menu with a day's warning. None of the food eaten was overly salty. and the house wine was inexpensive and pleasant to drink.

We cannot recommend this taverna highly enough.,


1/10
Helen P

No wonder there aren't any other comments for this place - it was disgusting! We asked about the fish but when they told us it would be more than 60 euros for a small fish (only enough for one!) and we declined they were rude to us throughout the rest of the meal. We decided to stick it out (though I'm not sure why) but the food was so salty it made my boyfriend vomit - nice! I wish we hadn't wasted an evening of our wonderful holiday in this place!
| | |
| --- | --- |
| Search for Messogio Restaurant in all of JustKefalonia & the Messageboard | |
More Restaurants in Katelios...

Albouro | Ammos Restaurant | Blue Sea Restaurant | Captain Jerry | Deans Cafe | Elliniko | Katelios Taverna | Lighthouse Restaurant | Medusa Restaurant | Messogio Restaurant | Mythodea | Ostria Taverna | Persas | Sirines | The Garden |