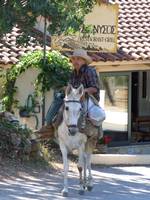 Lourdas Reviews
---
Places to Visit
---
Kefalonia Guide
---
Local Directory
---
Resort Guides
---
Street View
Afrodite

(Restaurants in Lourdas)
10/10
Richard S

dont miss aphrodite,s it had the best value food of our stay Stathis was abosolutely great very friendly and very funny guy . We to had a great breakfast 5E before heading for the airport and sadly home after another great holiday in blue bay villa in lourdas.TELL EVERY ONE about Stathis and Aphrodite they both work very hard and deserve all the credit they get .
10/10
Jovita A

Afrodite -best restaurant in Lourdas,wonderful people working there,wonderful place,best wishes!
10/10
Dee K

FANTASTIC!!

Afrodite and Stathis make you feel most welcome, the food again was gorgeous. Home cooked greek food at its best.

Pork souvlaki, stifado, pizza, club sandwiches all superb!

Not one for anything English whilst abroad, the day we left we had a full English breakfast there, preferring this to airline food. It was great. Bacon, sausage, beans, grilled tomato, mushrooms, two eggs (laid by Afrodites own free range chickens), toast with jam or homemade marmalade (yum!) orange juice, tea/coffee 6 euros and worth every penny.

Stathis has a great sense of humour, we love this couple.
10/10
Janice B
Best place in vlachata, lourdas just got back today had 3 heavenly weeks there cant wait for 2015 then hanging our boots up there friendly people especially Afrodities and Stathis, we love them and the place you must eat there she is a fab cook
10/10
Janice B
Just got back to england today......you gotta go to Afrodities its the best restaurant in Lourdas well vlachata, not quite lourdatta, love the place love the people, the food is excellent, cant pick just one dish because we had them all in the last 7 or so years, the fried squid is exemplorariry, and the souvlaki wonerfull.......cant wait to emigrate to kef...we shall then be true greeklish ....
Janice B
hey guys cant wait till sept 18th, boy do we need a break...missing you all see you soon keep hold of the sunshine for us x
Janice B
This is the best bar /grill if you want authentic greek souvlaki in lourdas afroditie and stathis are welcoming to all, we would recommend them above all the other eateries in lourdas, and we have been for the last 10 seasons or so.
10/10
Dee K
Afrodite & Stathis will make you most welcome in their bar/restaurant, they are lovely people. Nothing is too much trouble for them.

The food is good and a good price. Don't be put off because the surroundings aren't a plush as some of the other restaurants in Lourdas, granted it doesn't have the views, but the food is equally as good if not better than some you will pay 10 euros per couple more for!
9/10
Vincent C
Great place to eat and drink.Prices great , service great and company great. Been to Lourdas many times and this holiday was the first time we have used this bar/eatery we were driven in by a thunderstorm we just wish we had had a storm on an earlier holiday. Great place to while away the hours. The football was rubbish, but you can't have everything at least it was marvellous for the Spanish supporters. We were there for six weeks in May/June

10/10
Janice B

hey you guys we got home safe and sound, cant wait till september 9th, sue you best get us a good room at antonias lol hope you are all well and stathi's is in fine voice for the karaoke, delilah will never be the same again ! miss kefalonia.............our home from home................see you all in september, hi andy keep the draft at the pool bar on ice mate lots of love and see you all soon xxxxx

love jan and shelly xxx
10/10
Janice B

Kali mera afro, stathi, sue, andy and the girls from Jan and shelly.

By far the best place to eat and drink in lourdas, atosmphere and food great and the drink int half bad. Great traditional greek food also the best breakfast on the island. Hope to see you soon our friends, miss you, miss kefalonia, paradise!!!!! we will definiatley see you next year. Till then we will be cold, working hard and dreaming of lourdas and our friends. tat tar for now, save some sun for us. Jan and Shelly

p.s the photo was from shell's birthday we had a pirate theme if you cant quess.xxx
| | |
| --- | --- |
| Search for Afrodite in all of JustKefalonia & the Messageboard | |
More Restaurants in Lourdas...

Afrodite | Andromeda | Aridas Palace | Blue Sea | Casa de Blue Restaurant | Crystal Palace | Dionysis Restaurant | Doodles | Enastron | Greco | Greek Islands | Inopolis Restaurant | Klimatis | La Mer | Libra Grill Bar | Lithero | Lorraines Magic Hill Restaurant | Olive Lounge | Olive Tree | Patritcia | Penolopes | Spiros | Trifelli | Zorbas Restaurant |