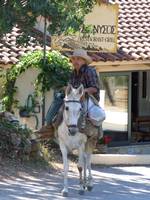 Lourdas Reviews
---
Places to Visit
---
Kefalonia Guide
---
Local Directory
---
Resort Guides
---
Street View
+ Enlarge Map
Lorraines Magic Hill Restaurant

(Restaurants in Lourdas)
Fiona P
I forgot to add, you must try the puddings,all of them, they are amazing, oh and the main courses, you will love everything, it is impossible not to love the food, it is is all "SO GOOD" we all tried different dishes every night and were never disappointed, and the cheese, OMG, it's just so good.
Fiona P
April 2013 - Lorraines Magic Hill Restaurant is located just up a little from Lourdas Beach. Lorraines has spectacular views, the food is excellent, plentiful and inexpensive, we were a party of x 6, we ate there 5 nights out of 7, and the bill was always less than 78 euros!....The service was great, Lorraine, the staff and the customers were very friendly, it is just such a relaxing, enjoyable atmosphere. We will definitely be visiting Lorraine again! Thank you!
10/10
Debbie H
I do hope the 2012 tourists will give Lorraine's Magic Hill a try. The old comments definitely don't do justice to the restaurant and how it runs today. We just came back from 2 weeks in Lourdas and we ate at Lorraine's several time, every single time the food was delicious, the moussaka is the best I ever had, whilst the char grilled baby goat and oven baked lamb are to die for. You gotta have the oven baked feta cheese as a starter, or you will miss out. Lorraine and her family take pride in their work, all the vegetables are from their own organic garden, handpicked on the day, so everything is fresh; all the meats are from their own stock which roams free on their land on the mountain; the feta cheese is home made and so is the olive oil; the fish is bought fresh every day and the bread rolls are to die for. Greek nights on Wednesday with a live band playing and singing traditional Greek music, on Saturday the same band is joined by 2 traditional Greek dancers; as both nights are extremely popular, will be a good idea to book a table in advance, we booked through their website without a problem.
8/10
Stuart W
It is a shame that the reviews for Lorraines are so indifferent, it seems they either get 1 out of 10 or 10 out of 10, so my advice is try it yourself. We went in May this year and ate there 3 or 4 times. The setting is outstanding, the menu maybe too big and we found the staff delightful. however and here lies the problem, on the first three nights the food was fantastic, especially the baby goat, but on the last night I had the chicken and garlic and it was the worst meal ive had in Kefalonia. On the plus side the portions are big there is a lot of choice and the homemade bread rolls are to die for, i also recommend you have a cocktail in their seperate bar either before or after your meal what a veiw.
5/10
Andy W

Why do so many people rave about Lorraine`s? Having just returned from my second visit to Lourdas I still believe the place is vastly overrated. Yes its a great view and if that`s your main concern then fine, but the food is no better than anywhere else around. Its hit and miss. If you order from the specials menu then its ok but dare to order from the main menu and you really are risking it.

On top of this you have to put up with the falsely over effusive woman herself who has an annoying habit of adding chips if she thinks you`re not spending enough. A ploy, I must say, that is not unique to this restaurant.
Jill T

I would like to have my wedding reception at Lorraines in May 2010.

Does anyone know if they have a website?

Or can anyone give me an idea of what it would cost to hire the place and cater for 25 people?
10/10
Cathryn R

My husband and I have just returned from a three week holiday in Kefalonia, incorperating our wedding in the second week (talked about below) I have got to say that we had a picture of what the wedding would be like in our heads before we went and it was a great deal different. It was perfection! The reception took place in Lorraines and from start to finish from decorating the tables to knowing each of our guests first names (All 60 of them!) the staff there were truly amazing, not to metion the food... Delicious! We couldn't have wished for any better... They made our big day the best day possible. Lorraine is delightful, her whole family just gorgeous.

Thank you all so much for a day we (and 58 others!) will NEVER forget!
9/10
Rianne F
Very surprised at a couple of comments below - i know my food and beleive me it was very nice here! we ate here twice in the evening and on each occasion we all enjoyed our meals and the service and we also went here for an english breakfast on the morning we were leaving. it was a bit slow in the morning but probably because there was only lorraine cooking and one waiter and there were quite a few there that morning. even so - we found lorraine VERY friendly and couldnt apologise enough when there was a wedding reception on whilst we were there and there wasnt really a chance of getting a table. highly recomended restaurant. its a must - even if it is just for the view which is gorg.

10/10
Ian M

We have just returned from 14 days in Lourdas for my step daughters wedding and chose Lorraine's for the reception. It was an excellent decision! Lorraine and her staff put on an absolutely first class evening for nearly 60 people. The food was excellent and in good quantities, preparation of the eating and dancing areas was well themed as was the wedding cake and flowers and the service frfom her efficient and ever friendly staff could not have been bettered.

Apart from the reception groups of us ate there on many occasions during the fortnight and the high quality never wavered and many a wonderful evening and late late evening were enjoyed.

Lorraine - thank you - I cannot recommend you highly enough
7/10
David T

Lorraines - Magic Hill, has the best location of all the places to eat in lourdas, great views and a nice friendly atmosphere.

The price were a little bit high but you're paying a bit extra for the location.
2/10
Anthony F
We ate here once,food was not good,moussaka was mainly cold with the odd hotspot,microwave must have been playing up?, food overall left a lot to be desired, staff pleasant enough,but kept disappearing for a fag. smoking before service to customers not good.
10/10
Mike K

Got back Saturday from 14 days in Lourdas, having read latest review of Lorraine's felt compelled to respond. We ate there 11 nights, food in our opinion excellent, but we like food swimming in garlic! The chicken fillets in mustard sauce were wonderful, not like the overcooked chicken at another taverna and the fresh sauteed mushrooms in garlic starter - wow!. We recommended it to other people and they were also impressed. Staff were friendly and prompt and the last night it was like leaving a family party. Yes you can get nice food in Fiscardo but you do pay a lot more - we were ripped off there for a small prawn salad. Lorraines - good food, a great view and a great host.
1/10
Jeff P

I have just returned from Lourdas and felt compelled to waste a few minutes and write a damming report on this restaurant. Now the french seem to be able to serve great food from a service station, granted Greek cuisine can only be enjoyed to a decent quality in London or if you are in keflaonia then perhaps Fiskardo but this restuarant failed dismally. The service was poor and the food was awful and I am happy to disagree with all the comments below. I can tell you they know nothing about food.
4/10
Alix M

Everyone gives Lorraines really good reviews so we went to eat here in June last year. The views are great but we must have gone on a bit of an off day. Service was not great - staff seemed to have friends eating there and so spent most of the night chatting to them.

Food was not great either - steak came with a baked potato which was a bit odd and the special chicken dish was swimming in garlic. This was also the most expensive meal we have paid for in Lourdas.

We may have just gone on an off day
8/10
Kenneth J

Just got back from Louardes and ate twice at Lorraines. WARNING THE SIZE OF THEIR PORTIONS CAN SERIOUSLY DAMAGE YOUR WAISTLINE!

Food was all good - the Kleftico was very tasty! Don't eat the Feta cheese starter unless you are a seriously big eater or do not want a main course! That was my normal weeks cheese consumption in one sitting....

Food was good, service typical Greek, they do not rush their meals nor do they rush you. Chill out and enjoy the view and let the food settle . It makes a very pleasant dining experiance.
10/10
Julia P

We were in Loudas in June last year, we stayed for two weeks and ate at Lorraines several times, each time we tried something different and were not dissapointed, the view is outstanding the service was excellent and very friendly, the food was delicious. We are looking forward to returning there this year.
Sean F

We only ate at Lorraines once and it was worth it for the spectacular views. The staff were very friendly but I could only describe our meals as OK, certainly not good enough to entice us back.
Susan A

We have just returned from a week staying at the Lara Hotel and we ate at Lorraines twice. A beautifull setting overlooking Lourdas Beach and views across to Zante a wonderful place to enjoy your evening meal whilst watching the sun set.The Staff were very friendly and the food was lovely with a interesting menu including baby goat and suckling pig.This was the only restaurant we ate at that gave a complimentary drink after the meal ,would definitely recommend giving it a try.
Rebecca B

The view from Lorraines was spectacular which unfortunately is not what can be said about the food!

An extensive menu but each meal that we selected was severely lacking in taste. The Terryaki Chicken consisted of a tough, overcooked piece of poultry with some Terryaki style gravy. My husband had Chicken Breast stuffed with Feta and Spinach (allegedly!!) - he has now been put off of spinach and feta for life! I ordered chips with my dish (I had had my fill of Greek Baked Potato) although when I politely pointed this out to Lorraine on receipt of my dish with the wrong order - I was met with an eery silence. I hastely added that of course I would be more than happy to simply eat what I had been given....more eery silence coupled with a look that could kill.

In fairness the rest of the staff were very friendly. Perhaps Lorraine was having an 'off day'?!?

On summary - my family will not be returning to Lorraines.

For the rest of the holiday we ate at Trafalli (just before Lara Hotel going up the hill) where we received a more welcoming service and better food.
Diane M

Just back from Lourdas a few days ago and missing it already, especially Lorraines. We loved the view, the scouse waiter and the food, in particular the beef stifado and oven baked feta. Also great cocktails. Cant wait to come back next year!
Max and carole M
Visited Lorraines on 5 occasions,4 for evening meal and 1 for lunch,whilst we were in Kefalonia between 29th July and 12th August 2006.

The food was very good on all visits,and the service second to none.We were treated royally especially on our final visit,on our last night.We travelled the short distance from our villa in Trapezaki.for excellant food and superb views.We would recommend that you try it at least once.

Our best wishes to Lorraine and all the staff.We have wonderful memories and photos to remind us.
Gill D

We love Lorraine's - we love the food the bar and the view and the staff - we love the feta with garlic, the prawns, the kefltico, the lamb, the goat and the fresh fish and the walnut pie - oh yes the walnut pie. In fact everything we have tried. We always have a good meal - rather - an excellent meal here . The service is friendly and attentive - Lorraine and Peter lead a brilliant team with Angela and the girls and Mark and Arty - not forgetting Mikkey. Cant wait to get back.
Carole W

Lovely position on a hill overlooking the sea and the staff extremely friendly. However, the food really was not up to much and fairly expensive (the cocktails probably bumped it up a bit though!). Had dinner there, food not great. Thought we'd try lunch - disaster! The cocktail bar is very nice and certainly worth a visit if you fancy pre-dinner drinks or a nightcap..
Michael C

This a great location, but I agree the food is a bit hit or miss. The staff are very friendly although Lorraine, full of enthusiasm and gusto at the begining of the evening, seems to fade a bit as the night goes on.

Give it a go, we didn`t have anything inedible, some of the food was good and some average, the house wine was good and the cocktails were rubbish, but the view is great, especially at sunset.
Beverley T
Great position, let down by very average food. Okay for lunch, agree that it's very hit & miss, another couple we met loved it. Fillet steak (supposedly) med.rare with sauce was very grissly
| | |
| --- | --- |
| Search for Lorraines Magic Hill Restaurant in all of JustKefalonia & the Messageboard | |
More Restaurants in Lourdas...

Afrodite | Andromeda | Aridas Palace | Blue Sea | Casa de Blue Restaurant | Crystal Palace | Dionysis Restaurant | Doodles | Enastron | Greco | Greek Islands | Inopolis Restaurant | Klimatis | La Mer | Libra Grill Bar | Lithero | Lorraines Magic Hill Restaurant | Olive Lounge | Olive Tree | Patritcia | Penolopes | Spiros | Trifelli | Zorbas Restaurant |