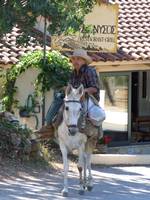 Lourdas Reviews
---
Places to Visit
---
Kefalonia Guide
---
Local Directory
---
Resort Guides
---
Street View
Libra Grill Bar

(Restaurants in Lourdas)
John B
Sadly the Libra is closed this season (2011) and the owners a working elsewhere.
The food and hospitality were good. They worked hard at the business and were open in the winter months. Hope to see them back next year.

10/10
Andrew C

Wonderful restaurant in ideal location in Lourdas.

We stayed for two weeks in Lourdas and ate out on most nights in various restaurants across the island but the Libra Grill Bar was by far the best for freshly cooked food and a warm and friendly atmosphere.

My personal favourite was swordfish souvalaki - just heavenly.

Geoff and Liz - a big thankyou from the both of us for looking after us while we were there. We have fond memories of our two weeks in Lourdas.

Friday nights are particularly good fun - excellent food and a 60s, 70s and 80s Disco (definately worth a look).
10/10
Jennie M
Just returned fom two weeks in Lourdas and spent a couple of evenings at the Libra Grill. The owners Liz and Geoff are great hosts and i can't recomend the food enough Geff cooks a mean steak and Liz's home made chicken curry was wonderful and the mushrooms in cream garlic sauce are the best on the Island. Make sure you support this lovely couple and dine at the Libra grill but watch out for Geff's metaxa and coke it packs a mean punch Yamas!
10/10
Anthony F
just returned from 2 weeks at Lourdas,in Lara hotel, tried some local tavernas,so/so, we hired a car to go to katelios / scala to find some decent restaurants so i drove past LIBRA every day for a week, (fool).

We eventually made our way to LIBRA and what a good move that was, mine host's Liz & Geoff nice and friendly, and the food was

EXCELLENT

good quality, plenty of it and that rarest of all things greek HOT and fresh, It was so good we saved it for our last night, we both had the steak, 'Superb',(gordon ramsay sod off and learn to cook like this) .one evening we were there and it started to rain so Geoff insisted on driving us back to the hotel what service. we highly recommend

LIBRA

with reservation's as we dont want you lot filling all the tables, so geoff reserve us that corner table, we will be back,

Almost forgot to mention Liz's home made bread,now that really is something.enjoy.

wishing you success for the future.

Tony and Pam.
10/10
Alan & mary N

We recently had the pleasure of a two week holiday on the Isle Kefalonia staying at the Lara hotel in Lourdas.after trying one or two tavernís we were recommended to try the Libra grill bar . The bar was run by a young couple from Wales by the name of Geoff and Liz.

After looking through the menu witch was very good to read, they changed the menu every other day & had a wide range of options.

We tried the mousaka witch was very nice , & also the beef in brandy sauce with three veg with was cooked to perfection and a lamb spicy dish with rice witch was a Greek dish .They had a bbq on a Thursday night witch consisted of pork chop two sausages (ENGLISH BBQ OF COURSE)
1 post by Alan & mary N
- GB
10/10
Carl P

With only two days of our holiday left, by chance we came upon the Libra Grill Bar advertising full English breakfasts. My word we were not disappointed! This was the best breakfast we have had in the three years of visiting this resort. Word of mouth was that the food is just as good for an evening meal. Geoff and Liz were very friendly and hospitable. Without any hesitation we would recommend this eating place to anyone visiting Lourdas.

Carl & Carol Page
10/10
Bill C

Great little bar/restaurant in the heart of the village, superb home cooked food, the best steaks and souvlaki I've ever eaten on the island! and all at very reasonable prices. Good friendly service from the owners Geoff & Liz We are lucky enough to live locally so I think this will become our new eating/watering hole! Recommended to all
10/10
Phil R

The Libra Grill Bar: This place was, in our opinion the jewel in Loudas's crown of restaurants! We ate out every night for two weeks going all around the local area and further afield. The food here was definately the best.

On arriving in Kefelonia we wondered down towards the beach looking for something to eat. We found the Libra Grill Bar and were welcomed in with open (Welsh) arms despite the time! Liz cooked us up a treat: a huge Prawn salad and a Pork in a brandy cream sauce. It was beautiful.

We enjoyed the food and had such a great time that we said we would go back again. We saved it for our last night! This time my partner had a wonderful home made Mousaka and I had literally the best steak I have ever had. Geoff was not kidding when he said he knew how to cut a good piece of meat. I can say; he also knows how to cook them too! It was the most tender and tasty piece of beef I have ever had!

The service was wonderful. The owners Liz and Geoff, made us feel extremely welcome to the island telling us where is best to go etc. DJ Baldy also made us feel welcome as well as pulling a mean pint!

I would highly recomend eating at the Libra Grill Bar. Stunning food, exceptional value, great service and company as well as breath-taking views from the roof terrace under the fruit laden vines!

Thanks for everything,

The Lovely Young Couple!
10/10
Paula M

The LIBRA GRILL BAR was a great place to have a few beers/drinks and a meal. The food is all freshly prepared/cooked and this shows in the eating. The turkey curry and pork with rice was great. When the spices are imported directly from SAUDIA ARABIA you know it is going to taste brilliant.

Geoff and Liz the owners are very friendly and helpful, even when it was late in the evening, or shall I say early in the morning.

The LIBRA GRILL BAR was a short distance from our apartment, (FOLIES) which made it an ideal place to have an ice cold beer served in a frozen glass especially when the sun was blazing down and we'd just come back from the beach.

When we return next year this is the first place we will head.

Paula and Mario.
10/10
Geoff C
this bar has changed to the libra grill bar the new managers are welsh and all I am able to say the food is fantastic the curries the steaks the food in general. I have read the guest /visitors book and what is being said i cant fault
Chris & hannah
We visited Alexias twice during our stay on Kefelonia and had a wonderful meal on both occasions. The food was excellent, both in its taste and presentation and the service was friendly and prompt. The prices were higher here then in other Lourdas restaurants (65 Euros for a 3 Course meal and 1L wine.) however this was made up in the fact this was the best meal we had on the island.
The two local cats will keep you entertained during your meal, especially when they begin to play on the canopy above the restaurant.
Nick D
My partner Jayne and I enjoyed an excellent meal at Alexias. For starters we had hummous and tahini accompanied by the recommended Arabic flatbread. The hummous in particular was the best we had ever tasted - don't miss it if you go! Our vegetarian main courses were also excellent, and we can highly recommend the Caribbean Crumble (or something like that) as a dessert.

As others have noted, Alexias is probably the most expensive place to eat in Lourdas, but the food there is superb, and as eating out here is generally so cheap there is no excuse for not visiting at least once. The service from the English lady owner and her daughter was excellent, and the free flaming sambucca at the end of the meal was a nice touch (though next time I'll remember to blow it out before trying to drink it). The only thing which spoiled the night for us slightly was the older couple, evidently known to the owners, who sat down at the next table and proceeded to chain smoke over us all night - not really what you expect in a veggie-type restaurant!

Can U Help?
John R
For Olga here is the e-mail address for the Alexia restaurant hamilton@kef.forthnet.gr
Sonia + John.
John R
We are going back to Kefalonia having visited lourdas twice before in 2000 and 2001. The Alexia restaurant was the best place to eat in Lourdas in our opinion. The menu was varied and excellant. We can recommend the Dolamadas, Seabass, Stifado,Egyptian potatoes etc. The owners Richard and Linda are extremely nice and helpful people.
John + Sonia.
Alison W
We only ate here the once because we arrived at 11.30 at night and it was the closest to the hotel and it was still open. They had just finished serving but stayed open for us. Really friendly english lady served us and there was lots of veggie food. The food was ok but it wasn't very hot, but we were starving. I have to say I probably wouldn't have gone here otherwise.
Nxxx P
i come from Kefalonia but i live in Edinburgh now. I come from kefalonia, and i know all the restaurants on the Island, and i would have to say that this is the worst one there. The food is awful but the service is even worse. They are very dirty and the owner is a bit of a ******. The only good thing is the music, if u where deaf i mean. There is so many other restuarants and i would recommend, magas taverna or klimatis. Those restuarants are very good.
Karen D
What a joke this restaurant is. Nothing about it is worth praising- lousy food, sleazy owner, rude middle aged waitress. The promise of live music had lured us in and then had us bolting for the door- the owner murdering songs and children doing karaoke- not my idea of live jazz. And the bill, this place charges more than double than everywhere else on the island. This "restaurant" lets the whole area down.
Can U Help?
Olga D
Is there an e-mail address for Alexia's Restaurant in Lourdas??
Samantha
Alexias menu looked like it had a lot of variety and included a lot of veggie meals. We thought it was very expensive for what you got. The fresh fish was lovely but the veggie meals were expensive and didn't taste of much. Nice waiter and nice cats.
Simon W
I'm sorry some visitors were disappointed with Alexias. When we visited we were impressed with the quality and variety of the food. The owner plays and sings the most amazing music. The cuisine is not merely Greek, but covers a range of food from all over the Mediterranean. It is probably the most expensive restaurant in Lourdas, but is well worth the extra. Be advised by the waitress as to which wine to drink
Michael L
We ate here twice and both times it was excellent. It offers a much more varied and higher standard from the other get em in quck and get em out quick establishments up the hill. Try the meatballs and the vegetarian curries. The most authentic meal we had by a long way. the music wasn't bad either.
Alan J
Sue Lawson has said it all for me.I could not say it better myself.Do not bother to go there
Sue L
The Alexias was grosley over priced and the food and portions was very average. The lamb consisted mainly of fat and the steak that we had was pathetic. When asked if I had enjoyed my meal I politely told the truth, I then recieved a very frosty response from the waitress. Needless to say we never went back!
Dave B
Average food, and overpriced by comparison to better establishments nearby.
Geoff D
If you get the opportunity I would recommend that you try the Alexia Restaurant. It is rather different. For a start it is run by a gentleman (Egyptian I believe) who is a colourful character to say the least. As well as being quite passionate about the food he will also accompany your meal with some unique jazz/blues arrangements of music improvised to the stage where they are barely recognisable but nevertheless excellent. They have excellent fish and seafood, a very good vegetarian range, curries and North African cuisine as well as more traditional Greek fare. It is certainly not the cheapest place in town but the quality is excellent and the atmosphere is great. It is quite small (only about 12-15 tables) so they recommend booking in advance. For information their telephone number is 0671031017. (Prefix with 0033 and drop the first zero if dialling from UK or UK registered mobile) And no! I'm not on commission from him, we just liked it very much!
| | |
| --- | --- |
| Search for Libra Grill Bar in all of JustKefalonia & the Messageboard | |
More Restaurants in Lourdas...

Afrodite | Andromeda | Aridas Palace | Blue Sea | Casa de Blue Restaurant | Crystal Palace | Dionysis Restaurant | Doodles | Enastron | Greco | Greek Islands | Inopolis Restaurant | Klimatis | La Mer | Libra Grill Bar | Lithero | Lorraines Magic Hill Restaurant | Olive Lounge | Olive Tree | Patritcia | Penolopes | Spiros | Trifelli | Zorbas Restaurant |