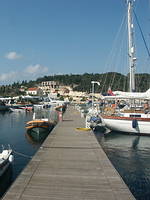 Kefalonia Reviews
---
Places to Visit
---
Kefalonia Guide
---
Local Directory
---
Resort Guides
---
Street View
+ Enlarge Map
Fiskardo

(Resorts in Fiskardo)
10/10
Freddy Johnson
The boy Andrew B, last comment, is talking absolute nonsense. He is struggling with numpty words like 'psuedo rich'. and 'surreal' to describe Fiscardo in a derogatory way and 'the only good thing about it 'is the ferry out'? He is the sort of person who would find a 'full english breakfast', a 'pint of guiness' and 'match of the day' on a television in some Tavererna in Kefalonia the ultimate'. Thats down in Scala mate, Fiscardo is obviously too sophisticated for the likes of you. Fiscardo is the jewel in the Kefalonian crown without a shadow even although the restaurants are a bit pricey.
10/10
Freddy Johnson
I have read a few comments here slagging off Fiscardo for its high prices. Well they are on the higher side but you definitely pay for what you get. I have a villa above Fiscardo and when I'm there I have to pay all the time but I dont mind a jot because its so beautiful. I notice that most of the negative comments are coming from folk holidaying in Scala and there is a big difference between Fiscardo and Scala and thats why you're in Scala!! Let it go.
3/10
Mai S
stayed for two weeks but a week would have been enough. Beautiful place and

ideal to sit and people watch. Restaurants exspensive, one inparticular was Vasso's only had one meal and never went again ,felt we were ripped off. Not a place for sunbathing only two beaches in the area we where and both very small, a few people and they felt crowded. I felt it was more of a resort for a sailing holiday and would not return.
10/10
Julie E

Shabby Chic, understated, Beautiful!!

What a lovely little harbour, its very small to what I was expecting having heard all the stars stay there.... and can you blame them? It's turquoise clear water with bobbing fishing boats alongside lovely expensive yachts and its lined with waterside restaurants, which are not all extortionate, a little more expensive but not toooooo much. Well worth a visit to this quaint little place.
Michael H
We drove to Fiskardo but had intended to eat lunch in Assos en-route. Unfortunately, we missed our turning for Assos so headed straight for Fiskardo instead. Oh boy..we found a sea-front restaurant advertising crab salad at 7 euros each. Not bad I thought, I'll have that! What we got were chopped up imitation crabsticks served on 1 single lettuce leaf with dollops of seafood sauce poured over. It was disgusting, so we left it.
8/10
Kate W

Visited Fiskardo with the Island tour. Very picturesque village...right on the harbourside, but didnt get much time to look around...only had an hour..but enjoyed watching the yachts etc coming into the harbour...how the other half live eh? Nice to people watch..though dont know if I would want to stay there.
4/10
Tom C

Was a lovely place to visit for its stunning views but did not come across as a very friendly place compared to Skala,went to eat at one restaurant and the staff ignored us so went to another one nearby and got served the only bad food in our 2 week stay,cant remember the name of the place had a fish as its emblem.....totally disgusting.
9/10
Shona W

Such a beautiful place...well worth a visit. We stayed at Anthis Beach Apartments which are lovely with beautiful views over the little bay. All the multi-coloured houses along the marina are so pretty and it's not as expensive as everyone made out to us...
2/10
Dave P
I really wouldn't bother with this place at all - so, it has a a pretty harbour and that's it unless you want to watch the rich, the very rich, the super-rich and the disgustingly-criminal rich pose and pout, and check out the menus - no prices on many so is this the old saying "If you need to ask then you can't afford it?" What prices we did see for basic food was beyond a joke or an insult. If you wish to be ripped off and are stupid enough to pay, then good luck. Very over-hyped and a long long drive from anywhere else.
9/10
Carol

Beautiful place to visit especially if you like boats and want to see how the other half live! Some lovely little shops but very expensive. Only downside was my other half eating squid in one of the waterfront restaurants and getting food poisoning
8/10
Karl

Great place to visit! Take your snorkelling stuff and dive off the rocks on the far end of the town. The walk to the lighthouse is great with fantastic views of Itahca and some of the other islands in the region.

I don't think this place is overrated - overpriced yes! It is expensive to eat and some of the souvenirs were way over what you pay in other resorts on the island. Fiskardo is well worth a visit.
10/10
Helen H
GORGEOUS PLACE!!! V. PRICEY THO! DON'T GO TO THE RESTAURANT THAT THE TOUR OPERATOR SUGGESTS!!! 70 EUROS FOR 2 ADULTS AND 2 CHILDREN!!!! AND IT WAS NOTHING SPECIAL!!! WELL WORTH THE VISIT WATCH ALL THE RICH ITALIANS POSING NEXT TO THEIR YAGHTS !! DREAM ON!!

6/10
Christopher T

Fiskardo is a good looking village, a long drive form anywhere but worth the slog up form the South. Biggest problem in July this year was the wasps, while the rest of the island was wasp free seems that Fiskardo was buzzing them in by the coach load. The only problem with the resort was the pretenuious yachties who were marginally more annoying than the wasps. We stayed overnight and had a lovely ( but expensive meal) on the harbour front. Go, but take the inspect reppelent ( and that only for the yachties!!!)
Julie P

We have been to Kefalonia for the last 6 years and find Fiscardo is well worth another visit each time. The drive up from Lixouri is best done early morning(if travelling in August) and the views are spectacular.Fiscardo is a busy little spot and has the attractiveness and interest of older buildings(pre 1953). The museum is well worth a visit if you can find it open. The port is a good starting place for ferries to Lefkada and Ithaca and if one wants to let the world go by..the ferry point is entertainment in itself!!
Albert H

Not worth driving the extra miles from anywhere else to see. Best bit was watching the quay staff expertly backing vehicles onto the ferry ...
Albert H

WE took a long drive up from Scala (OK, we stopped at Assos which was good), but this place really didn't warrant the praise that had been heaped on it. May have escaped the earthquake, but it's tiny and not that picturesque. Yes, it's trying to be a mini St Trop, but that's also overrated and overpriced.
Rob P

Went to Fiskardo twice and quite liked it. I get the feeling we'd have liked it all the more if we could have seen it but there are that many tourists its difficult to see the wood for the trees (yes, I know we were part of the problem too).

It seemed quite pricey - espescially for food - which was nice but fairly anglicised.
Peter & lilu

Pretty little place. Attracts a lot of 'well to do' if you know what I mean. It isn't really that much more expensive. In fact we saw some items such as sarongs which were so much cheaper here. The food was also better quality. We actually had our most expensive AND worst meal in Lassi! Even if you only go a starters, which is what we did - dine here and watch the boats out in the sea. It's a nice atmosphere.
Riccardo S

Nice town... but it's very very small... Greek people talked about Fiskardo in a very impressive way...yeah, it's ok... but it's not this INBELIEVABLE place to go....
Amanda P
Well worth visiting. It's so pretty and there are plenty of restaurant's and cafe's to eat and drink.
Jodie P
A really beautiful place but a little bit overrated. The only place where we were told we couldnt eat unless we had booked, and quite expensive too. Gorgeous setting with all the yauchts, very san tropez!Lots of original pre-earthquake buildings left too which is interesting. Great views of Ithaca just 200m away, and a very classy and stylish place to visit.
Mick T

Fiskardo is busy to say the least. Packed with tourists. But you cannot deny that it is pcturesque. this is the third time we have been there and it doesn't change. You will pay more for souvenirs and food but there are plenty of tavernas to eat in and generally the quality is good. Miss it and you have missed one of the best places on the Island
Wendy S

Pretty place, but a little 'up it's own' for my liking. I agree that shopkeepers were not as friendly. Perhaps it's because they are assured customers cos the place is a tourist hot-spot. Prices are inflated. The postcards I bought were double the price than they were in Poros. But it's worth a visit. Just don't do your souvineer shopping there. Do visit the little museum.
David B

Very pretty little town. Too rich for its own good and full of yachties showing off. But well worth a visit.
Sally P

We loved Fiskardo, so relaxing and classy. We had been warned that prices were expensive and told not eat there but how could you not in such a beautiful setting, we thought prices were pretty much the norm for good tradional Kefalonian food. If your looking for cheap and cheerful your best bet is Skala or Lassi. We thought Fiskardo rocked!!!!
| | |
| --- | --- |
| Search for Fiskardo in all of JustKefalonia & the Messageboard | |
More Resorts on Kefalonia...

Agia Efimia Resort | Avithos | Fanari | Fiskardo | Karavados | Katelios Resort | Lassi Resort | Lixouri | Lourdas Resort | Poros Resort | Sami | Skala Resort | Svoronata | Trapezaki |