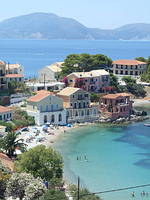 Kefalonia Reviews
---
Places to Visit
---
Kefalonia Guide
---
Local Directory
---
Resort Guides
---
Street View
+ Enlarge Map
Myrtos Beach

(Beaches in Assos)
5/10
Gabriela S

not the best beach. beautiful but bad organized. poor umbrellas(you cannot hide from the sun) and very poor bar where you can buy only drinks and sandwiches. it's a pitty that the potential is not valued by the locals.
10/10
Lynette M

Has to be seen to be believed! When you see pictures, postcards etc, of ink blue sea beautiful beach, you think they must have enhanced the colours but no way, the colour of the sea, the sand perfect. The drive down off putting, we chickened out first time but next time we could not resist anymore, well worth it, will always go back there every visit to Kefalonia, will be in a months time.
10/10
Julie E

Speechless!

This beach and surrounding area has to be seen to be believed. The drive all around this area is so breathtaking you have to see it to belive it. When you clap eyes on the beach from above its just awesome, we were all saying WOW Ahhhhhhhhh, OOooooo, etc then drove down and parked up. We went in the sea which was FAB and walked along the beach ahhh it really was magical and I wish we were back there!!!!!!
10/10
Lizzie R

This beach was like being in paradise. You have to swim in the sea to appreciate it because it was idyllic - warm, turquoise water. The beach is pure white - but not sand unfortunately - smooth, white pebbles. The beach cafe was quite nice and the WCs were absolutely spotless.

It is a trek up (or down) mountainous terrain, so go on a day with guaranteed sunshine and leave yourself plenty of time to get back to where you are staying before it gets dark as night descended on us very very quickly (late September).
Gerald P

Best seen from above - gets rather crowded. Excellent for the photo album, but we didn't stay.
10/10
Darren M
bought this boat 2 year ago , this is us cruising by myrtos may 2008. see you all in may 2009

YAMASS.
10/10
Darren M
WE ALWAYS MAKE A TRIP TO MYRTOS EVERYTIME WE GO TO KEFALONIA SINCE OUR FIRST TIME IN 1995 WHEN WE DID THE ISLAND TRIP. WE MAKE SURE WE HAVE CAR HIRE TO GET THE BEST OUT OF OUR HOLIDAY AND SEE ALL THE BEAUTIFUL SCENERY. YAMASS AND SEE YOU IN MAY 2009.
10/10
Shona W

This beach is absolutely stunning...from above it's like a picture postcard for the Caribbean and once you're on the beach it's fab...it's not as shingly as we had been told it was and the water is the most turquoise water I've ever swam in and very flat...there are apparently strong under currents but we weren't aware of them at all...a must see!!
9/10
Dave P
Stunning view and sight/site, but strong undercurrent and no flags - beware if you are not a good swimmer. gets very busy by mid-day.
1/10
Emma R

Fantastic views, fantastic fun in the waves. Got to be done.

The owner of the cafe - bar was awful. We had planned on going back to the bay but no way.
10/10
Trudy B

what a fantastic beach we viewed it from the top, and then drove down to the bay.

a very steep hill to get down and going back up was in need on 2nd gear very hard to get back up..........

but once down there it was fantastic but you need rubber sandals as the beach area is all stones and rocks and hurt your feet.....

but what a fantastic bay.............one of the best ones ever seen

but beware do not visit the toilets, try and go before you attempt to go down................

they are just a great big hole in the floor..........yak..................
10/10
James A

We stayed in Lassi for a week, hired a car and visited this beach as it was reccommneded to us by a guy working at our apartments.

What a fantastic bay!

The views on the way to the bay are breathtaking and once you arrive at the beach there is more fantastic scenery.

The water is perfectly clear and beatiful colours.

We have visted most of the greek islands and rate this bay as one of the best (the other being Antisamos also in Kefalonia).

A must visit if you go to Keflonia!
8/10
Sam W

Very scenic when viewed from look out on cliff top , then scary drive down to sheltered natural cove, another sand and pebble beach where you need plastic /rubber shoes .Really quite stunning. Spoilt my visit by using the awful toilet .
Kev S
If you go to Kefalonia, you must visit Myrtos. The view from the main Fiskardo road is amazing. The winding road down to the beach looks daunting, with numerous hairpin bends, but its worth it. One of the highlights of an unforgettable holiday. The water is so clear and the beach was deserted last week. Superb.

Neil J

we went to kefalonia for the second time this october and went to myrtos beach for the first time......WOW what a place. the water is so blue and although there are pebbles at the waters edge there is lovely white sand aswell. we had a fantastic time the waves were like a swimming pool wave machine...... not to be missed a place to go back to....the only drawback was the toilet facilities.....yuk yuk yuk
Dawn H
What an amazing place. We went back there twice and would have gone again if we didn't have to give the car back. The place was like a hide away and the water was lovely and cool after driving all day.

Loved it!!

Nick B

Very beautuful beach and stunning to look at. Water was warm and beautiful colour, although it does have a bit of a current and can be hard to get out of. Is a mixture of sand and pebbles and the pebbles so hurt your feet. A must for a day trip.
Rina V

Have just returned from visiting the beautiful island of Kefalonia. Visited Myrtos Bay as part of an island tour (well worth doing). Stopped off to take breath taking photos of the Bay. Really beautiful!
Lesley S

Spectacular beach, proably best viewed/photographed from above. Pebbles/stones make it very hard getting in and out of the water without shoes. Get there early to avoid traffic chaos going down and parking. Also beware, as there are some patches of oil on the beach. A must to visit for a short while and get those all important photos!
Steven A

the best the best water blue love it see u in 2007

love steve alisandratos point cook
Sarah P
breathtaking veiws , but no shelter from sun, i consider myself a strong swimmer, but wished i had of listend to advise about strong under currants,i had areal problem getting out, really scary.
Neil R
pictures
Gareth J

The one in all the brochures! Spectacular - both the drive down, and the scenery when you get there. Well worth the trouble. Very exposed so it gets really hot, and swimshoes help a lot on hot pebbles. Visited twice during our stay ( July 05) to find complete contrast - sea was like a mill pond during our first, but very rough during the second. Our friends - who are strong swimmers - reported very difficult conditions. Only afterwards did we learn from the locals of the problems the undertow can cause - scroll down for more details. Think twice before swimming, but still well worth a visit.
Mechelle G

Best beach on Kefalonia, don't visit without seeing it. Best to purchase a pair of surf shoes (available from most supermarkets) as the beach is pebbly as you enter the water. Although the beach is popular, there is still plenty of space to find your own little patch away from other people if you want to, and not too crowded considering how lovely it is. Some days the sea is really calm, other days it can be a bit rough so be sensible according to your abilities. Don't be scared off by the horror stories of people drowning, but do be careful. I love this beach!
Louchie

pictures...........
| | |
| --- | --- |
| Search for Myrtos Beach in all of JustKefalonia & the Messageboard | |
More Beaches on Kefalonia...

Agia Efimia | Anti Samos | Assos | Emblisi (Fiskardo) | Gradakia (Lassi) | Katelios | Lepada (Lixouri) | Lourdas | Makris Yialos (Lassi) | Myrtos Beach | Petani | Plati Yialos (Lassi) | Poros | Skala | Svoronata | Trapezaki | Zola |