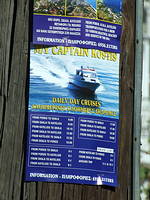 Kefalonia Reviews
---
Places to Visit
---
Kefalonia Guide
---
Local Directory
---
Resort Guides
---
Street View
+ Enlarge Map
Katelios Resort

(Resorts in Katelios)
9/10
Colin T

first time we went to katelios, we both loved the place. quite suprised. never been to a more quiet and peaceful place on kefalonia. prob to quiet for most. not the best sandy beach , but very shallow and warm clear sea. perfect for the young and infirm. tavernas over looking sea front, easy parking. to chill out for the day, you wont find a better place.
Ann I

When accomodation appears fully booked at any travel company it normally means that the company ie Thomas Cook/Thompson/Manos do not want to have guests staying there. The contract between the travel companies and studio owners is typically for 3 years at a time and then either party can cease the contract. As I have stayed there many times I shall let you know if I get any luck either booking with another tour company or going direct.
Pammie C
We stayed at the wonderful Eryphilli in May this year and was looking to go back at the end of September but we can't seem to find it anywhere?

Can someone advise as to how you book the Eryphilli as we got our May holiday as a special offer in a Thomas Cook window but it seems to be permanently fully booked!

Thanks
10/10
Dave P
Re; question below- Get a water taxi and a map! It's just a few kilometres anyway! This is a really laid back, slow, quiet and very relaxing place to be - just what we like! Good swimming (shame about the new marina construction going on at present) and good snorkelling with some lovely relaxed tavernas (check out Katelios Taverna run by an Englishwoman and her Greek husband - fantastic food at very reasonable prices and probably the best hummous and best kalimari that we have had anywhere). Sunbeds and umbrellas are free, which is a nice touch.
Denny H

Hi there can someone tell me how far katelios is from scala and taxi prices please.Thanx in advance
8/10
Michael J

Can anyone tell me how far it is from Katelios to Fiskardo and if the holiday companys do trips there.
10/10
John E

Katelios is definitely a traditional Greek beach bay location, small, warm & friendly, hospitable and relaxing. While transport could be a problem its not devastating. Early and late in the year is perfect for those who want absolute peace and quiet, also to indulge in a little walking exploration as the area is now developing with tracks into the hills behind. During the mid season you can keep up to date with the Carretta Turtle nesting activities from the environmental centre, with the main nesting beach of Kaminia being close by.

There is a variety of small accommodations to let, even for the backpacking/island hopper traveller, one of my favourites is Katelios Dreams run by Makis & Lambrini which you find right down at the beach area of St.Barabara with a small cafe bar. The accommodation is new and has rooms that can accomodate 2-4 persons with basic self-catering facilities, at reasonable rates.Contact them through +3026710 23650.

+

Enjoy Katelios, it's bliss.
10/10
Tony F

We've been coming to Katelios for about 15 years and it remains the great place for a relaxing holiday in an authentic quiet Greek holiday/fishing village that it always was. (It can get a bit busy like anywhere else in late July/August when Italians and others turn up in droves in camper vans.) Tourism and building are starting to encroach and there are one or two smart joints on the seafront but it retains the genuine feel of old style Greece with several local characters, especially Marinos the friendly supermarket owner who works 18 hours a day in the season and Irini and Dimitri who run the best accommodation in the village (IMHO). Many visitors return year after year like us and staff stay on and work their way up from waiters to taverna owners and are happy to share the latest gossip and occasional scandal! The quality of food in the tavernas is renowned across the island - especially for freshly caught fish - and townies from Argostoli drive over at the weekend with huge extended families arriving at about 2230 sending waiters into a frenzy of table reorganising. There's not a lot to do apart from lounging by the pool or the beach, eating in the tavernas or visiting the low-key bars so will not suit some people. The beach is very gradually shelving with some small patches of sand so great for small children . Seaweed is a problem very early in the season and if there has been a particularly heavy storm but the Demos tractor it away to the organic farm (not joking!) up the road. No water sports. Accommodation is small and family owned and the comments on this site are very reliable. Unfortunately the big travel companies have put the bite on owners in recent years over prices and availability has been variable. I have extensively checked out the rumours about the harbour and it will be at the end of the beach by the Cozy bar and quite small and only for yachts and there is no truth at all about road widening. We'll be back again in June/July 2007.

Tony and Kath

Prescot UK
8/10
Elizabeth T
We visited Katelios in June 03 and stayed at the Blue Sea Appartments (mainly sutdios, with 2-4 1 bed appts) for 2 weeks. The 1 bed appt was huge! It did get hot at night, but they may have added air con by now! We have an 8 month old and a 3 year old. It was perfect for their age range. The pool was perfect, the shallow end sloped gently down, great for tiny ones. We were worried that we had chosen badly, but not at all. Katelios is a lovely little quiet village with set of swings and slides right on the sea front. Also lots of restaurants to choose from (appx 14!)- all good too. The beach wasn't that attractive, but dining in the evening with the seafront setting (where most of the restaurants are) was simply beautiful. The weather was gorgeous, not too scorching for the litle ones. We hired a car and visited Scala - much busier and far more commercial, but amazing beach! Some great restaurants there too, a very professional set up. We went up to Fiscardo, extremely picturesque, the harbour was beautiful and restaurants very good too. Great gift and designer shops to browse around. A bit Oh Kay Yah, but it is a sophisticated place, worth seeing. Driving up we visited Captain Corelli's beach, which was just stunningly breathtaking, extremely hot, large pebbles, pristine aqua clear sea. Loved it, just too hot for babies! The coast road on the north west was amazing too, after the fab hot beach (can't remember name, very famous, it gets so hot also) - the cliff road on the way to the quiet village Assos - worth seeing, a beautiful place you you would go to escape the crowds. It is like a retreat village, and had a fab serenity about it. It's to the west of Fiscardo on the north coast, after the cliff road drive. We had a great holiday!
Vic W

Thanks for your help Gill, our travel agent didnt know and there is nothing worse then warm retsina!! Hope to see you there as we are also going in September!!
Gill L

Hi Vic W. I've booked for September and it says in the brochure details that there's a fridge.
Alison M
We have just come back from a very peaceful and hot week.we stayed at the Blue sea studios.Clean and basic but with a fabulous pool.We found the best food was at Jerry@s across the road from the studios.He was a great guy very chatty and full of info on the island.He lived locally and served the best greek food we have ever had.

Beach not the best,but we hired a car and a moped and saw most of the island in a week.Best beach was scala, but we also hired a boat and found our own personal bit of paradise.The beach could only be reached by boat and we swam to shore,snorkled and chilled.

No shops to speak of but a couple of supermakets that covered the basics.Why come to shop.Just chill and relax.

Best bar was Nemesis.Had a massive wide TV and we watched the football with a chilled beer,Also watched England loose, but otherwise one of the best weeks break we have ever had.Wouls recommend the island to anyone who wants to get away and chill.
Claire L

Me and my family have me going to katelios, kefalonia for years now and we love it. All the locals are so friendly always smiling and making you feel welcome. All the restaurants here are fab got to say my favourite is persas they do brilliant taziki and chicken and cheese pie! If you get fed up of eating greek food every night theres a brilliant cafe/ bar (deans cafe) owned by 2 wonderful english people dean and christine here they do a gorgeous full english breakfast and gorgeous tea time meals like cottage pie chips and peas to something lite like a tuna salad. And to top it off they are lovely people who will chat to you and make you feel at home. I have two favourite bars in katelios they will have to be nemesis with denise and nick and the cozy bar with peter and kiki they are all great people and the atmosphere is great while drinking a ice cold mythos!

Katelios beach isnt one of the greatest but is still nice if you want to sunbathe and swim in the cool waters. If you hire a car you can go and visit many beautiful beaches along the island like mounda beach which is just out of katelios i would say 10 minutes by car, skala beach, poros beach and man many more plus you get to see the great scenery on the way! I would deffo recommend katelios to families seeking a quiet and relaxing holiday who just want to get away from it all. KATELIOS 10/10 will see you all in late july x
Darenne P

Hi Ray

We stayed at the Irene 3 yrs ago. Irene is a lovely lady, she often left us produce from her garden in our room. She was also great when I sunburnt my feet, shown me a great deal of concern and even went to her apartment and got some natural yogurt to put on them to ease the pain.

Her apartments are very clean, and basic. It had a 2 ring electric hob, fridge, kettle and sandwich toaster. i would stay at these apartments again if they had a pool.

Enjoy your stay, hire a car if you can and get the most from this amazing island.
Can U Help?
Gin B
Can anyone who has been to Katelios recently tell me is there a lot of building work going on there?
Terry T
went sept 2003 loved the place Marino great guy say hello to spiro and nick at katelios taverna stayed at dumas basic but nice hope to return one day soon
Jennie M
My husband and i have spent the last two years at Hara appartments and they are excellent if you are looking for a relaxing holiday just lazing around the pool they are the best choice, Hara herself is a lovely lady who takes great pride in her appartments and the gardens. The appartments are just outside ketelios with no other building around them and i hope they remain so. The beach is not the best but if you hire a car you will find many exellent beaches around the island. You can hire a boat from sea breeze by the kisok in Ketelios and explore many of the unreachable beaches and have your own private beach for the day we hired a boat twice this year as it is such good fun
Helen P
What a dreamy place! Before we went we read mixed things about this resort - but it's everything we had hoped it would be.
Quiet and relaxing, friendly locals, nice selection of Tavernas - enough of a mix to have traditional meals most nights with real atmosphere and Full English breakfast when required!
Yes the beach isn't miles of sand, but we were lucky enough to find a really lovely pool and did swim in the sea a few times. If you want sand and don't mind heights then walk over the cliffs to Turtle Beach just around the coast.
Helen B
I went here in September 2003, first week torrential rain, 2nd week hot sunshine, Katelios beach was a dump - full of seaweed. The reason we choose Kefalonia was the sandy beaches, but the best beach was Sami. Previously we were in Zante and told Kefalonia had better beaches - I disagree. Try Pegasus for glorious home cooked food. She gave us some home grown figs - geogous. Liked Nemesis bar.
Mary M
Got back from Katelios on Tuesday, spent 2 wonderful weeks there - I can see why people go back time and time again and indeed move there - we have had nice holidays in the past and met lovely people but Katelios has a charm and attraction all of it's own, as people will tell you don't go and expect lots of nightlife, evenings tend to be more about eating having a quiet drink and getting to know your hosts and other holidaymakers.

Hired a car from Venus and explored the island by day, some of the sights were breathtaking! We stayed at the Katelios Studios ran by a very nice Greek couple, the apartments were clean with regular towel and sheet changes and a lovely pool with lots of sunbeds.

We ate in most of the restaurants and did not have a bad meal in any of them, by night for a few tipples we frequented Dean & Christinas bar/cafe - they have moved to Katelios from the UK - what lovely people if you go call and see them - you won't regret it.

Last but most certainly not least a big HELLO to all at NEMESIS. I am sure if you are reading this message then you know the good and bad messages regarding Nemesis. We went there with an open mind - Denise Nicos and Costas are among the most kind, funny, generous and hospitable people you could wish to meet, most evenings (10 out of 14, I think)!! we called in to see them it was becoming a ritual (like seeing Dean and Christine) and felt the evening was not complete if we did not call, we had many good evenings/nights in their company and enjoyed a drink and chat, their hospitality and welcome could not have been more. It happened to be my birthday whilst on holiday and Denise upon finding this out gave me a present, I did not expect that and again say thank you all.

I suppose I'd better sign off and apologies if this was longwinded (I do tend to chat a lot)!!, all I can say is treat and respect people as you would like to be treated and respected, hopefully you won't be disappointed, we were not disappointed!
Can U Help?
Stephen M
I am thinking of staying at the Lighthouse apartments in Katelios next year.Is there anyone that can recommend these apartments.
Helen 1
Stayed at the Mare Monte and really enjoyed this holiday!

Accomodation is basic but exactly what we wanted.

Didn't like the Nemesis Bar much- if we want St George's flag, wide screen TV and blaring music we will go to Brighton Beach!

In all the village is great and hope it does not fall prey to too much commercial developments as Skala should satisfy the needs of those who prefer that kind of thing!
Carol B
we just came back from katelios all we can say is it was everything we could have wished for .The local's were all very friendly in the resort and in the local shops and restaraunts . We could not have asked for better weather for the two weeks we were there, we came home with lovely tans. Hello to Alan + Kirsty and Family hope the rest of your holiday was A-ok. caz + stu. ps the foto is on here somewhere. later.
Sandra L
Hello Denise I have tried to email you but no luck. Arrive on Sunday can't wait to see everyone

Bye see you soon
Sandra L
It is a great quiet resort and we loved it. We stayed at the Mare Monte which are very basic but its just a place to rest your head so thats fine by us.

Denise, I have emailed you and Nico but got no reply so will see you on Monday 13th September as we are coming back.(have tried both your email addresses) Can't wait to see you all. Look forward to your great food and company.

Check your email at Nemesis to see who this is!!!! :-)
| | |
| --- | --- |
| Search for Katelios Resort in all of JustKefalonia & the Messageboard | |
More Resorts on Kefalonia...

Agia Efimia Resort | Avithos | Fanari | Fiskardo | Karavados | Katelios Resort | Lassi Resort | Lixouri | Lourdas Resort | Poros Resort | Sami | Skala Resort | Svoronata | Trapezaki |