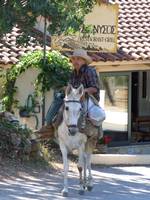 Lourdas Reviews
---
Places to Visit
---
Kefalonia Guide
---
Local Directory
---
Resort Guides
---
Street View
La Mer

(Restaurants in Lourdas)
8/10
Dee K

The best meal we ate whilst on holiday this year.

Kalamari to start, hubby had Pork La Mer, I had Mediterreanean Chicken, very tasty and decent portions.
10/10
Colin L
We recently went to Lourdas and stayed at the accommodation associated with Le Mer restaurant (Spiradoula) the accommodation was very good, clean comfortablecandcextremely good value for money. As for Le Mer the food was first class. The service was excellent, hosts Natasha and Andreas make you feel welcome. Can't wait to return!!
Roger T

Having lived on Kefalonia for the last 3 years i would totaly recomend La Mer.The food service and location is the best on the island.I wish Andreas Natasha and all the staff all the very best for the coming summer season and hope to see you in the not to distant future.

Yours Roger.

9/10
Robin B

this is one of my favourites, great food, great service and the view in the evening as the sun is going down is great. its a must visit,
7/10
Keith T

This restaurant was recommended to us by a fellow guest at our accommodation, which neighboured La Mer and whilst we felt that the food was of great quality, and the views were good, better or equal quality food could be found easily at other restaurants who were offering this at lower prices. We felt that the temperature in the restaurant was rather warm, with the air conditioning units making little difference. Overall, a restaurant offering good views and food but one that did not live up to the expectations set for us.
10/10
Lyn P

One of our favourite restuarants, excellent food, especially the Lamb La Mer and the staff are wonderful, especially Makis & Makis - particulary Makis who has such an "English" sense of humour!!

Natasha is always happy to chat to the customers and she makes the hottest latte on the island!
Helen C

Perfect place to eat "Good Food, Good family run place nice setting" Try the Kefalonian meat pie its the best on the island
10/10
Tracy B
Excellent, I couldn't fault the resturant. We ate here several times and it was fantastic each time, staff were great and friendly and the desserts were to die for. Can't wait to go back next year.
10/10
Anne P
Just got back from lourdas - la mer was excellent for food (recommend the cherry roast lamb - excellent), service and the chocolate mousse cake with cherries is to die for.
9/10
Rianne F

We all had very nices meals at this restaurant. we were sat out on the decked area outside looking over the sea and mountains which was beautful. our starters and main courses were all very nice, staff friendly and efficient. would recomend.
10/10
David T

We ate here in 2004 and I remember having 'Lamb Le Mer'- so decided to try it again and wasn't disapponited - excellent!

We can also highly recommend the Mezi starter for 2 ( a meal in itself) and the maincourse mixed seafood platter for two.

In our opinion La Mer is the best restaurant in Lourdas - ( a little bit more expensive)

The views from the window seats are superb.

If you are staying on the beach then it's quite a long walk up a steep hill - but worth it.
9/10
Jason H

We went to Lourdas in May `07 and ate at La Mer half a dozen times in the two weeks. Every time the food was excellent and the service prompt, with a smile. It`s not cheap but its worth the extra for a quality meal

The menu offers a lot of choice for both starters and main, although my girlfriends mum insisted on Lamb la mer nearly everytime we went

Try it and you will not be dissapointed
10/10
Jan J
10/10

i had a full english each morning. and it was lovely it set me up for the day. the family are very friendly and helpfull. i noticed they are very busy in the evenings and well worth waiting for a table, i had a chicken meals and beef meals and they was all lovely. i know that i will be eating there again next year. cant wait
9/10
H A

August 2007

This restuarant is fantastic!

We ate here on the first evening of our holiday and every other place we subseqeubtly tried failed to live up to it, which is why after 3 average other evening meals we went back to Le Mer for the last 2 nights!

The dishes that we had were, without exception, excellent. Starters: Saganaki, spicy sausages, Greek Salad, Feta/Spinach parcels and main courses Red Snapper, Meatballs, Baked Chicken & potatoes, Lamb & Stifado.

The service was excellent, unobtrusive but friendly and the atmosphere was lovely.

Well done La Mer!
9/10
Tracie C

This was our 4th visit to Kefalonia. After reading the comments about La Mer we gave it a go and we were not disapointed. The Lamb La Mer was superb and the puds were to die for. Will go again next year.
9/10
Dave E

visited la mer several times during my holiday mostly for breakfast and once in the evening and the food was always consistant and the service excellent.the views out over the bay were great!i had the meat balls in tomato sauce to start followed by the lamb le mer both dishes were excellent and left me feeling really full!would highly recommend this place.
10/10
Kath and rod K

La Mer is a lovely restaurant in an idyllic setting on the main Lourdas Beach Road near the top of the hill. Wonderful fresh food is cooked to perfection, try Lamb La Mer, all the fish dishes and wonderful Carbonara, and there is a good vegetarian selection. The desserts are delicious and do try one or two of Natasha's cocktails. The service is friendly and efficient Andreas, Natasha and the staff. Great place to relax. We arrive on Saturday 2nd June 07 and will be in La Mer on Saturday night and also on Sunday morning for breakfast.

See you soon: Kath Rod Lisa and Macy
Sean F

Could not fault La Mer. Excellent food and service. Our favourite restaurant in Lourdas.
Lesley S

La Mer is always excellent - great food, pleasant surroundings and friendly service. We thought the menu was even better this year, with lots of new additions. Don't miss the sole stuffed with crab in wine/mushroom sauce - and there's a new chicken dish with prawns and garlic butter which was to die for (and Lamb la Mer etc etc etc ....) Fabulous views and sunsets, reasonable prices - and great if you want a change from the standard Greek menu.
Sam M

Location was great - perfect setting to watch the sunset with a glass of wine. The service was quite stand-offish but polite, the food was nice and the prices reasonable. The lemon chicken with potatoes was a favourite and the meatballs were very good too. Gets very busy so time your arrival carefully!
Kevin D

Best Restaurant in Lourdas, service excellent. Kefalonian meat Pie the best we tasted. In fact had to have it twice.
Mark E

Agree you cannot fault the food, it was excellent. Service was fine but slightly impersonal.
Nick B

Best place we eat at in Lourdas. Excellent food and service, great view. Not at cheap as some but well worth the few Euro's extra. Kalamari was the best we have ever tasted and lamb dishes were melt in the mouth stuff.
Darenne P

Excellent food, service, views and cleanliness
Joseph K

Excellent food, great atmosphere and reasonably priced, the service is great also. You will not be disappointed
| | |
| --- | --- |
| Search for La Mer in all of JustKefalonia & the Messageboard | |
More Restaurants in Lourdas...

Afrodite | Andromeda | Aridas Palace | Blue Sea | Casa de Blue Restaurant | Crystal Palace | Dionysis Restaurant | Doodles | Enastron | Greco | Greek Islands | Inopolis Restaurant | Klimatis | La Mer | Libra Grill Bar | Lithero | Lorraines Magic Hill Restaurant | Olive Lounge | Olive Tree | Patritcia | Penolopes | Spiros | Trifelli | Zorbas Restaurant |